Ariane Fisher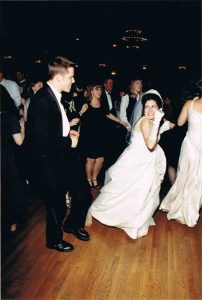 Bio: Ariane is the CoFounder/COO of WeddingMix. She didn't get a wedding video and totally regretted it. She and her husband Mike choreographed an amazing first dance and only had photos to show for it! They decided that they would make it possible for all brides to get a wedding video!
Prior to founding WeddingMix, she was an engineer at Ford Motor Company. She is a contributor to Huffington Post and has been featured as a top 10 entrepreneur on Entrepreneur magazine.
Take a look at the complete blog post about my Wedding day and what made it so special!
My Wedding!
Budget: $20,000
Location: Detroit

Local or Destination: Local
Ceremony: Shrine of the Little Flower Basilica 
Venue: Ballroom

Bridal Party: 5
Season: Spring
Theme: High Style
Color Scheme: Champaign & Plum
Number of People: 200
Type of food: Traditional – didn't care because the booze were so good!
Band or DJ: Both
Honeymoon Destination: Oregon, camping trip
Extra Features: If I were to do it again I would have a wedding video and planner!
Ring: