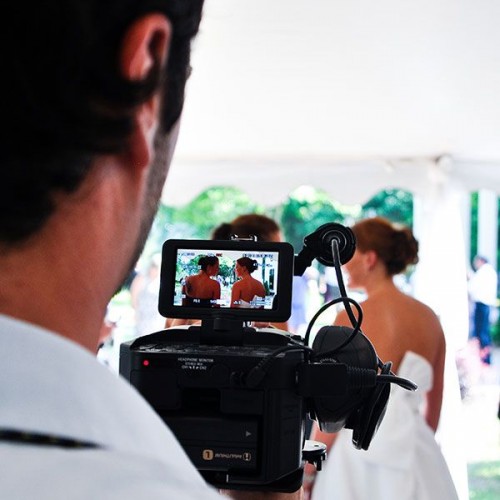 So you want a wedding video but don't want to break the bank. You've found WeddingMix, but you're not sure if you should go with an affordable wedding videographer instead. Maybe you don't know enough about how they compare, so we laid it out for you. Read on to see comparison between WeddingMix and an affordable videographer so you can make the best choice for your wedding.
Key moments
What are the important key moments you want captured on your wedding day? Do you want a traditional video of the getting ready party, ceremony, and part of the reception, or do you want more candid moments? Are you comfortable with one or two videographers filming your wedding or do you want more people on the job?
If a traditional video is what you're after, then an affordable videographer may be for you. Just keep in mind that one person filming the big picture can leave the smaller moments out. Traditional wedding video also focus more on the bride and groom instead of the guests, so make sure you're okay with that during your decision making.
If you want a more personal wedding video with candid moments sprinkled throughout, then WeddingMix is for you. Anyone can film with the WeddingMix cameras or phones. There's a smaller chance of missing the big stuff, little stuff, and anything in between. This means that you can get a glimpse of your loved ones enjoying your wedding and any significant or hilarious moments that you missed. You'll also have coverage with WeddingMix for the entire night and on any special days you'd like to include in your wedding video. This can include the proposal, rehearsal dinner, honeymoon, or anything else you'd like to add.
This is THE. BEST. way to do a wedding video! It was so much fun, and I was able to capture moments with some of out guests that we really did not get a chance to talk to. That made it much more intimate and personal. We get to keep that forever. I loved it"- Emily
Experience
If you're set on hiring a videographer, there are affordable options out there. Just keep in mind that cheaper videographers are less experienced. While there's nothing wrong with that (we all start somewhere, right?) a newer videographer is gaining experience at your wedding. Little things like learning to bring a spare battery or camera card are may not come automatically.
Unfortunately that's a lesson learned only after your camera runs out of storage at an event. My cousin found this out the hard way, when her videographer delivered a video with no sound of the vows or toasts. They just didn't capture it, didn't tell her, and delivered the video that way.
At WeddingMix we include everything you need to get great footage and sound and make it super easy for your guests to use. We also have different cameras and GoPros so you can get crystal clear footage and unique shots of your special day. We've done thousands of Weddings, so we know how to get the best results.
When we first decided to go with WeddingMix, it was because we wanted to save the cost on a videographer. In the end, what we got was something so much more personal. Guests can grab cameras and say what they want rather than answering some cheesy question. Thank you WeddingMix!" – Sandra V
Check out the stunning first dance footage and fun sparkler exit in this WeddingMix highlight video:
Style
If you simply want a traditionally produced and polished wedding video style, then you might be okay with the videographer. However, keep in mind that there usually isn't much room for changing the style, so make sure you find a videographer that matches your personal taste as a couple.
If you're set on customization, then WeddingMix is perfect for you. We have 13 different editing styles, so there's something for everyone. Whether you want a home-movie feel or Hollywood feature, we'll find what works. Plus, if you have any wedding photos that you want to include, WeddingMix can do that for you.
My husband and I wanted something a little different than the typical, seemingly-staged movie-like videos that have become so popular. While these are gorgeous, we figured it would be more realistic to capture the day through our (and our friends') lens! WeddingMix was amazing to work with and very affordable. The camera and recorder arrived 2 days earlier than expected, and the instructions were easy. The wedding party also downloaded the WeddingMix app which is SO easy to use. After the wedding, they were patient and understanding as they reminded me of the process, and carefully made my requested edits. They were exceedingly professional, affordable, and we LOVE our video! You won't regret it!" – Erika L
You're going to love this highlight. It included pictures, key moments, and silliness from the bridal party:
Raw Footage
Do you want access to the raw footage or are you okay with whatever makes it into the video? For instance, if you purchase a 5 minute highlight, then you only get whatever footage is in the video. If you want every all of the footage then factor that into the videography price. The charge for raw footage can be as high as $500, if they offer it at all. So while you may be able to afford an awesome videographer if you get just a highlight, you'll still miss out on the rest. Think of all of the silly moments that didn't make it into the five minute version that you may want to show your kids later on.
If having raw footage is important to you, WeddingMix is a great option. All footage and pictures are included in every package at no extra cost. You'll have easy access to all of the pictures and video that your guests captured at your wedding whether it was used in your feature or not.
Lots of fun moments captured in this highlight from the bride DJing to group dances:
A very fun and easy way to film your day! It was fun getting everyone involved to help capture every special moment and from their point of view ! My husband didn't think a videographer was important (most because of the price) I definitely wanted one … so we came across Wedding Mix and agreed that it was perfect" – Shannon S
Recuts
You may be wondering what happens if you aren't happy with certain parts of your video. Are there recuts? Most videographers are talented artists whom you trust to create the best video possible. This also means that most will not make changes to the wedding video; certainly not for free if at all.
If you want recuts, they aren't a problem with WeddingMix. You also get to pick your favorite scenes and photos to include in your feature video using the online storyboard. Our talented editors will then create your wedding video and if anything looks different than you expected the we'll make any changes.
It was so much fun to see our guests enjoying themselves through their own perspectives of their own photos! I was able to download ALL of our photos and create a really fun album. Also, I created a fantastic video of our day! The website to create the video is really easy to use, and the geniuses on the other side at WeddingMix do amazing editing! They quickly and happily made my few small changes and got me a final cut way before the promised date! I can't wait to get our DVD! It's a surprise for our first anniversary, the Hubby didn't know I was even working on it! We are going to watch it with cake and champagne! I highly recommend using WeddingMix for any big event that you want to collect the memories from!" – Mandi H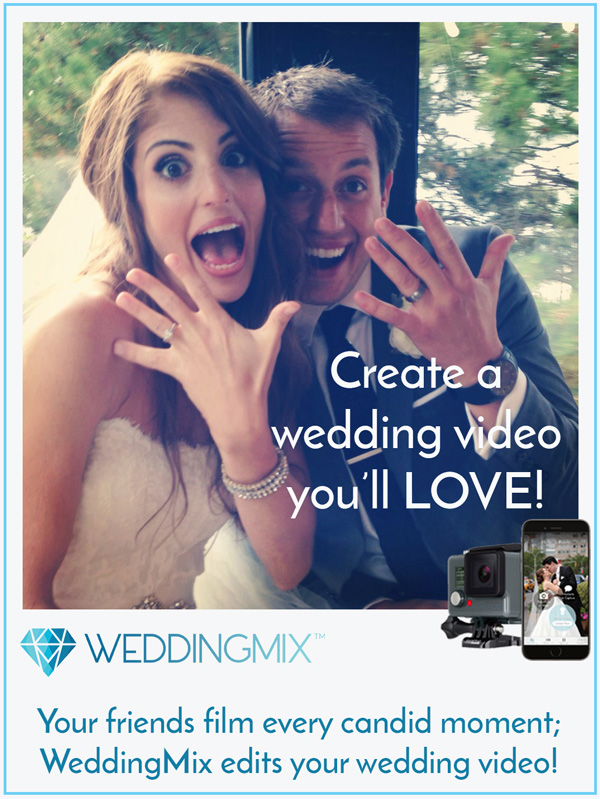 Video delivery
If you want an ETA on your video then videographers may not have the concrete timeline that you were hoping for. Some lower-priced videographers are doing this part time, dividing their attention between your video and other work. The process inevitably takes longer.
At WeddingMix, we deliver your highlight video within 4-6 weeks, so you can have an idea of what your wedding video will look like.
"I heard from so many friends how their #1 regret was not having a videographer at their wedding. When I came across wedding mix I was so excited. I would get a great video from my guests perspective, and stay within my budget. I'm very happy with the end result and so glad we choose wedding mix. This DVD is something we will have forever! – Cassie W
Check out the crystal clear footage in this highlight:
How to have it all
I'm sure by now you can see that with WeddingMix, you can still get that professionally edited video of your whole wedding weekend, and meet your budget. If you like that high end look of a videographer, with lots of close detail shots, we have the option to rent a simple-to-use professional video camera. If you like the home movie feel, we have the Panorama package where you can rent cameras for each side of the family and friends. If you have your own cameras, we've got you covered with our Snap Happy package.
We've also heard from couples who have hired a high quality full service videographer and WeddingMix to capture the entire wedding experience. There are videographers who even offer our services to give their clients can have a more comprehensive story in their video.
The absolute best way to have a wedding video! It is so personal to have the views of your guests combined together to capture the best day of your life. I video is amazing and love to watch it over and over. The best part is that it is affordable for any budget." – Cymone J
Check out this WeddingMix sample video filled with moments before and during the wedding:
Let's compare side-by-side to help you decide which option works best for you:
WeddingMix
Videographer
Price:

$199 – $799, so we fit most budgets

Editing:

You can pick which scenes to include (pictures too!)

Recuts:
App:

Our free app allows guests to contribute footage and pictures

 N/A
Highlight Video:
Coverage:

Not limited to wedding day (Can include showers, rehearsal, honeymoon, ect.)

Footage:

Candid moments that you otherwise would have missed.
Raw footage included

Raw footage not included
Traditional moments

Timeline:

Not always a clear timeline

Experience:

We've done thousands of weddings, so we know what equipment to include/recommend.

Will learn from your mistakes from your wedding
Risk Factor:

Need to tell guests about WeddingMix in advance so you can designate people to film. (we help you with that).

One or two people filming
New people not understanding dynamics of weddings and missing shots
Only a few hours of coverage
– focused on couple

Fun for Guests:


Guests are comfortable because they know who is filming.
With the supplied selfie stick and shot list guests love participating and helping capture special moments.

Guests are not comfortable with a stranger and bright light in your face.
How many pro videos include guest stories or advice? That's because most people freeze up.

Style:

13 editing styles (ability to customize)
Home-movie feel or Hollywood feature.
Can use photos

Videographers are only going to produce a polished video
Most videographers don't include photos