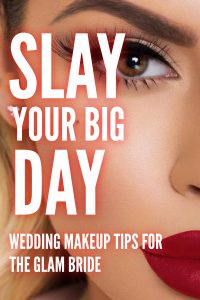 Brides have always been told that wedding makeup was meant to be natural and minimal. That it was meant to only slightly emphasize what they already had. Light Blush here, a little mascara there, and bridal makeup was complete. 
Well, I am here to tell you that if you are like me and love a full-face beat, these outdated standards on wedding makeup don't have to dictate how you look on your special day.
Weddings are expensive and a lot of work. So if you're spending all of this time and money, you should be able to look however you want, whether it be natural or glammed up.  It's 2019, there are no rules! So grab your full coverage foundation and colorful eyeshadow palette and keep reading for some techniques that you can use so you can slay your big day the glam way!
Glitter is a girl's best friend
If you're looking for your makeup to be as eye-catching as your dress, opt to add a little glitter so you can shine in any light! Glitter is a versatile product and can be used as a lip topper, eyeshadow, highlighter, or even on the body to add a bronzy glow. Go subtle with a little shimmer on your shoulders or go big with a loud and sparkly eye look!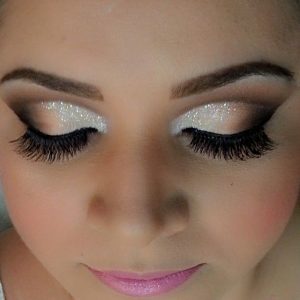 Pop of Color  
When it comes to trendy makeup, adding a pop of color can jazz up any look! Much like glitter, adding a pop of color is a versatile technique that can be used in any aspect of the makeup routine. Add a bright, red lip to amp up a simple eye look or go colorful of the lids to add some drama. You really can't go wrong with adding a little color, but don't clown around with too much color and concentrate your pop to a specific part of your makeup!
Look at how this bold, red lip complements the minimal eyeshadow and ties together the whole look!

Bold Lip
If your pop of color is focused on your lips, don't be afraid to go bold! Deep plums and rich reds are perfect for any fall wedding. Bright pinks and corals really bring together summer looks. You can really do any color if it is paired with a muted eye look. Good thing everything looks good with white!
Check out how this bride used a bold pinkish red lip to compliment her bronze smokey eye. She looked stunning walking down the aisle! Watch her custom Weddingmix below!

Their guests captured this beautiful wedding video using the Weddingmix app, an easy to use app that allows the wedding guests to contribute to the wedding video! It's the perfect way to showcase your incredible wedding makeup to friends and family!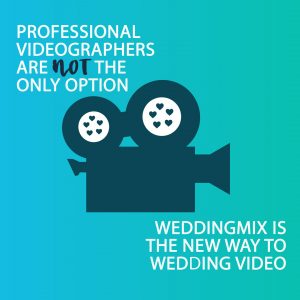 Big Ol' Wings
Fans of classic pin-up looks will love going bold with winged eyeliner. Pair bare eyes with a cat-eye liner and a bold lip, and boom! You are ready to strut your stuff down the aisle. You can also pair bold wings with any type of eyeshadow to add drama and dimension. Winged liner is a complement to any eye shape!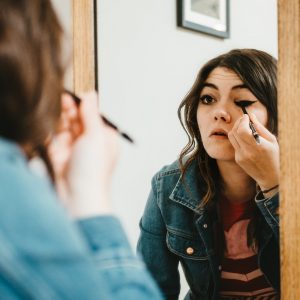 Highlighter
Highlighter is without a doubt the most needed product for any type of makeup look. Forget lack-luster looks with no dimension and add a glowy highlighter to all the high points of your face. A good highlighter will make you look like a glowy goddess in photos and videos. What bride wouldn't want to look back on their Weddingmix and see the best version of themselves?!
Here is a video by Desi Perkins that showcases the best highlighters to make your skin look glowy and fresh!
Falsies
Fluttery, sexy eyelashes are always a fan favorite. If you're like most people and gifted with less than ideal lashes, falsies are your new bff. There are thousands of styles to choose from in any type of budget. Splurge on some faux minks or keep it cheap with drugstore brand. Lashes add that much needed  je ne sais quoi to any look, bold or natural. Fake what your mama didn't give you!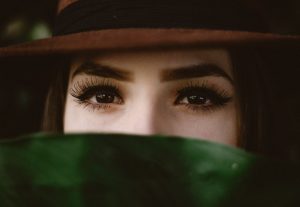 Halo Eyes
Typical eye looks focus the bright, sparkly lid color to the innermost portion of the eye. But, the trendy new "halo" eye technique is here to shake up the game. This technique involves focusing the sparkly/lightest shade of eyeshadow directly on the middle on the lid and focusing the deepest shades towards the inner and outer corners of the eye. This creates almost a glistening horizon look to the lid and draws the attention towards the center and iris of the eye. This really makes any eye color pop!
Here is a super simple tutorial by beauty YouTuber, RawBeautyKristi, on how to accomplish this look if you are planning on doing your own wedding makeup!
Dark and Smokey
The number one rule of wedding makeup has always been to keep it light and bright and to avoid dark and smokey eyes. But like I said before, its 2019! Throw that rulebook out the window and do whatever makes you feel beautiful! Dark and smokey eyes add a sultry and sexy drama to the eye that you just can't get with a natural makeup look. This technique will have your future hubby staring into your eyes all the way to the honeymoon destination. Despite the bad reputation of dark eyeshadow, deeper shades make the whites of your eyes pop, drawing attention to the color of your eyes. Go smokey with your bad self!
In the video below, AcnchalMUA explains how to get a sultry smokey eye that is great for your big day!
I hope you enjoyed these tips and tricks on how to go glam on your wedding. Of course, these looks aren't for the faint of heart, so if you want to stick on the natural side, do you girl! But, make sure to check out our other blog posts on natural makeup looks! Here's to you slaying your big day!