This Bourbonnais, IL wedding video is filled with love! Mark and Julie chose to have their friends and family use the WeddingMix app + HD cameras to document their big day. These guest did an awesome job capturing some truly memorable moments that this bride and groom will never want to forget. Take a look at their highlight video below!
This bride looked stunning as she walked down the aisle holding her feather bouquet. The venue that this wedding took place at was absolutely beautiful. There were pretty blue lights strung up behind the bride and groom as they were standing up at the alter. The guests did a wonderful job capturing some lovely moments such as the couple exchanging their vows, cutting their cake and having their first dance. The rest of the night was spent on the dance floor showing off their awesome dance moves! It is easy to see that everyone had a great time at this wedding!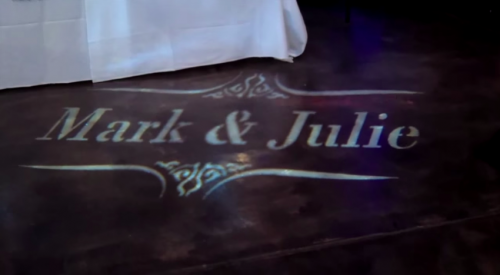 This is going to be a celebration that these lovebirds will never forget. Thanks to their guests and the WeddingMix app + HD cameras, Mark and Julie were able to get their very own personalized wedding video without spending a fortune. They have many years filled with happiness ahead of them and they can relive this amazing day whenever they wish! Congratulations Mark and Julie!