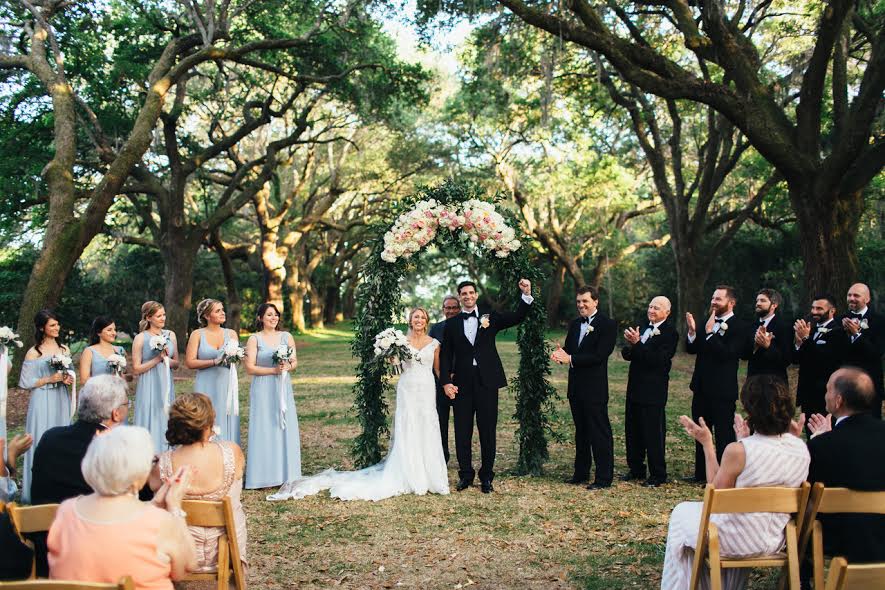 Watch a charming Charleston wedding unfold as we sit down with WeddingMix bride Rachel. This outdoor wedding had a tremendous amount of detailed decor and a large amount of smiling guests. We break down location, budget tips, and helpful ideas to consider for all brides. Remember to snag a peak at her Charleston wedding video – created by WeddingMix!
With the help of the WeddingMix app and cameras, the newlywed's family and friends who attended the wedding celebrations were able to capture memorable moments from their special day!

 1. What part of your wedding planning are you most proud of?
Our wedding was so true to Sean and myself and the things we love best in life—a scenic spot with great food, cocktails, and music with the people we love most in the world!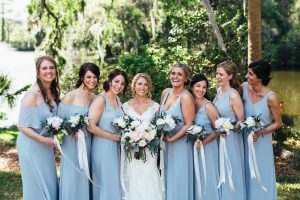 2. Where did you get married?
While we met and fell in love in Pittsburgh, PA, we were actually from not even five miles apart in Charleston, SC! Needless to say, Charleston was the natural choice for our wedding. We were married at Legare Waring House – a historic plantation estate conveniently located in Charleston but at the same time secluded in its own natural beauty. The ceremony took place under sweeping oak trees draped with Spanish moss, aptly named the Avenue of Oaks. The cocktail hour and reception space were then held on the lawn and patio near the house and flanking lagoon. We could not have dreamt of better weather; bistro lights were strung overhead and we danced the night away under the stars! It truly felt like a fairy tale.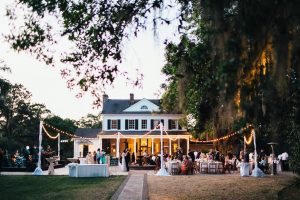 3. Why was using WeddingMix appealing for your big day?
We honestly hadn't considered a videographer, from both an expense and practicality standpoint. I couldn't picture us ever sitting down to watch hours of footage. I stumbled across WeddingMix on Pinterest and loved the idea of essentially a video montage told from guests' perspective at a reasonable price point.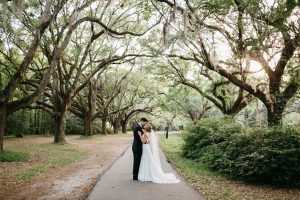 4. What were the most important moments that WeddingMix was able to capture on your special day?
Seeing the day replayed in small pieces brings back those feelings of being surrounded by so much love and joy! Getting ready in the bridal suite, we drank champagne, danced, sang, and laughed all morning. Sean's cousin sang a beautiful rendition of Ave Maria during the ceremony and we were both so blissfully happy in that moment. There are heartfelt and hilarious clips of marriage advice and we loved seeing how much fun our friends and family had that night! Sean surprised me by singing one of our favorite songs on stage – I still swoon every time I watch it!
5. What is your top wedding budget tip(s)?
Decide what is important to you and scrap the rest! Maybe having the world's most expensive chairs/centerpieces is something you could do without – how much time do you really want people sitting anyway?!
Vendors
Month-of wedding coordination: Charleston Weddings by Allison
Photographer: Monika Gauthier Photography
Band: Travis Allison Band 
Officiant: Pastor Greg Mason
Florals, décor, food/beverage: Duvall Events 
Cake: Declare Wedding Cakes
Like their look? Here's how you can do it!
How to Tell Your Own 'Love Story' Through Your Wedding Music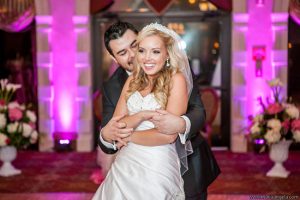 Outdoor Wedding Inspiration Sure to Take Your Breath Away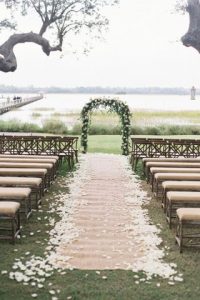 Fantastic Food Station: 6 Wedding Buffet Ideas that Work for Everyone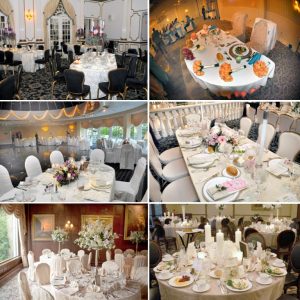 Congratulations to the beautiful couple, be sure to check out bride Rachels beautiful Charleston wedding video – the magic is in the film!
[72231]