Cheers to bride Rachel. She tied the knot at her fairytale wedding at Stow Mountain Resort, VT. The quaint scenery of her wedding is sure to make everyone ripe with jealousy. See the couple's beautifully rehearsed first dance, and an epic firework display to close out the day in their video below!
This fun wedding video was shot by the bride and groom's guests. They had a fabulous time getting involved with the wedding using their own cameras along with the WeddingMix app!
We heard about WeddingMix from a friend, and it sounded perfect for us.  Many friends and family members were asking what they could do to help with the big day.  We thought this would be a great opportunity for guests to be involved, and it would make our video clips very personalized."- Rachel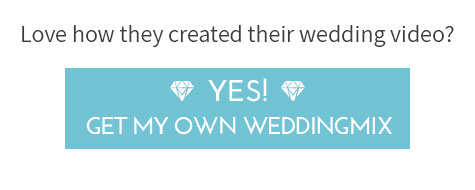 Like their style? Here's how you can do it!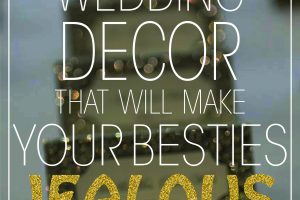 Wedding Decor That Will Make Your Besties Jealous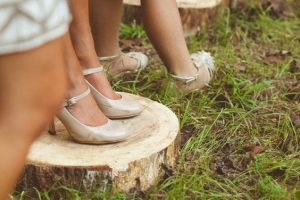 Outdoor Wedding Inspiration Sure to Take Your Breath Away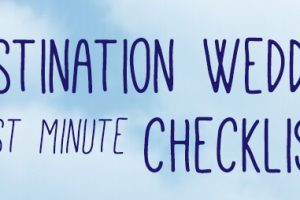 Last Minute Destination Wedding Details You Can't Afford to Miss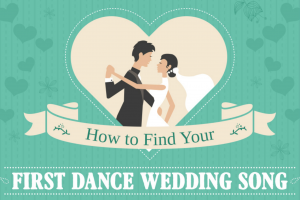 How to Find Your First Dance Wedding Song
Advice from the bride!
1. What part of your wedding planning are you most proud of?
We are most proud of our decision to spend the majority of our time focusing on planning the most meaningful parts of the wedding – our ceremony, first dance, and little notes and tokens of appreciation to our guests.
The ceremony planning was very special as we created it with our cousin who was our officiant, and through the process we learned a great deal about our relationship. It was a reminder to us that what was most important during our engagement was nurturing our partnership in preparation for marriage.
To prepare for our first dance we took lessons, learning a variety of dances and how to connect with each other on the dance floor. Then we learned a choreographed dance which we performed on our wedding day. We also spent time thinking about and creating ways to keep our guests informed leading up to the weekend and to welcome them (website, notes of appreciation, schedules).
Thanks to family members who helped to plan and amazing wedding coordinators who did an incredible amount related to the vendors and other aspects of organizing the weekend, we were able to focus on these important parts of our wedding.  Once hired, we trusted our vendors, and we feel that we had the best people in the event business making our wedding the fairytale that it was.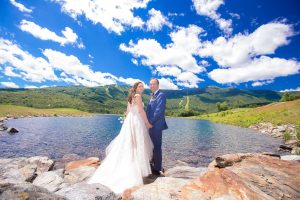 2. Where did you get married?
Our wedding took place in Stowe, Vermont at Stowe Mountain Resort. The ceremony and cocktail hour took place on the terrace of the Spruce Camp Base Lodge with the mountains as the backdrop.  The reception was held in the Great Room with large windows that had beautiful views of surrounding trees and mountains.
This balanced so nicely with the flowers, greenery, and lights that decorated the interior of the space.  The food was amazing; and when the band played, we felt like we were at a concert. The organization and coordination from Stowe Mountain Resort was perfect.
We chose Stowe because it has been a place where we've spent time together with family and friends and where Rachel grew up vacationing in the winters and summers.  Its peacefulness and beauty make it a special place for us, and we wanted our loved ones to have that same experience.
Everyone stayed at Stowe Mountain Lodge where they were able to choose from a variety of outdoor activities, dining, and options for relaxation such as the pool and spa.  Also, their hotel rooms were just steps away from the wedding location and the breakfast the next morning.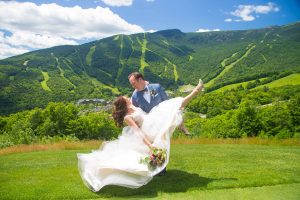 3. Why was using WeddingMix appealing for your big day?
We were very interested in hiring a videographer, but we knew it would cost a great deal.  Also, we were concerned about any interference this might have with our photographer. We've been to weddings where we've felt like there are video cameras wherever we look, and we didn't want that for ourselves or our guests.
We heard about WeddingMix from a friend, and it sounded perfect for us.  Many friends and family members were asking what they could do to help with the big day.  We thought this would be a great opportunity for guests to be involved, and it would make our video clips very personalized.
We made a shared document and asked a group of friends and family to sign up for critical parts such as the ceremony and first dance.  We printed the small cards with the app information and code which were placed in all the welcome bags, and through that we received many additional clips.
Everyone who wanted to join in the fun of capturing video clips and photos for us uploaded them to the app that weekend or over the next week. It was great to have them all in one place to look through and decide which ones we would submit to the WeddingMix storyboard where editors would compile them into a video for us.
We are so thankful we made this decision as we've been able to relive our wedding from different perspectives and to see things we didn't even know were happening!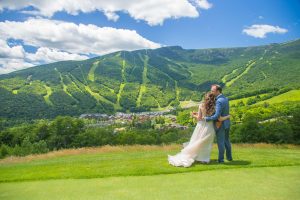 4. What were the most important moments that weddingmix was able to capture on your special day?
Our guests captured everything we had asked for and several moments that we didn't even know to ask for. With everybody having smartphones we had cameras wherever they were necessary, and they filmed a lot of moments that a videographer might have missed.
The moments we did ask our guests to make sure to capture included the ceremony, first dance, cake cutting, mother-son and father-daughter dances, and the toasts. The unplanned moments were also filmed including a flash-mob dance and a fireworks display at the end of the evening!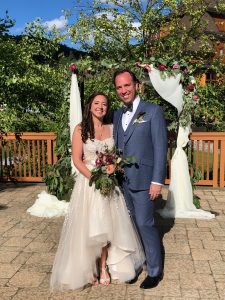 5. What is your top wedding budget tip(s)?
We suggest hiring good people who know where time and money can be spent most efficiently.  This can save you both time and money in the long run. We received recommendations from our wedding coordinator and also read reviews of vendors which helped us to make our decisions.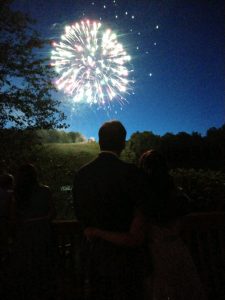 Vendors:
Photographer- Kathleen Landwehrle
Band- Night Rythym
Florist- Pistil Productions
Venue- Stowe Mountain Resort
Wedding Coordinator- Dana Wing
Makeup- Meche Beauty Lounge
Dance Lessons- Jersey City Ballroom
Dress- Kleinfeld's
[87761]