Ian and April began a new chapter in their lives together surrounded by their loved ones during a beautiful wedding ceremony in Nova Scotia! Take a look at all the beautiful moments that lead up to this exciting day as well as all the fun wedding celebrations!
This fun WeddingMix video was filmed by this lovely pair's wedding party. The guests had a blast and and captured it all using their own cameras along with the WeddingMix app and rental cameras.
I wanted a wedding video that was affordable, and loved the idea of capturing some more up close and personal video of our guests enjoying the day.
Like their style? Here's how you can do it!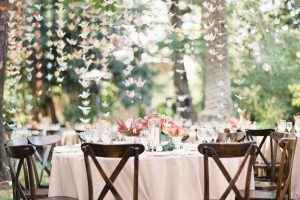 Weekly Wedding Inspiration: 15 Fresh Outdoor Wedding Ideas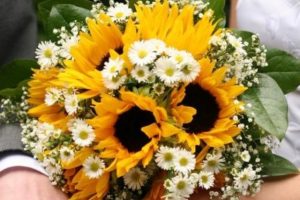 16 Freshest Wedding Bouquet Ideas For Every Season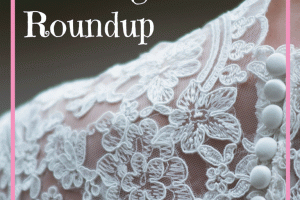 11 Stunning Lace Wedding Dresses AND Where to Find Them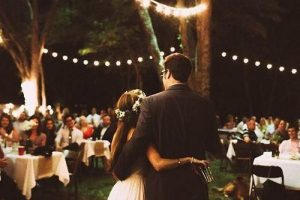 Wedding Lights: How To Brighten Up The Big Day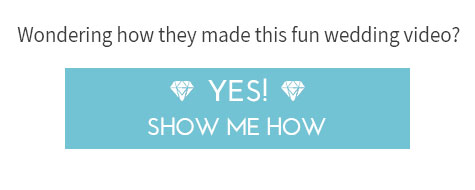 Real advice from the Bride & Groom!
1. What part of your wedding planning are you most proud of?
I am most proud of how everything pulled together. I planned our wedding from across the country 5000 kilometers away (I live in Alberta and the wedding took place back in our home province, Nova Scotia), and had the ceremony on a family friends property and the reception was in a giant tent in the back yard at my dad's property. EVERYTHING we did was planned and put together by family and friends. Planning from so far away was challenging, and impossible without the help of my mom and mother in law, but everything I dreamed of came together for the most perfect day I could have imagined. From the music, to the decorations, and little personal touches.
2. Where did you get married?
We got married in a field on a cliff in Medford, Nova Scotia, overlooking the Bay of Fundy which has the highest tides in the world (you can see the tide go out very far throughout the ceremony, with blue water behind us at the beginning and mud flats behind us at the end). The reception was down the road in Delhaven, Nova Scotia, at the Rand Guest House (my fathers rental cottage) in a giant tent.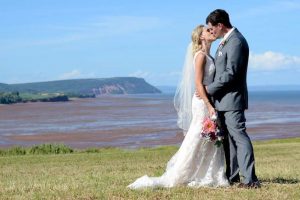 3. Why was using WeddingMix appealing for your big day?
I wanted a wedding video that was affordable, and loved the idea of capturing some more up close and personal video of our guests enjoying the day. The most important part of our wedding (aside from our commitment to each other) was that our family and friends had a great time and we weren't sure we would get to see all of that with how busy the day can be. We wanted our ceremony captured, but adding in the personal video was really what made us go with
WeddingMix.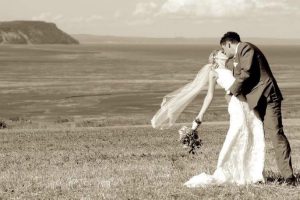 4. What were the most important moments that WeddingMix was able to capture on your special day?
There are so many to name – arriving in the horse and carraige with my dad (driven by my uncle), my brothers playing the beautiful ceremony music, saying our vows, all of the amazing speeches including the rap that my maid of honor did, the first dance (music played by my two brothers on guitar and vocals and my husband's brother/my new brother in law on the drums), the father daughter dance, and the amazing time had by all our guests dancing to my cousin's live band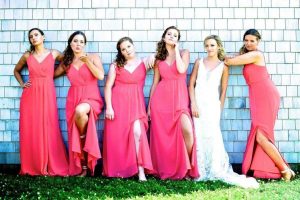 6. What is your top wedding budget tip(s)?
A lot of our budget was saved through having our family members take part in the wedding. It was amazing and very personal to have family involved in this way, however may not be an option for everything if their family is not as large as mine!   My main tip otherwise would be to shop around and look at your options. Do not be afriad to reach out to buisnesses and ask if they may offer a service that they do not advertise. I was pleasantly surprised by doing this a few times and was able to book services at a lower price than competitors.
7. What was your budget?
We had 199 guests and a budget of under $13000.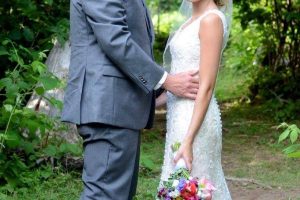 Photographer – Lise Rand
Live band – The Kraze
Officiant – Mark Parent
Catering – Paul Thimot