There's just something so feel-good about this Santa Barbara, CA wedding video! Maybe it was the joy clearly shown in the bride-to-be's smile. Maybe it was all the heartfelt well-wishes and congratulations from guests. From the "bridal hustle" to an awesome pig backyard BBQ, Ben and Kelly's loved ones did a wonderful job of capturing the couple's wedding using the WeddingMix app and HD cameras. Check out the newlywed's special highlight video below:
The wedding fun started before Kelly even put on the gown! From running around town and getting make-up done to taking shots out of a cat flask (a must for any bride), you can feel the entire wedding party's excitement in the hours leading up to Kelly and Ben's ceremony. The bride stunned in a refreshingly unique wedding gown. Her gorgeous vintage-inspired lace dress and blusher veil were just one of the details that made this wedding so unique and fun.
And finally, the stunning bride and groom were united during in an elegant court ceremony as their joyful guests looked on.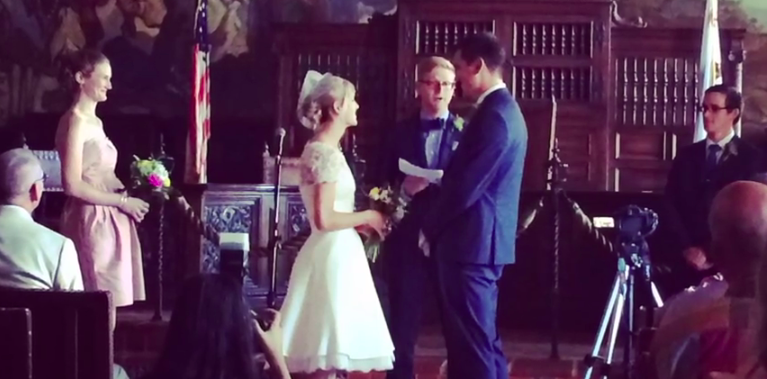 After the ceremony, this crowd was ready to party! Amidst an amazing array of artsy wedding decor, like colorful chalkboard drawings and cute photo collages of the couples, Kelly and Ben's guest a beach-inspired menu that looked absolutely delicious. To conclude the night, everyone boogied down while wearing glow sticks. This wedding looked like a blast!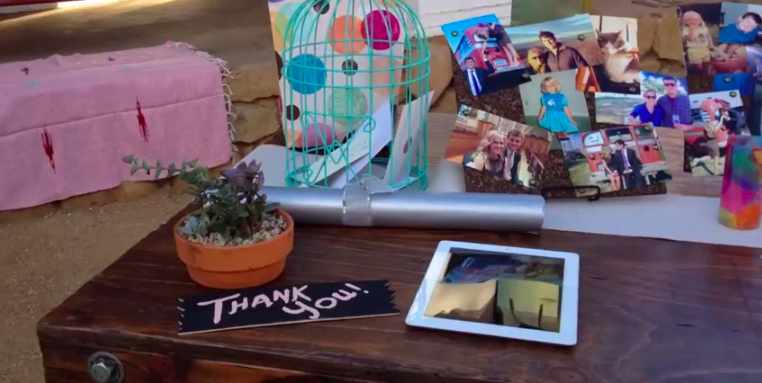 Congratulations to the happy couple from the WeddingMix team