Bride Colleen and her groom shared their special day together in style. See their ceremony and reception at Hotel Derek in their wedding video below!
Guest's photos and videos were filmed using the WeddingMix app and cameras to create the fun keepsake video.
We loved the authenticity of WeddingMix!  Our video shows us how the wedding actually looked and felt through our guest's eyes instead of a professionally done story" – Colleen
Like their look? Here's how you can do it!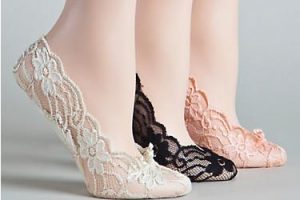 7 Unique Wedding Heel Alternatives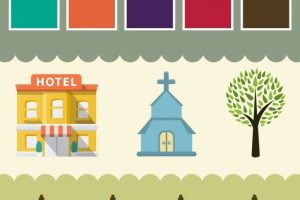 20 Classy & Beautiful Fall Wedding Ideas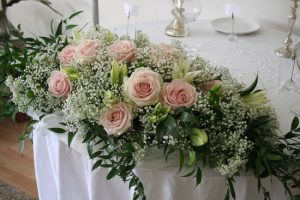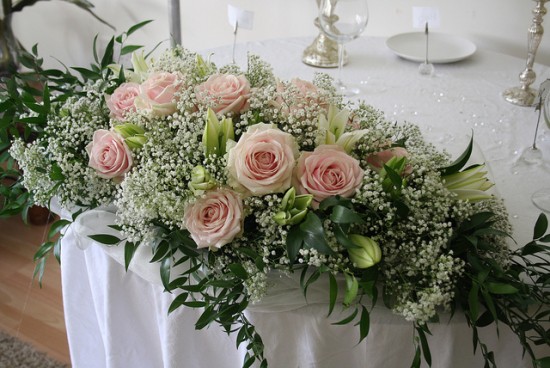 7 Major Mistakes Brides Make With Wedding Flowers (And How to Avoid Them)
 
Real Advice from the bride and Groom!
1. What part of your wedding planning are you most proud of?
Well I think we are both pretty proud of our Nuptial Nikes! As a wedding gift, my husband customized sneakers for us to wear to our reception.  To prevent tripping all night long, I had to get a special side bustle on my wedding dress.  It was totally worth it though because we were both able to dance it up!
On a more serious note, we were probably the proudest of all the enjoyment we saw from our friends and families.  Our goal was for our guests to leave with smiles on their faces, full tummies, and danced out feet.  We are pretty sure we were successful!
2. Where did you get married?
In the home of the 2017 MLB World Series Champions… Houston, TX! Our ceremony was at the church we attend, St. Vincent de Paul and the reception was at Hotel Derek. Hotel Derek is a spunky Houston boutique hotel. Famously known (by famously I mean probably only known by us) for its reference in the Drake song Company in the lines " I'm posted at the Derek up on Westheimer, how 'bout hit me when you're done your shift".  If it is good enough for Drake, it is good enough for us. 😉
3. Why was using WeddingMix appealing for your big day?
We loved the authenticity of WeddingMix!  Our video shows us how the wedding actually looked and felt through our guest's eyes instead of a professionally done story.  When we explored other video options we felt that many of the videographer companies were creating a beautiful product but not something that was actually reflective of the event.  We were also not interested in having a camera crew and spotlights during our ceremony or on the dance floor.  The low cost was just an added bonus.
4. What were the most important moments that WeddingMix was able to capture on your special day?
WeddingMix was able to capture all of the dialogue from the toasts to the vows and to the ceremony sermon. For years to come, we always be able to look back at these words and the people who spoke them.
5. What is your top wedding budget tip(s)?
No matter how large your budget is there will also be more that you can add but is unneeded. So focus on what is important to both of you and spend money on those aspects.  For us it was important for us to be relaxed while making sure that we created a fun and accommodating atmosphere for our guests.
Vendors:
Officiant and Marriage Preparation – Father Robert Ruhnke
Rehearsal Dinner – Drexel House
Reception Venue – Hotel Derek- Misty King 
Wedding Coordination – Event Identity- Krista Borchard
Photography – Happy Day Media- Carrie & Andy
Decorations & Floral design – Gypsy Blooms- Mary Hayes 
Hair & Makeup – All Things Mely
DJ Music – DJU Entertainment- Darrell Ripley 
Cocktail Hour Music – Mariachi Viajeros
Special shout out to my mom Kerry Orth who helped with all the planning!
[79012]