This week's Motivational Monday was written by awesome WeddingMix bride-to-be Elizabeth, who is in full swing of planning her multi-destination weddings!  Want to brag about your wedding planning? Leave a comment below about your own wedding planning and we'll send you an invitation!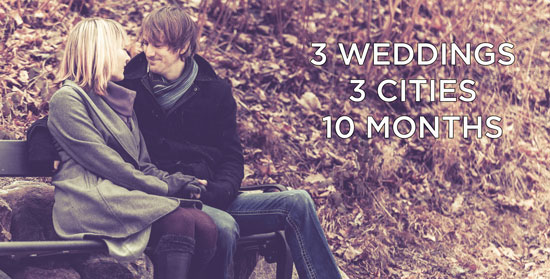 Alex proposed to me on a cold January day, sitting on "our bench" in Copenhagen.  I was slightly hung over, rather cold and not expecting it at all.  The first thought through my head was "OMG! I am so excited to be marrying the man I love!"  The second thought was "OMG!  I have to plan a wedding…"  I know most people have similar thoughts, but I have a rather unique situation.  To begin with, I do not know how to do things the easy way (can we say hand sewn invitations?).  Secondly, I am an American who has been living in Sweden for a bit more than 6 years, 2 of those with my Swedish fiance so the location was going to be a problem.  We set the month for November of this year which gave us (read: me) enough time for all the planning while still managing to start the new year as Mr & Mrs.  But if you know anything about Sweden or Kansas City (my hometown) you know that no one willingly goes to either place at that time of year.  So what to do?  Of course, the only logical choice – have it in Jamaica.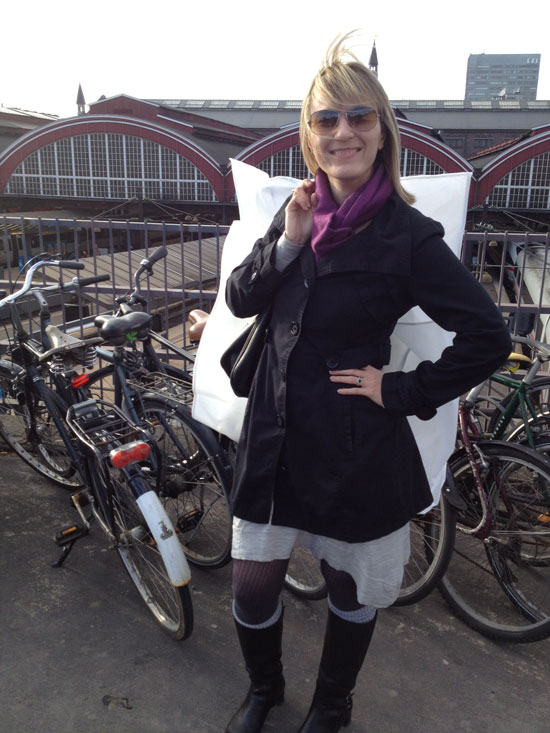 That is how I became the bride who was planning three weddings in three countries in 10 months.  No sweat right?  My adventures could fill a book, but let me just hit the highlights.
Destination weddings are supposed to be easy, right?  Turns out finding a destination travel agent is not as easy as you would think.  Apparently "here take my money" is not enticing enough to get good customer service.  Once we did find an agent and a destination, then, of course, the airline canceled the outbound flight for 14 of our European guests.  Not re-booked, not rescheduled, flat out canceled it.  Then our photographer, who was to accompany us to Jamaica up and disappeared on us.  Then our travel agent went in for emergency surgery just before her home town flooded.  Not to mention several medical emergencies in our immediate families.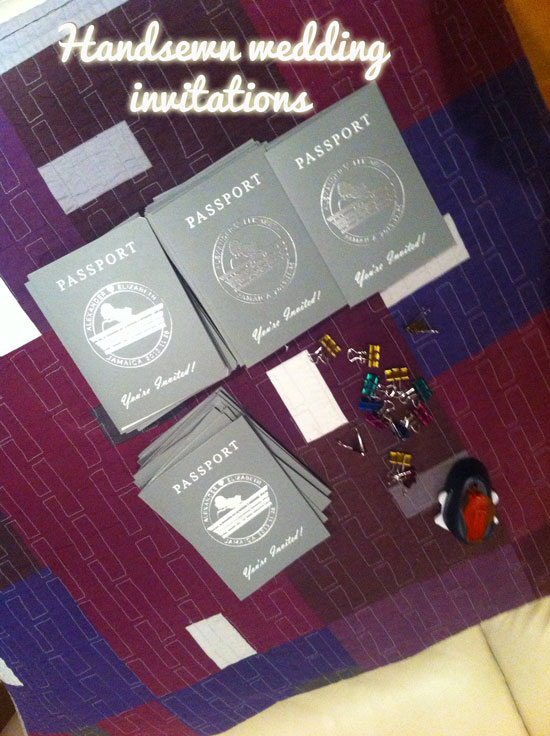 Oh and did I mention we were remodeling our kitchen at the same time?  Fridge in the living room, boxes to the ceiling and construction dust sprinkled around piles of wedding "supplies."
Don't get me wrong, there were some lovely moments as well.  I was able to use my airline miles to bring my mother over for dress shopping in Copenhagen and luck would have it, we found "the one."  I also have two amazing younger sisters along with said mom back in KC who have nearly single-handily planned the KC event.  Oh, and there was this totally romantic weekend at some out of the way Swedish bed and breakfast where we wrote our vows together.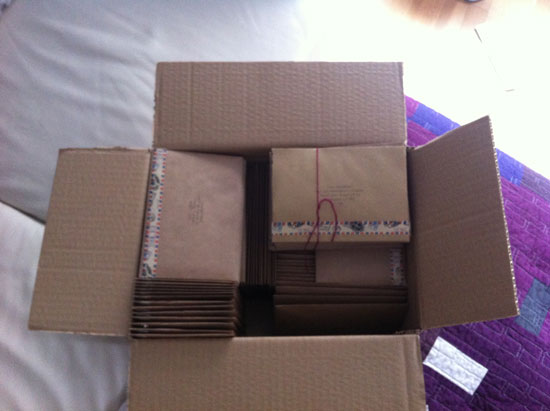 But now I am over the hump.  Our passport-inspired, hand sewn invitations have found their way to our guests.  Our website is up and running (
www.meetmeonthebench.com
) thanks to a very clever Alex.  The bridesmaids dresses are all at the tailors (getting altered) And I even have found time to hit the gym and join a running club.  Now if I could find a way to not have to work and still get paid….hmmm.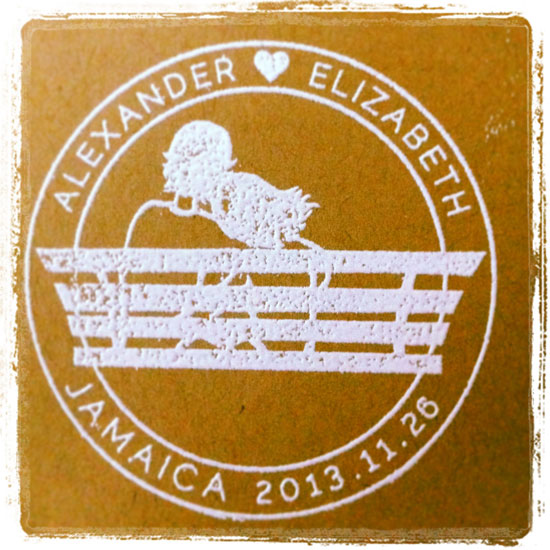 So what is my advice?
Make your guest list early and be ruthless – you can always add people later, it's harder to un-invite.
Remember to make time for the two of you – that is the whole point of this circus after all.
Be calm and take a deep breath – and remember to enjoy the little things.
Editor's note: Tell me you saw Elizabeth's UH-mazing wedding website! What unique projects have you done for your wedding? Please add a comment below. We'd love to share your wedding planning in a guest blog on a Motivational Monday.