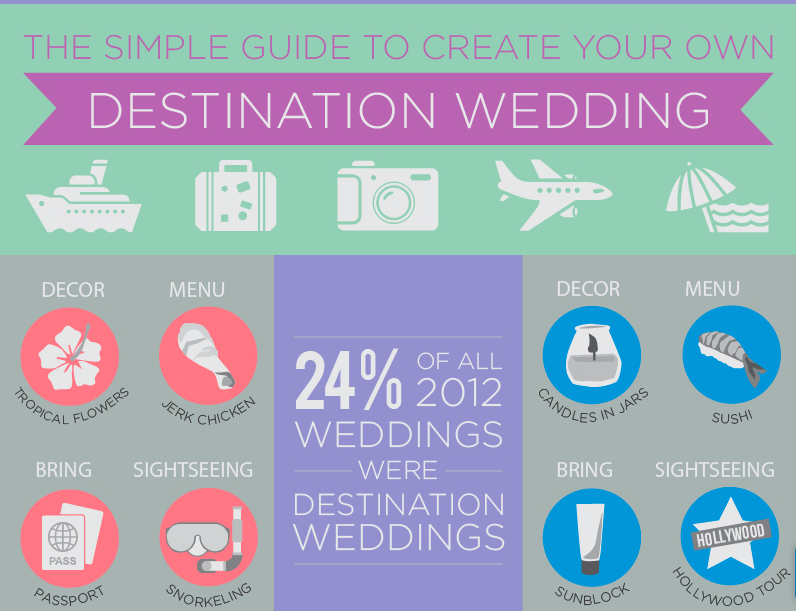 Calling all destination brides — it's time to give yourself a well-deserved pat on the back!
Between the hours of location research, emailing travel agents back and forth, and working with vendors over the phone, it's enough to make any bride give into frustration and just elope…
Yet, at the end of the day, you know your destination wedding is about you and your fiancé, as well as your new life as a married couple!
To help you skip the stress and celebrate with your closest family and friends, I compiled the best tips and tricks from my favorite destination wedding brides to share with destination brides that want a super fun & affordable destination wedding video of their big getaway weekend!
In need of more inspiration? Check out my "Destination Weddings Guide" checklist to help spark your getaway wedding creativity!
Destination Guide Tip #1: Find destination brides with the same location, and take notes!
"Planning a destination wedding was pretty easy, but the hardest part for me was not really knowing how things were going to be or what they would really look like when we got there," recalls destination bride, Savanah from Savanah Smiles. "I spent 11 months stalking other Dreams brides pictures trying to lay out exactly where everything was at the resort and I spent a lot of time on the Dreams board on Bestdestinationwedding.com.  That helped me figure everything out and let me ask questions to previous brides who had recently returned."
Destination Guide Tip #2: Destination wedding does NOT necessarily mean expensive wedding
"The most common ways that couples save money on a destination wedding is by booking their wedding, honeymoon, and guests' stays with one resort," dishes Caribbean wedding specialist, Kali.
"As few as 4 wedding guest rooms can earn discounts for the bride and groom. My favorite venue is at one of the resorts I recommend in Jamaica. This resort has its own private island, and the couple can rent it for just $5,000 for their wedding and reception. You really don't need much decor when you're surrounded by the beauty of your own private island in the Caribbean! Plus it is a total wow-factor for your guests."
In terms of saving money in a creative way, Ann from full service travel agency Fareconnect Manitoba Weddings reflects: "I would have to say the most creative thing that brides are doing to save money on their wedding would be to have a wedding registry with their travel agent. Guest can contribute towards the destination wedding instead of the traditional gifts. That could be directly to the cost of the trip. Or, something more personal such as to purchase the couple a candlelit dinner, or couples massage"
Looking for the perfect destination wedding dress, but can't find the perfect dress that doesn't break the bank? "Buying a pre-owned destination wedding dress can be a great deal and even a fantastic steal!" says Andrea from Smart Bride. "Many brides elect to have a destination wedding and even buy their dress only to have second thoughts about leaving out many friends and family and decide to get married on home soil. For that reason, there are many brand new destination wedding gowns for sale online. Try them on at a store near you, then search for your designer and style name on SmartBrideBoutique."
If you are buying a once-worn destination wedding dress, here are some questions you will want to ask the previous owner before buying:
1) Did they wear the dress in the ocean? For example in a wet and wild trash the dress session.
2) Has the dress been professionally cleaned?
3) Is there any damage to the hem of the dress, details or zipper/lace up back?
Destination Guide Tip #3: Take advantage of your smaller guest list
Super WeddingMix bride, Elizabeth, got married in 3 different international locations and told us all about her jet-setting adventures. Right before she got married, Elizabeth wrote a destination wedding planning post and had this piece of crucial advice for brides-to-be "Make your guest list early and be ruthless – you can always add people later, it's harder to un-invite. Remember to make time for the two of you – that is the whole point of this circus after all. "
Destination Guide Tip #4: Actually take the time to enjoy your wedding guests!
When asked about the greatest perks to having a destination wedding, Sandy Malone, the destination wedding planner featured on TLC's Wedding Island said: "The biggest benefits to a destination wedding are the ability to have more control over a smaller invitation list, more control and less input from the hometown peanut gallery about your planning. You can get more bang for your buck on many islands, and stretch your budget further while feeding and watering your guests far more than you would have back home during a traditional wedding weekend. And you'll have more time to spend with your out-of-town guests when they actually arrive, as opposed to the traditional wedding at home where you only see them at the rehearsal dinner (if they're invited) and on the big day."
Click on the image below to see a clearer, larger view: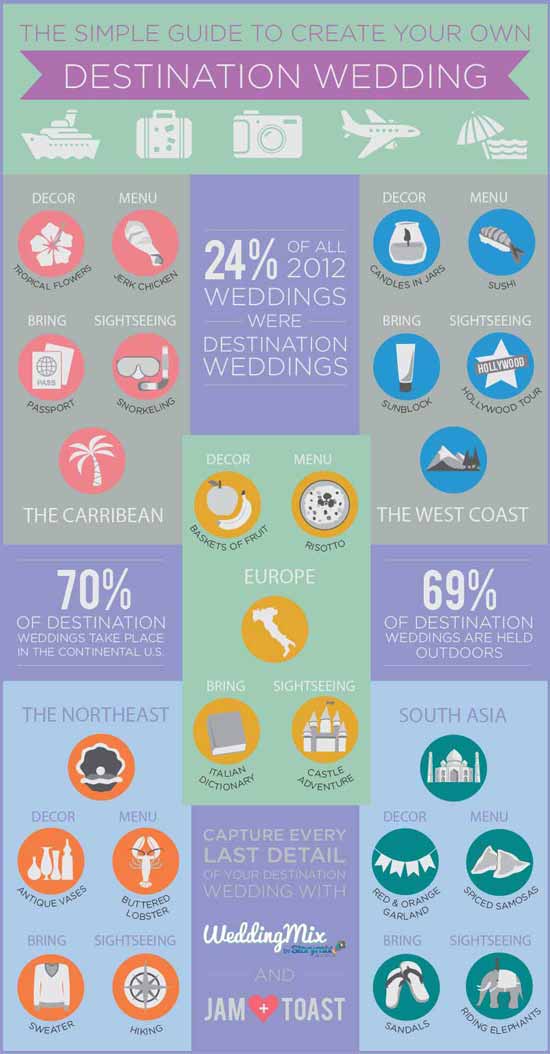 Feel free to share our infographic. Just copy/paste the code below for your blog, or use the share button at the top of this post for Pinterest, Facebook or Twitter.