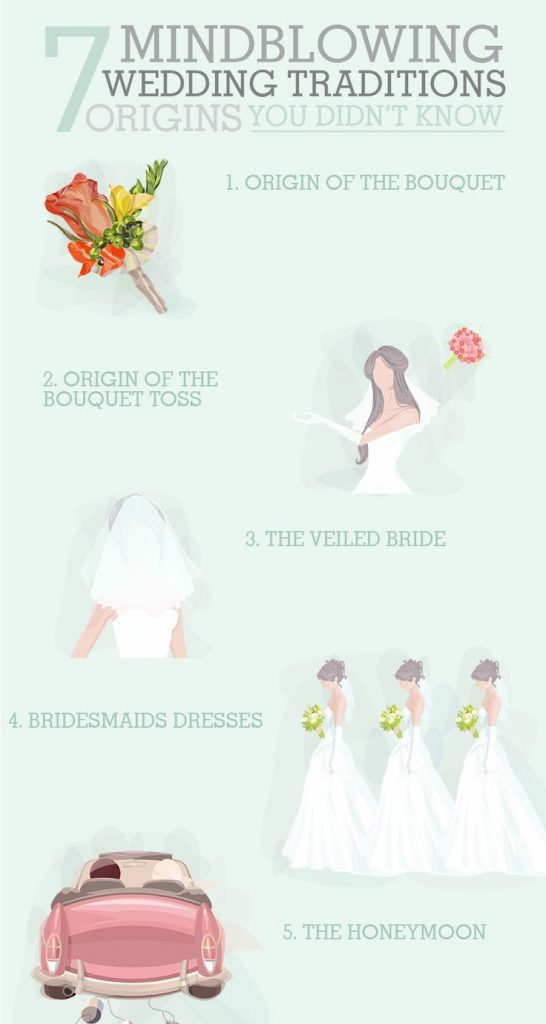 I've always been an unconventional, independent-minded girl, but that doesn't mean that I don't dream about walking down the aisle in a snow white dress and throwing a big bouquet to my bridesmaids!
Yet, when I browse Pinterest I also fall in love with all the super creative (and affordable) DIY wedding ideas,  offbeat venue and dress inspiration, and other non-traditional aspects that brilliant brides are adding to their wedding.
So how is a modern bride supposed to find the balance between keeping with wedding tradition and celebrating in an awesome 21st century fashion?
I caught up with some of my most inspiring wedding bloggers to get their advice on how brides can expertly include their favorite traditional AND non-traditional aspects into their wedding! Even better, I did a little digging and found out some of the origins of my most adored wedding traditions are totally weird. Check out the infographic to see the 7 mindblowing origins of popular wedding traditions 🙂
Figure out what traditional aspects are important to you, ditch the ones you aren't crazy about
"I love that we currently live in a day and age where people have the option to do whatever the hell they want to do for their wedding," said super trendy blogger Martine of Primp My Bride (and past WeddingMix bride!)   "Whether it's sticking to every traditional aspect to feel a connection to this experience that so many people have gone through over hundreds of years, shelving every single tradition to make the wedding entirely unique, or falling somewhere in-between, the important thing here is that there are no longer set rules on what you can and cannot do."
To highlight the traditional and modern flair within her wedding, Martine made a list of the traditions she was keeping and which she was skipping.
Some of the things she included in her wedding:White Wedding Dress  – "To me, there is nothing more iconic of weddings than the white wedding dress. Also, I can't think of another time in my life where I'll be able to wear a stunning white gown, so this was a tradition I definitely didn't want to skip."
Bridal Bouquet – "At first, I was going to skip a floral bouquet in favor of non-floral one, but when we saw there was room in the budget for flowers, I decided to go for it. And I'm glad I did, because we'll be re-using the bouquets during the reception as part of the decor."
Some of the things she skipped: Not Seeing Each Other Until the Ceremony
"We are totally doing the "first look" for several reasons":
1) We will be spending the night before the wedding together.
2) It'll be nice to have some time alone before the ceremony, just the two of us (and our photographerss of course).
3) There is no way in hell we are missing cocktail hour to take photos!
Only Dad Walking Me Down the Aisle — "I know this is non-traditional in certain religions, however most of the time, it's only the father that walks the bride down the aisle. For our wedding, I'm having both my mother and father walk me down the aisle. I just think there's something sweet about walking with both my parents, especially since they both raised me and are luckily still together."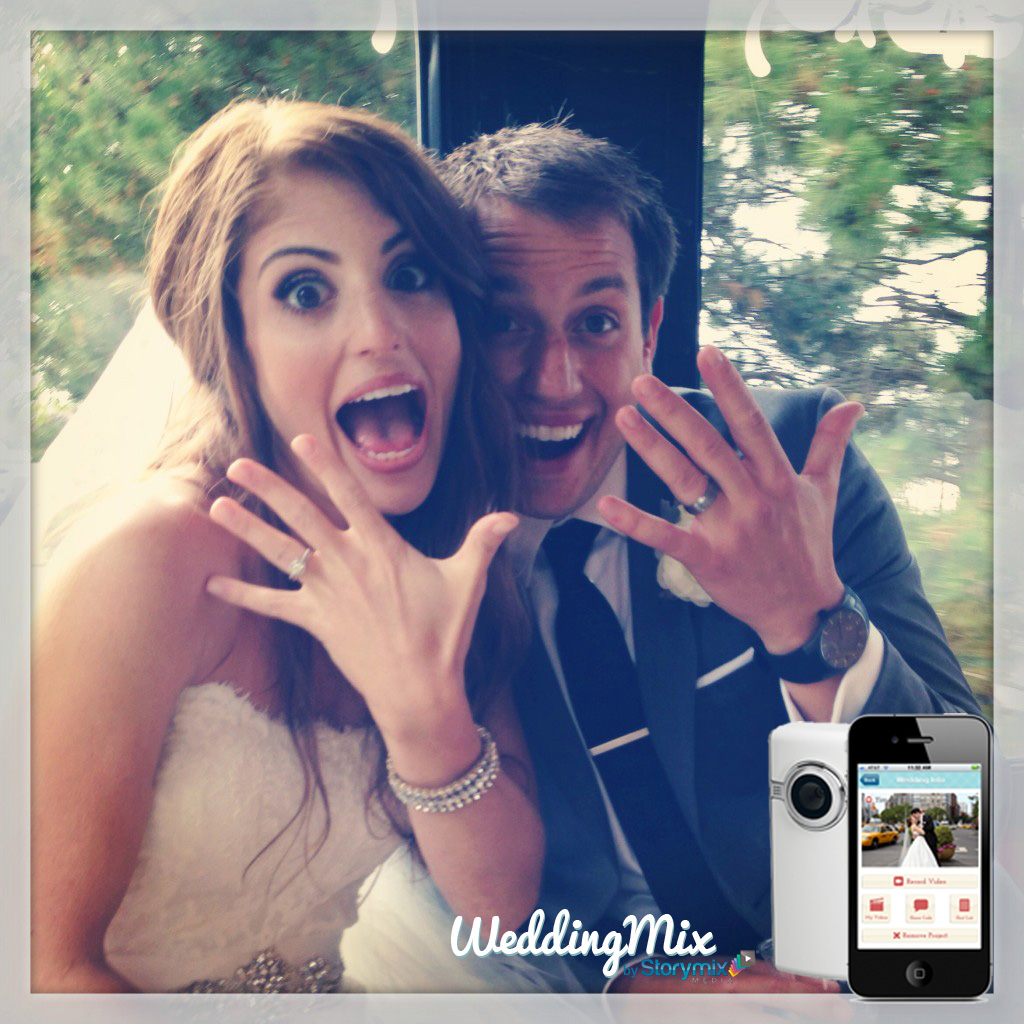 Make your ceremony relevant to you, your beliefs, and your guests
 Fabulous Wedding bloggerJess from Blonde Jess Isn't Sorry talks major traditions to us: "Most importantly, our goal is to keep our wedding true to us and our tastes, while recognizing and honoring our families and our friends.  Our lives constantly blend traditional and contemporary aspects, so it only makes sense that our wedding would do the same."
"Tradition was one of the things that Joe & I had to re-negotiate along the journey of our wedding planning," said Moxie Bride Renee. "Some "traditional" things, like the bouquet and garter toss, were off the table right away. We are both older (I'm 37 and Joe is 47) and we honestly don't have that many single friends anymore. And the ones we do have wouldn't want to be singled out in that manner, I'm sure!"
"We wrote our ceremony, from start to finish, because we didn't want to use the traditional script that we've all heard a million times. We wanted our ceremony to be relevant to us, and our beliefs. So, in that sense, I think our ceremony was very untraditional. We did get lots of feedback from our guests that they thought our ceremony was very personal, and very moving. So, I guess no one missed the traditional script after all!"
Think about what you want your wedding to reflect, and don't be afraid to put a creative spin on an old favorite!
"I love when a bride and groom celebrate their love while keeping tradition but sometimes a creative spin on a classic can ignite a fabulous idea!" noted Angelica from Bridal Detective.  "Every bride has heard of "Something New, Borrowed, and Blue" but why not go green and "renew" your impending nuptials with Eco-friendly ideas that feature "Our Love Grows"/"Let Love Grow" wedding favors that include seeds to your favorite flower."  
"My fiance and I wanted our wedding to represent us — and because we live in the modern world with one toe in the past, we wanted our wedding to reflect both a current and classic aesthetic," said modern and fun blogger Em from Em for Marvelous.  "We kept the traditions that had meaning to us or that we liked, and nixed the others. For example, though I wore a very traditional blusher veil down the aisle, I didn't toss my bouquet — I wanted to keep that sucker for posterity!" 
Awesome WeddingBee blogger Cici of Martini Girl Sake World reflects: "My favorite way I've seen brides put a non-traditional, creative spin on an old wedding tradition is by making the bouquet toss a fun game for not only the single ladies, but for the single men as well! I've seen brides use a football instead of a bouquet or attach a $100 dollar gift card to their bouquet and have everyone try to catch it.  This fun new spin has caused the once embarrassing tradition for single ladies to turn into something fun for everyone! "
Flexibility is key
"When brides are trying to include traditional elements in modern weddings, I think it's important to be flexible on how strictly you want to follow the tradition" mused clever Weddingbee alum Erin from Internationally Erin. "Many times you can still include a particular element, and just carry it out a little differently to better suit your day."
"When I got married… it was important to my mom that we have a receiving line. I didn't necessarily love the formality of the traditional receiving line…and I think it takes so much time, when all you want to do is celebrate and have pictures taken before your reception. So, after our ceremony we did a bubble exit and left for photos. Then, before people went upstairs for the reception, my husband and I and our parents greeted each of the guests at the bottom of the stairs."
"This let us keep the flow of the day moving, and my mom was satisfied that we got to greet and thank each of our guests, personally.  So many traditions still have a place in weddings, but they'll fit in your wedding day best if you're really thoughtful about which traditions you include, and how you incorporate them- make sure they match the feeling of your day!"

Feel free to share our infographic. Just copy/paste the code below for your blog, or use the share button at the top of this post for Pinterest, Facebook or Twitter.
DIY Wedding Video App