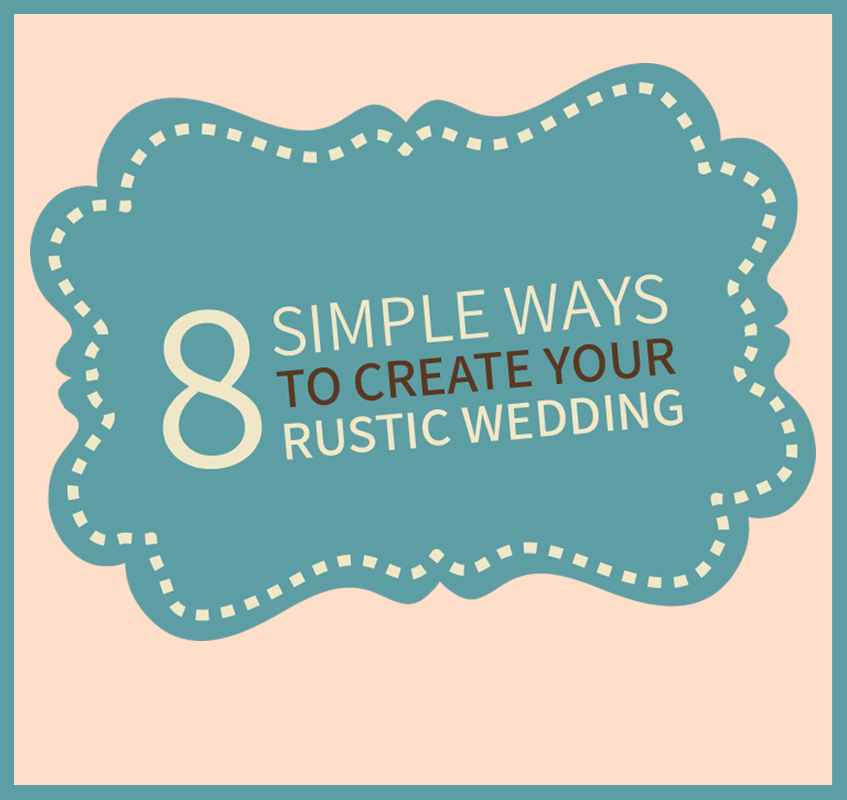 You don't have to be addicted to Pinterest (points finger at self) to notice that "Rustic wedding details" have taken the online wedding world by storm! Yet, doesn't it seem a little odd that wheelbarrows and haystacks are trending with modern, tech-savvy brides? I definitely thought so.
I caught up with some of 6 brilliant rustic wedding experts to get the scoop on why rustic wedding details are at an all-time popularity with 21st century brides. From bloggers from Rustic Wedding Chic to SnapKnot, these wedding pro's also gave their astute opinions on the best aspects of rustic wedding style for any couple!
Even better, Oklahoma bride Jennifer let us share her amazing video of her rustic wedding — filmed by all of her family and friends using the WeddingMix app and turned into her stylized rustic wedding video! Now how cool is it that she got to include her proposal in her wedding video?
"So many brides are going with the rustic look because it allows them to add their own personal touches and create a beautiful and organic look," observed Maggie, founder of
Rustic Wedding Chic
.  "The rustic style seems like a trend but for brides and couples in more rural locations rustic wedding have been what they have planned for decades. The rustic look has become a little more universal thanks to tools like
Pinterest
where brides can see what other brides all over the country are doing with their wedding."
According to Aviva, wedding planner and designer from Kiss the Planner: " I think there a few reasons rustic weddings became so popular. In my opinion, one of the main reasons was necessity. When the recession hit, the definition of a beautiful wedding had to change and expensive glamorous weddings became fewer and farther between. Do it yourself brides incorporated the elements of nature and items they could craft themselves in order to save money.
"For others, rustic was simply their style. The traditions of our parents and grandparents weddings have morphed and changed over the years and what once was the only way to do things became a thing of the past. Many of today's generation of brides and grooms want to show their unique characteristics at weddings and don't feel the need to be traditional. Rustic is as viable as any other possible style they might choose. For many though, I see a long running trend of "rustic-glam" which mixes elements from both and incorporates the best of both worlds."
Rustic details remind us to take a break from the air-brushed wedding illusion 
"I think rustic weddings are commonplace these days because they are the antithesis of the digital, retouched and fast-paced world," said Kate from Kollective Events. "I planned my wedding with my husband last June and he was so into everything being rustic. We even had cake made in mason jars which we dubbed "the jake." we made our own alter from branches at his property and we even made our own napkins.The biggest takeaway I got from co-planning our wedding was that people want to be able to select the best vendors in one fell swoop…the ones that have the breadth to pull anything off…even rustic weddings."
According to wedding specialist from Stratton Mountain Resort, Elizabeth, rustic DIY weddings are trending for one simple reason. "It all comes down to the unique way that rustic touches create intimate moments that pay homage to the couple's relationship story."
"The popularity of DIY projects on Pinterest has inspired countless crafters to bring a personalized touch to their wedding. Craft projects can be daunting, especially for those who don't think of themselves as naturally artistic, but rustic DIYs are charming because they are homespun and (maybe) just a little imperfect. Each pine cone and burlap table runner is unique – and they look best if they're just a little crooked or frayed. Personalizing a cookie-cutter, traditional wedding gets expensive very quickly; rustic DIYs add character and personality on your budget."
"With limitless possibilities for customization, rustic weddings create a destination within a destination. Guests arrive at the venue and are immediately transported into a fairytale. Hay bales become seating and Mason jars become wine glasses. Strings of white lights cast an enchanted glow over the dance floor. Hand-lettered chalkboards feature farm-to-table cuisine, local craft beer and artisan liquors. A rustic wedding is a world unto itself, and one that is built entirely from the heart.
Because rustic weddings are so heartfelt and personal, the choice of wedding venue is very important. Often, the environment itself is part of the couple's relationship story. If they share a passion for snowboarding, they may have their wedding at the mountain resort they love. Or, perhaps they met one summer at a local swimming hole and decided to celebrate lakeside."
"Rustic weddings are an intimate, personal means of celebrating a couple's unique love story. That's what makes the rustic style a trend with timeless appeal."
Rustic Weddings let your embrace your creativity for a fraction of the cost 
Charmaine, bridal blogger from Rustic Folk Weddings, notes that brides should embrace the imaginative vibes of country-esque decor and details:  "Rustic weddings bring together a wide array of spectacular details that continuously finds favor with brides, making it a top wedding theme. In my opinion what makes this simple style so popular to modern brides is the versatility, creative designs, and diy details that allow brides to incorporate there own twist on this popular wedding style. Rustic weddings has an effortless way of integrating a unique mix of vintage, country, and old fashioned ambiance that is beautifully blended to showcase a couples individual style. As new trends and wedding styles emerge this is one wedding style I don't think will ever loose the spirit of what makes it so special."
"Some of the best aspects of the rustic style wedding are the beautiful bright colors and fun details that you would not see at a more traditional themed wedding, advises Kari from SnapKnot. Here are a few cool rustic themed wedding details she recommended:
– Sparklers are such a fun detail to includes. They are stunning in photos, especially as the bride and groom run through them (safely, of course!) when leaving the reception.
– Bright flowers – bright blues, pinks, oranges, yellows and reds all look so beautiful together and really stand out.
– Hand-written place cards give just a little bit more to the rustic feel


Feel free to share our infographic. Just copy/paste the code below for your blog, or use the share button at the top of this post for Pinterest, Facebook or Twitter.