If you're in need of bridal shower weekend ideas, prepare to be BLOWN AWAY by 50Peach's Epic Bridal Shower Weekend! From a bridal luncheon as sweet as a cupcake to a Fifty Shades of Grey bachelorette blowout, Peach's best girl friends treated the bride-to-be to a weekend that was all-kinds-of-awesome! 
Check our her super fun Bridal Shower + Bachelorette WeddingMix video and read up on more of her crazy-amazing wedding weekend ideas! 
Ever look back on a major event and wish that you had more photos/videos to capture those awesome memories? I sure do. So when it came to what I'll affectionately call my "Epic Bridal Weekend", I knew that I needed professional help with the documentation of all the fun details.
Enter: WeddingMix! My fiancé actually told me about the app first, and then I learned more about them from The Broke-Ass Bride. And I'm so glad I decided to try it out!
By simply asking my bridal shower hostess to include the amazingly easy "how-to" one-pager in her Save the Date email and reminders closer to the event, that ensured that everyone downloaded the FREE app and had our event added in advance. And I'm so glad that I did, because I now have some amazing videos and photos of the entire weekend that I'll treasure for years to come!
My weekend included: a gorgeous bridal luncheon with fancy food and copious gifts, followed by a bachelorette party with a "Fifty Shades of Grey" theme! I pretty much knew what to expect from the ladies luncheon, but my Maids of Honor and BFFs kept my bachelorette plans completely secret! Not gonna lie, it drove me crazy. But they thought of everything.
The luncheon was so, so sweet and touching. I'd invited a larger group of close girlfriends and my mom for the shower. I felt so loved from the outpouring of gifts and the efforts by the hostess to make everything as beautiful as possible. Just look at the table settings!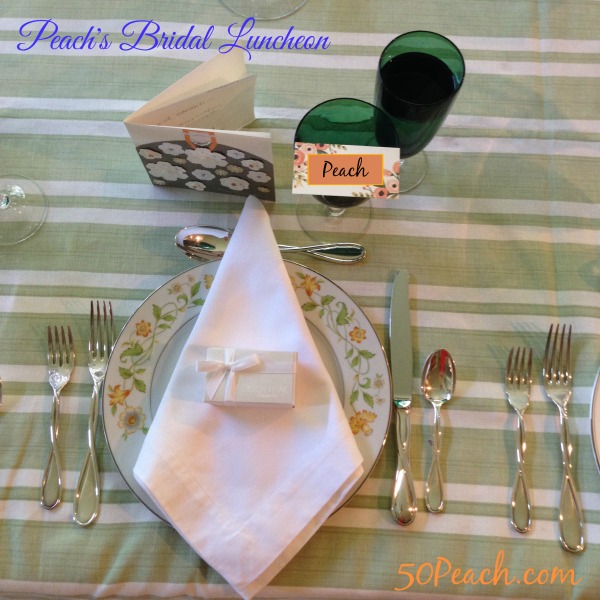 After we ate (and I had cupcakes shoved in my mouth by my mom, love her), we opened gifts. Silly, naive bride that I am, I didn't know about the ribbon-breaking tradition that states if I tear a ribbon, it means I'm having a baby. I tore one before I knew the rule! All of our many gifts were touching and heartfelt, but the most fun was definitely the set of two NERF guns. Because what future wife wouldn't want to pelt her fiancé with a dart gun once in a while???
Once the shower ended, it was time to begin the evening's shenanigans. I made the personal choice to have a smaller group of my closest girlfriends participate in the bachelorette plans. They swept me away to the Georgian Terrace – a beautiful and renowned Atlanta establishment for hosting weddings and stunning events. There, I walked into a suite that was completely decked out in a Fifty Shades of Grey theme – framed quotes, cutouts of my fiancé's face posted on thewall with sayings like "I do believe you're making my palm twitch"!, fun decor, slinky sequin masks, sexy props, condoms (of course) and a gorgeous matted framed picture for my girls to sign and put their lipstick kisses on. It was amazing!!
They even kept my 50Peach (as in Fifty Shades of Peach) theme going with peach and vodka shots, fresh peaches from the farmer's market and even included not one, but TWO of my Mighty Peach Life List items for that evening. These extra touches and special efforts from my girls made my night truly memorable and so, so personal to me.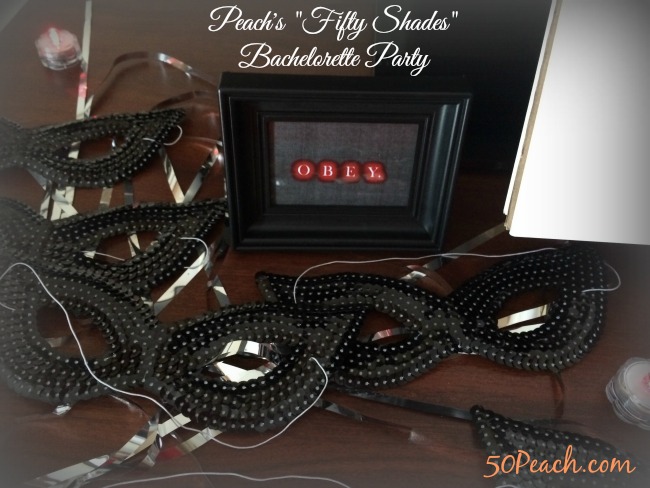 They even went so far as to have rummaged through my closet for an outfit, brought their own extra options, dressed me, did my makeup and arranged for a stretch limo to drive us around all night! But first, they helped me check off #2 of my Mighty Life list – "Know what caviar tastes like"… which explained the bizarre requests from them about whether I had eggs and if they could boil them. I was already completely swamped with love and gratitude for them all.
And the night? It was truly EPIC. We hopped in the limo and started poppin' bottles of bubbly. We arrived at our "dinner reservations" and I cracked up laughing. They took me to Lips – which is dinner and a drag show! We ate and drank ourselves silly while watching these talented performers. I was nervous at first, mostly because we were seated right by the stage, but as the bubbly and rockin' entertainment sunk in it was just FUN. I was even called up onstage with the other brides-to-be in the audience and we were interviewed, then all did an uhmmm… "special" beverage shot without using our hands. I'll leave it at that.
After Lips, we had some time to kill before the final stop, so we went to Wet Willy's for a quick boozy/slushy drink. I got the Peach, of course. Then our limo driver whisked us away to the final stop – 10 high! 10 high is a super fab karaoke bar that boasts a LIVE band that backs up the singers. And my girls, bless them, knew that #1 on my Life List was to sing Miranda Lambert's Kerosene at karaoke. They had called months ahead of time and the band learned the song just for me to sing it! WOW. I won't lie, I was a bundle of nerves to do it. But that's why it's a Life List – even though it was scary, I wanted to make myself do it…and kick some butt in the process. And I did it! It was surreal to be onstage in a room full of strangers, with my girls in the front row videoing and singing along! SO MUCH FUN.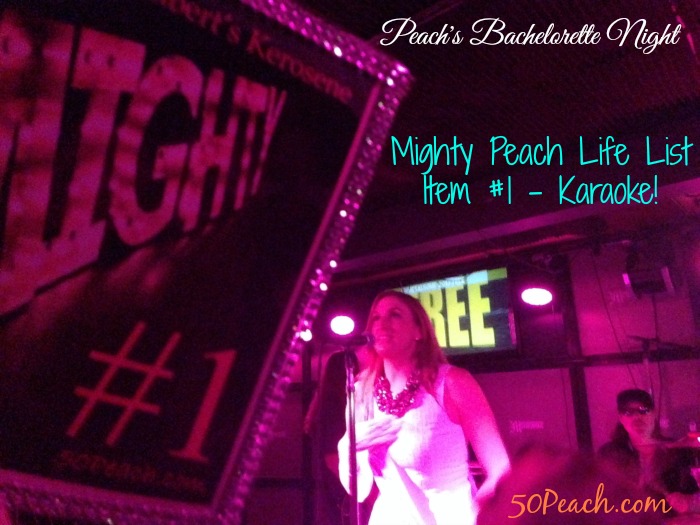 Everything my girls did to make the night special for me was amazing – the personalization with Peach/50 Shades, tackling Life List items, the crazy-cool limo all night and especially the framed picture that is now hanging in my bedroom as a reminder of how loved I am… epic, epic weekend.
And most of all, I love that WeddingMix made it easy for us to capture all the moments so that I'll have my cherished memories to re-visit. Many thanks to them for helping me keep these precious memories of my amazing weekend. They've graciously created a short video mashup of my epic weekend for you.
Enjoy!
And of course, we'll be using the app and cameras for our wedding! We'll just email and/or include the one-pager instructions in our welcome bags. Easy peasy. I can't wait for my wedding video!! Trust this bride-to-be… go check them out. You won't be sorry.
Till next time,
~ Peach
BIO: Peach is an Atlanta blogger, runner, yogi, dork-o-rama and clean-eating foodie with a mean sweet tooth. She is marrying her Jersey Boy in October 2014 and can be found egregiously overusing hashtags as 50Peach on Twitter, Instagram and Pinterest. She blogs at 50Peach.com and promises not to say "Bless your heart." … unless you really deserve it.