When friends and family arrive at your gorgeous wedding locale, you'll definitely want to greet them with open arms…and one-of-a-kind destination wedding welcome bags! 
Themed welcome bags double as a great way to relay important info about upcoming events and are just one of the many fun ideas that involve guests at your wedding! Plus, nothing says "thank you for celebrating with us!" like a tote full of vacation essentials and fun souvenirs.
Professional wedding planner Rebecca Jones put together 8 fabulous ideas for the destination wedding welcome bag that's perfect for you and your guests. Take a look at her tips and prepare to tie the knot in paradise!
Fun Ideas for Destination Wedding Welcome Bags
If you're planning a destination wedding, here's a tip that you'll thank me for later: make sure that you put together custom destination welcome bags for your guests! Filled to the brim with little gifts that go the extra mile, welcome totes are often treasured long after the "I dos."
If you're looking to hit it out of the park with your own destination wedding welcome bags, here are a few fun ideas of what you can put together:
1. Start With Your Destination Theme
First impressions often draw us in and stay with us for a lifetime. To make your destination wedding welcome bags really pop, get creative with the bag itself! Think of it as a blank canvas that you can use to highlight your theme or the destination venue that your guests have traveled to.
Here are a few examples:
For a beach wedding welcome bag idea, opt for a nautical design or a colorful cloth tote that can double as a beach bag.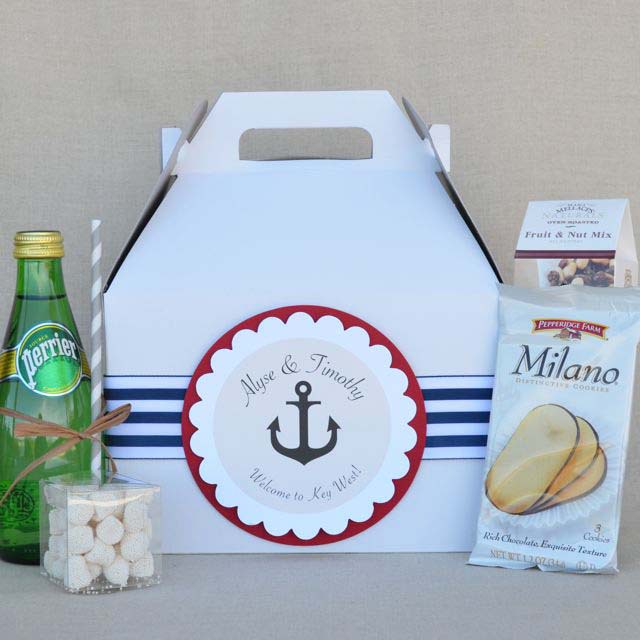 If you're traveling to a big city, highlight the urban setting with a tote that features a picture of the city's skyline or a silhouette of the state.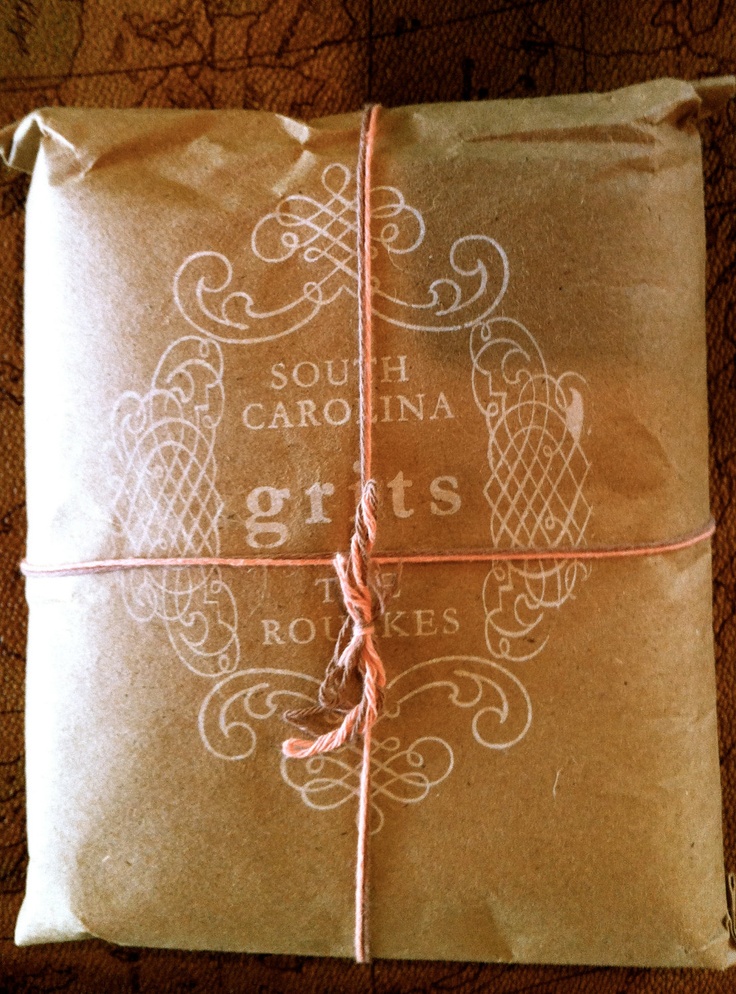 No matter what your destination of choice is, make sure that you give your welcome bags a personalized touch!
2. Scope Out the Area
The first interior component that you should include in your welcome bags is something for the adventurous souls in your wedding party. Your guests have come a long way to be a part of your destination wedding. Do your best to make sure they're having an amazing time. While a decent portion of their time will be spent attending the main wedding events, they're going to have quite a bit of down time as well.
To take care of this, provide your guests with a map of the area and accompanying information about popular attractions and restaurants that they can visit nearby. Highlight popular museums, monuments, parks and one-of-a-kind sights in the area. Feel free to give a shout out to local pubs, wineries, bakeries and restaurants that your guests can check out, as well.
For a fun twist, you can also put together a scavenger hunt for guests to participate in between events, that way they can take in the sights, interact with other guests that they may not know, and make even more exciting memories.
3. A Taste of Local Flavor
From fine cheeses and bottles of locally crafted beer, to salt water taffy and coconut milk, every destination has delicacies that it's known for. By providing a taste of local flavor in your welcome bags, you're giving your guests the chance to experience what the area has to offer without needing to leave their hotel rooms.
These treats and drinks will tie them over in between events, save them from raiding their minibars and dishing out the dough to get room service, and open their eyes to new tastes.
Aside from the local treats, another fun touch is to add a taste of the bride or groom's favorite candy, popcorn, or cookies, as well.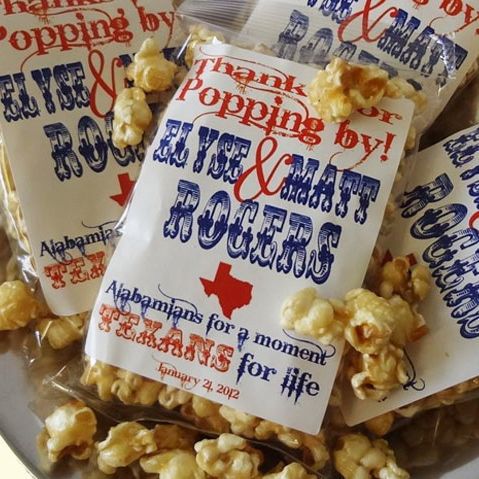 4. Essentials to Tackle the Environment Like a Boss
Whether your wedding is in the Swiss Alps or along the Mexican coastline, the environment can be amazingly picturesque—but that doesn't mean that the weather isn't a bit tricky to deal with.
If you're wondering what to include in your destination welcome bags, use a few practical gift ideas that'll make the trip all the more enjoyable, such as:
A small bottle of sunscreen
A pair of sunglasses
Bug spray
Lip balm
Hand warmers
A plastic poncho
Tea bags or packets of hot chocolate
A mini first aid kit
5. Gifts Unique to Your Destination/Theme
Okay, back to the fun stuff. To finish off your destination wedding welcome bags with a bang, it's time to add something unique to your destination, your wedding's theme, or even the bride and groom's personalities.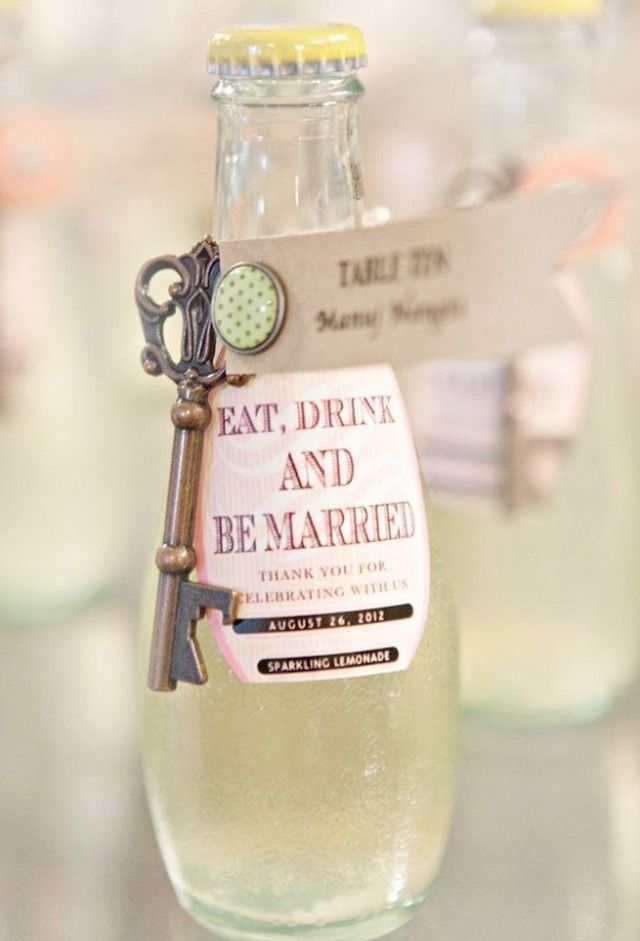 If you're getting married on the beach, include a pair of flip flops for your guests to wear. If you're getting married in a vineyard, provide guests with a keepsake bottle opener. If you're going to have a picture booth at the reception, provide guests with a funny prop or two that they can pose with.
6. They're a Good Oppurtunity to Include Important Info
Bride Jaclyn DIY'd her own desert-themed wedding welcome bags, and they look amazing! She included info about using the free WeddingMix video app and wedding hashtag so she could collect all her guests' photos and videos. After her destination weekend, editors will turn her favorite footage (from traveling to the wedding to the honeymoon) into her fun wedding video through her guests' perspective!
She captured the creative DIY welcome bag process with the free app to include in her fun multi-perspective wedding video.
Did you love the WeddingMix highlight? See what other brides had to say on The Knot:
WeddingMix was the best option for us on our wedding day and I almost didn't pick it! We had a destination wedding with only a small group of close family and friends, so video was very important to me so that my extended family could see our ceremony. Videographers in our area we're beyond expensive, so we considered having our friends shoot the video we wanted. I stumbled upon WeddingMix one day and then completely forgot about it until one of the employees reached out to me to see if I was still interested in video and would like more information. This is what hooked me after the very reasonable price: these people actually care about their brides and will go out of their way to help you. They keep in contact with you and work with you to get the video you want."
7. Always Remember that Personal Touch
It's crazy how much you can change the presentation of something as ordinary as a water bottle by simply adding a customized label, but that's the kind of personal touch you should be going for in your destination wedding welcome bags. By visiting a website like Gracious Bridal, you can get beautiful welcome bags, customized favors, personalized gift packaging, and more all at one convenient location.
Take these fun and thoughtful ideas into consideration when you're putting your destination wedding welcome bags together, and get ready to blow your guests out of the water!
Rebecca Jones is a professional wedding planner from New York City. In her spare time, she enjoys writing and shopping for rare finds at antique stores. She lives with her husband and two-year-old daughter Sophie.