The bride is not the only one who deserves to feel beautiful on the big day! Moms have been there for their children through thick and thin, and there's no doubt they'll want to stun on the wedding day!
We've put together a list of wedding looks mom can't resist in order to help her find that PERFECT look!  The wedding party have their looks planned out by the bride and groom, but this special lady has a little bit more wiggle room to find her look for the day.
Moms – what's your wedding day style? We've put together some trending looks to help you narrow your search a bit!
1. The Gala Mom Wedding Look
The Gala Mom is that mother who always dresses to the nines – she's fashion forward, and perhaps a bit dressier than the rest of her entourage!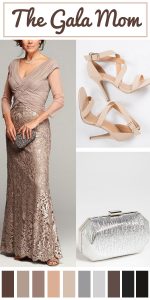 Dress: Nordstrom
Shoes: 2020ave
Purse: Pinterest
Moms – having you by your son or daughter side on the wedding day is something that can't easily be put into words. Bride Erin expressed her feelings on her mother's presence on her wedding day.
I think the moment my mom got to the cottage that my girls and I were getting ready at with my dress the whole day got really real for me. We took my dress out of the bag and hung it in the door frame, my mom and I got teary eyed and hugged each other, I never want to forget that moment!
It's hard to not get emotional about this special woman. Mom's been there through the good times and the bad, she's been her child's biggest fan and strongest support system since day one.
2. The Thrifty Mom Wedding Look
The Thrifty Mother wants to look glamorous on your special day – but she's not going to break the bank on an outfit she may only wear once!
The thrifty mom is also seeking a unique look. She may enjoy combing the racks at local outlets to find a more exclusive look. She doesn't follow the trends – she creates them.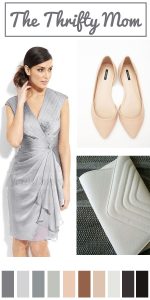 Dress: Newsdress
Shoes: Forever 21
Clutch: Poshmark
Our mothers mean the world to us, and we celebrate them in the special moments of our lives. This mother/son wedding dance is both amazingly fun and super creative!
This wedding video keepsake was captured with a WeddingMix package!
3. The Cool Mom Wedding Look
No, this is not a "Mean Girls" reference! The Cool Mom is willing to take a few risks for her look. She's a bit more couture than the others, and she's proud of it!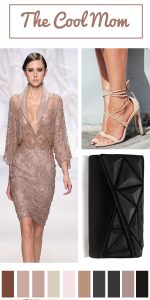 Dress: Pinterest
Shoes: Nudevotion
Clutch: Polyvore
4. The Conservative Mom Wedding Look
The Conservative Mom is most comfortable with tried and true fashion statements. She likes the classics – and who can blame her? So many fabulous options to choose from!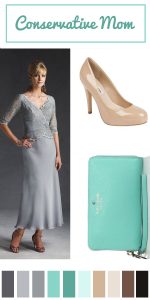 Dress: Dressesss
Shoes: Nudevotion
Clutch: Polyvore
Every mom wants her child's wedding day to be the wonderful celebration she knows her child deserves! After all – she just wants you to be happy! More often than not, she's excited to do whatever she can to make the day perfect.
These newlyweds reflected on the parental involvement behind their special day.
"Molly's parents…went to countless meetings, trials, and venue visits when we couldn't make it into town. There would be no wedding without them. Although they also got to do the wine tasting when we weren't there, so don't feel too bad for them!"
And it was all worth it! Molly and her husband's wedding photos show just how breathtaking the day was!
See any wedding looks mom wouldn't be able to resist? Or perhaps you have a suggestion for another style you'd like to see? Share with us in the comments, we'd love to hear from you!