Avoid these 22 top wedding regrets on the big day! Check out this list of the top bridal regrets and learn how to avoid them at your wedding.
Vendors
1. Wedding Video
Considering cutting out a wedding video from your wedding? Surprisingly, this was listed as the #1 regret of many brides. There's something very powerful about being able to go back and watch your "I do's" and all those candid moments that happened while you were getting your photo taken!
According to Brides Magazine, "77% of [wedding] guests are not afraid to take photos during the ceremony. And 25% always post a pic on social media." Wouldn't it be nice if you had access to all those photos and videos? With the WeddingMix app, gather all this media in one convenient place and our team of editors will create a one of a kind wedding video!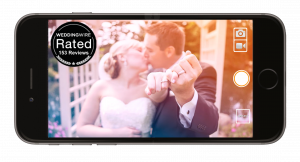 Check out WeddingMix couple Meaghan and Seth's stunning wedding highlight video below, filmed using the WeddingMix app and cameras!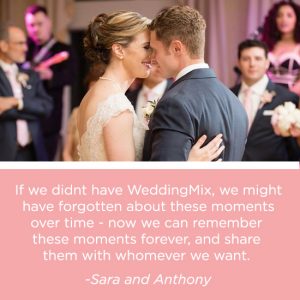 2. Screen the DJ
Make sure you're all on the same page about what type of music is to be played.You make want to provide the DJ with a list of any songs/genres that you do NOT want to hear at your wedding. It's your day, the you want the soundtrack to be perfect!
Venue
You carefully selected the perfect place to say your 'I do's' and celebrate with your loved ones. Choosing the venue is only part of the process – you need to decorate, plan and set up the space to accommodate your ceremony's unique needs.
3. Centerpieces
Don't overpay for your centerpieces – while they're fun to plan and beautiful to look at – People are not going to analyze these as much as you think! Focus your money on the more memorable aspects: food, music and booze!
Consider having DIY centerpieces! They're beautiful, and a great budget saver!
4. The Hot Seat
If you're hosting outdoor ceremony or reception, your chairs are likely to get very hot in the sun. This creates an unpleasant experience for your guests, and no one wants that! You want your family and friends focused on the ceremony – not the seats! Simple seat covers or cushions can make a huge difference!
5. Time to Tie the Knot
With an outdoor wedding, it's important to plan your ceremony time according to the weather. If it's going to be a very hot day, you probably don't want to have your ceremony at 1 in the afternoon. Instead, perhaps opt for either an early morning event or a sunset celebration!
Speaking on sunset weddings – this couple's beachfront wedding celebration is nothing short of stunning! Their sunset reception is completely unforgettable!
Friends and family of the bride and groom served as the videographers for the couple's big day, using a WeddingMix package.
Bridal Beauty
You deserve to feel glamorous at your wedding! You plan every details from that stunning manicure to THE dress that took your breath away. Be sure to capture every moment of your stunning debut with a WeddingMix wedding video!
6. Wrong Dress Type
Say you're having an outdoor wedding and the sun is shining overhead. It's hot and you find yourself questioning your thick fabric choice. Not an ideal situation. You're going to want to stick with lighter fabrics, not just for you, but also your bridesmaids!
Your wedding dress is beautiful and you've spent TOO long waiting to wear it. However, when it comes down to it, the dress might not be the most comfortable outfit to wear all day!  Consider having a lighter, more playful reception dress that will be easier to dance in.
7. Online Dress Shopping
"If it sounds too good to be true – it probably is." There's a lot of truth to this line. If you find an AMAZING deal on a designer dress from a discount store online – don't put too much faith in it. A lot of the time these deals can be misleading, and there is no guarantee that what you see is what you're going to get. Additionally, there's always the fear it won't fit properly.
8. Painful Pumps
There's no denying those sky high designer heels look nice – but imagine the potential for pain and blisters by the time the reception rolls around. Keep it comfortable and practical – you'll be wearing them all day! Flats and kitten heels can be just as bridal chic – and pain free!
Like with all new shoes, it's also important to break in those bridal shoes! You know you're excited to wear them, so take advantage of that around the house, you'll be glad you did on the big day!
9. Makeup Woes
Many brides regret the decision to not have their bridal makeup professionally done. While this cost cutting option sounds appealing when you're watching your budget, seeing your face looking red and shiny in all the pictures may offset that appeal.
With that being said, you'll want to immortalize your stunning wedding look! With a DIY wedding video, you can see the gorgeous result from the perspective of the ones you love most – your guests!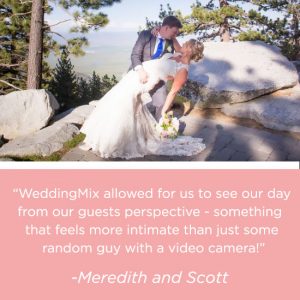 10. Premature Purchase
Trends change and so does your personal taste. If you buy THE dress too early you run the risk of falling out of love with it. Some brides find they no longer like the dress they purchase a year later, but no longer have enough money to get a new one. 
11. Retouch, Retouch, Retouch
Don't forget to retouch your bridal makeup! You may have cried during the ceremony and you certainly kissed the groom! Your makeup will get messed up throughout the day, make sure you have supplies to fix it throughout the day!
Food and Drinks
Summer weddings are beautiful – and a perfect opportunity for an outdoor ceremony. However, hot weather can harm your hard work if you do not plan for it – especially in terms of your food options!
12. Appropriate Appetizers
Make sure the appetizers you have planned can hold up to the heat or the cold – the last thing you want is for your hor'dourves to either melt or freeze! So perhaps nix the cheese dip in favor of something a little more solid – you'll be grateful when it's not melting on your dress!
13. Cake Insurance
Your wedding cake is one focal point of the reception space, and we know you want it to be BEAUTIFUL – so it's important to consider the integrity of the frosting. Classic frosting is not equipped for intense temperatures. Consider having a fondant cake – they're beautiful and have the strength to withstand the warm weather!
The wedding cake is both gorgeous to look at – and occasionally a source of entertainment! Check out this WeddingMix couple's hilarious cake cutting moment!
What a great moment to look back on! Want to immortalize your own celebration? Consider using the WeddingMix App and cameras – you can even make it a GoPro wedding!
14. Keep Guests Hydrated
Weddings are celebrations and we know you'll be raising a few toasts throughout the day. However, booze dehydrates the body – combine that with the heat of a summer day and you might not be feeling too well by the end of the reception! Make sure to have hydration options available throughout the reception space for you and your guests!
15. Rehearsal Dinner Restraint
We know you want to get the party started at the rehearsal dinner – you're excited that your day is just a night's sleep away! Just remember not to get TOO into raising your glass, because no one wants to wake up on their wedding day with a hangover! You might want to remind the bridal party, too!
16. Cake Creation
Weddings are all about family – it makes sense that you want yours to be involved in your special day. However, there are some instances where you really will want stick with a professional. Having a family member make the cake is a very heartfelt choice, but may not lead to the ideal result.
17. Eat Something
You're running around trying to see all your guests – don't forget to try the food you're serving! It's easy for brides to get mixed up in the excitement of the day and forget to eat. That bite of cake at the reception is not enough to go on when you're dancing the night away! Since you're probably drinking, it's also better for your stomach in the long run.
You're likely to be in high demand during the reception – so plan to eat something BEFORE making your grand entrance. Perhaps plan a small snack in the bridal suite with your husband while guests are enjoying appetizers – you get the added bonus of 15 minutes of alone time as a newlywed couple!
Miscellaneous
18. Recovery Day
You danced the night away, it was WONDERFUL …and now you're waking up at 4a.m. for that flight to the Bahamas? Rough. Before you leave for the honeymoon, you might want aside a day to recover from the celebration! It's better for your health – don't want to be sick on your honeymoon!
19. Collect Sentimental Objects
There are so many personal things that go into setting up your ceremony – and in the excitement of the day you don't want to risk forgetting things like the unity candle, family photos, or anything personal in your ceremony space! Assign a friend to gather these objects after the ceremony so you don't forget them!
20. Too Many Bridesmaids!
It's important to choose people you want by your side, not people you feel obligated to include in your ceremony. The day is about YOU and your fiance, not the entire entourage! Having too many people can create unneeded drama and make it difficult to coordinate everyone.
21. Return the Registry
Some brides will caution you against registering for only basic items. You're going to end up with a lot of duplicates if you only register for things coffee makers and sets of sheets! Register for some fun things too! It'd keep you exciting opening everything and you won't have to spend as long returning items after the wedding!
22. Take Pictures With Guests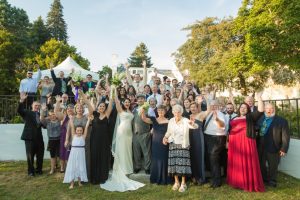 Know of another bridal regret we've missed? Please share in the comments – we'd love to hear from you!