Before you take those long anticipated steps down the aisle, you will want to ensure all the details have been arranged. Follow this guide for an easy 4 month wedding planning process.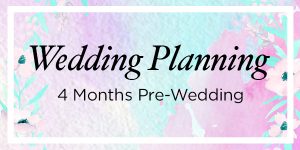 You've got a lot on your plate planning all those details. Fret no more, we've put together a list to keep you on track with your 4 month wedding planning process.
Move Those Feet!

The first dance is undeniably romantic and completely unforgettable. Time seems to freeze when the newlyweds take the floor, and every guest finds their eyes on the lovely couple. This is your moment to shine – why not put a personal spin on it?

Seeking some first dance inspiration? These WeddingMix couples put their own spin on the tradition!


Take some dance lessons to prepare for your dancing debut! Whether you want a full on choreographed dance number or simply to prepare to sway to the unique rhythm of your song – dance lessons can help a lot. Not to mention, it provides a great bonding activity for you and your fiance that will likely be full of laughter!

Choose Your Company

You can't invite every person you've ever known to the wedding, it's simply not feasible. That being said, you need to narrow down the list. It can be hard to decide who will be there to join you, but trust your heart. There will be plenty of time to celebrate your newlywed status with others after the celebration.

Just keep these three categories in mind: family, friends, and fiancé's picks.

Seems simple enough, right? Let's break it down a bit.

Family

We're talking immediate as priority. Great uncle Nester will understand if you do not have the resources to host everyone. Siblings, parents, and the individuals you have the strongest bond with.

Friends

The family that you get to choose. Think about the people that have inspired, supported and entertained you throughout your life. Who are the people that you would be heartbroken not to see at your celebration?

Fiancé's Picks

This is important to keep in mind. You have sooooo many people that you want by your side for the celebration, but it is not your day alone. Once you've set a limit on the number of guests you can realistically accommodate, split the number in half. You will need to learn to compromise when you are married, consider this a test run. Let your fiancé choose the special people to fill the other half of the guest list.

You and your fiancé will be the heart of the celebration, and your guests will be the soul. On the big day, encourage them to leave personalized messages with a virtual guestbook – a one of a kind wedding keepsake experience!

Reservations | 4 Month Wedding Planning

If you're planning to have your rehearsal dinner at a restaurant or other catered venue, it is time to arrange the details. You will want to confirm the menu selections. (If you have any members of the bridal party who are vegetarian or have food allergies, inform the establishment). You may also want to decide whether you are going to feature an open or cash bar.

Arrange Transportation

Determine how the bridal party will travel on the day of the wedding. (We know you're gonna travel in style…but you might want to finalize out the details). If you plan to rent  a limo or party bus, you will want to make the appropriate reservations now.

Speaking of transportation, if you have elderly guests attending the celebration you may want to arrange travel for them as well. Will a family member escort him/her to and from the venues or do you need to designate a guest to do so? If this is the case, let the guest know in advance so that they can discuss the details.

Accessorize

Who doesn't love to add a pop of personality to their look? That's right, this applies to everyone in the bridal party – not just the stunning bride.

Bride: Shoes, purse, jewelry. Your natural beauty will radiate on the big day, these small accessories will only accentuate it!

Groom: Tie, cuff links, watch (this is one day you do NOT wanna be late).

Bridesmaids: Be sure to check in with the bride to make sure your choices are consistent with her vision with the day. If the bride wants a uniform look for the bridal party, make sure you follow her guidelines!
Oh, and think of this too…!
If you haven't make arrangements for your wedding video, you definitely want to take a look at our services at WeddingMix. Wedding videos is what we do and our mission is to make it easy and affordable for every single new couple to get their very own amazing and personalized wedding video.
Here's a fabulous wedding video created from the photos and videos captured by the couple's guests and edited by our professional editors. Check out our packages starting at $99.
4 Month Wedding Planning Infographic
We hope that was helpful! Here's the infographic:

Now, savor your #engagedlife!!!