Looking to upgrade the classic wedding photo booth? Wedding video booths take wedding photo booths to the next level. Learn more about how to set wedding video booths up & see examples from WeddingMix for creating a memorable video booth for your big day!
"What is a wedding video booth?" you may ask. That's a good question. It's exactly what you think: a wedding photo booth that also accommodates video. The strength of the video booth is in its versatility: photos are great, but videos might be even better. And, there so many ways to use a video booth on your wedding day, you are only limited by your imagination. We've put together some recommendations to get you started with this fun wedding trend.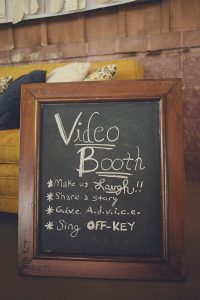 The general idea is this:
Set up an area with a backdrop (themed according to your wedding, of course) to serve as the "video booth".
Leave a designated camera or two for guests to record themselves leaving you a personal message.
Provide fun props: like this set from Etsy. Or think about costumes, toys, signs…
Provide your guests with the tips listed below to give them ideas on what they can record.
Make sure that there is plenty of light in your video booth.
BTW, the WeddingMix app & HD or GoPro cameras are perfect for this use. Many of our packages include a tripod or selfie stick, the ultimate video booth accessories.
"We had almost 300 people in attendance and knew there was NO way we'd be able to see every part of the day. It's been great to see some of the video footage from people's tables and see the goofy antics."  – Stephanie
What to record in a wedding video booth
Make Us Laugh

Weddings are celebrations, after all – and what good celebration every lacked laughter!? Tell a story about the bride and/or groom that will make the newlyweds laugh.  They will love reliving these memories when they watch the footage back. Or – tell your best joke. This is your moment to shine.

Tell A Story

How did you meet the couple? When did you know they were simply meant to be? How did you find out about the proposal and how did you react to the news? There are so many possibilities – but share your experiences with the bride and groom.

These moments are a tribute to their love story that they will love to hear. If you get emotional on screen – odds are you'll have a similar effect on the bride or groom.

Give Advice

No marriage is the same, but there the couple's elders have learned a thing or two about love from their own experiences. Share your best tips for a happy life together, whether that be on learning to compromise or celebrating anniversaries! Share openly and honestly and guide the bride and groom to a future of love and laughter.

Sing Off Key

Make memories and don't be afraid to be a little bit silly. An impromptu karaoke session is fun, festive and sure to make the couple smile! You don't have to sound like Beyonce, trust us. Just have fun! Bonus points if you show off those dance moves!

This WeddingMix bride and her bridesmaids showed off their pipes singing Gloria Gaynor's epic song "I Will Survive!"


The karaoke session was captured using the WeddingMix app and cameras.

Date Night Details

What is your best date night idea? Share with the bride and groom! Think back on one of your favorite dates, or something you've always wanted to try. Your ideas are sure to inspire the newlyweds and make date night extra exciting!

Predict the Future

Where will the bride and groom be in 10 years? Tell them your rendition of their life a decade down the road. Where will they live? What adventures will they be going on?

Or look even further down the line. When the couple retire, will they move somewhere exotic? How will they celebrate their 50th wedding anniversary?

And don't forget to capture the earnest story of your wedding! Sylvia and Caleb captured special moments from their big day – check out their highlight video below!

Quotes | Wedding Video Booth

What is your favorite quote about love? Share it with the couple so that they can see what love means to you. You don't have to recite poetry, the world has enough love songs – a simple lyric will do. Just say something that will get the happy duo thinking!
Now that we've given you a few suggestions for the wedding video booth, we'd love to hear what you have to say! Have another great idea that we've missed? Share it in the comments so fellow couples can be inspired!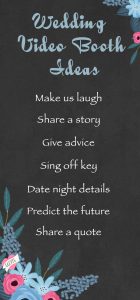 When you watch back the personal footage, you'll be glad you included a video booth! There's nothing like seeing your big day through the eyes of your guests!
And, as you know, WeddingMix offers a great, easy and affordable way to capture your whole wedding. Check out our packages which start at $99.