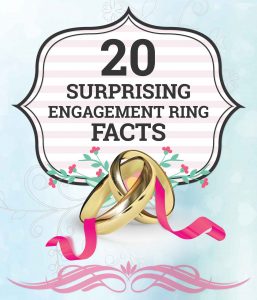 When it comes to shopping for the perfect engagement ring, there are many facts to consider. While many people like to shop for engagement ring as a couple, some men want to woo their girlfriends with a surprise engagement ring as a token of their love. While choosing the best engagement ring to impress your partner, pay as much attention as you can to minute details and the presentation of the ring's stone work.
We have collected 20 surprising facts about engagement rings to help you with your buying decision. It's a big decision to make because this is going to be the purchase that lasts for a lifetime.
Whether he just popped the question or you're about to say I do, WeddingMix can help you capture every special moment, from your engagement party to your wedding day.  WeddingMix is the #1 rated wedding video app, allowing your friends and family to capture even the most intimate moments of your engagement and wedding journey.  Learn more about creating your own DIY affordable wedding video at our website or feel free to give us a call at 800-831-1649.
Without further ado, 20 Surprising Facts about Engagement Rings:

This infographic was designed by Elena, events planner at www.wedourway.com