Oh my gosh – you just got ENGAGED. How are you handling the excitement? Were you surprised? We'd love to know the details of how you were just engaged! In return, we've created a step-by-step list of what to do after you say, "yes!"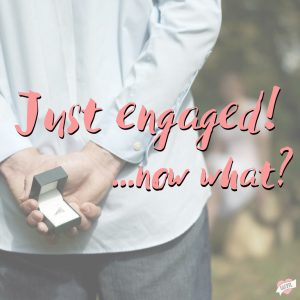 Now take a breath, kiss your fiancé, and prepare for this list of advice for just engaged couples!
Make the Calls

You've got super exciting news – be sure to share it! You don't want Mom finding out from someone other than you (trust us) – so fill her in on the proposal! On the must-call list: your parents, his parents, any siblings, and your best friend. It's always best that you are the one to share the news with the people closest to you – and they will be so excited to gush over the engagement!

Get Your Ring Sized & Insured

He liked it and he put a ring on it – but that doesn't mean the bling was a perfect fit. You'll want to make sure your new ring fits snug (but not too snug). It's also important to get that stone insured!

Set a Budget | Just Engaged

It's a lot easier to start planning if you and your fiancé are on the same page about spending. Avoid any potential arguments down the line, and start saving for the big day. Setting a budget also helps narrow down your search results so you don't waste time looking at vendors/products outside your price range. Ever seen Say Yes to the Dress? There's nothing worse than when a bride falls in love with a gown just out of reach. Avoid this experience.

Oh – and don't miss these 11 Crazy Smart Wedding Budget Ideas From Real Brides!

Set a Date

It does not need to be set in stone. Seriously. However, you are going to be asked about a gazillion times when the wedding is. If you say you don't know, friends and relatives will all have their own opinion on when you should be married. Just pick a month, year or season to show an idea of when you had in mind.

Manicure!

Clean those nails up so they are Instagram worthy. You're going to want to show off your newest bling and the amazing story behind the man who stole your heart! A manicure is a great way to treat yourself and show off your stone in the best possible way! You don't have to get anything fancy – a simple french manicure or solid coat will do wonders!

Speaking of engagement rings – check out these amazingly unique rings!

Perfect the Proposal Story

You will be telling the story time and time again – time to brush up on your skills as a narrator! Did you cry? Were you surprised? People are going to want to know all the details. We recommend coming up with a plan of action for telling the story – what are the key points you want to tell, and which one of you will be telling the story? (and who will be chiming in with comments?)

Begin Filming

There is nothing like being engaged. The time is more fleeting than you know – don't let a moment slip by. Begin filming your #engagedlife to create a unique keepsake for years to come. You'll love watching it back on your anniversary! Collect snapshots of your time with a DIY video, and have them professionally edited with WeddingMix! Did you know our packages start at just $99?

Time to Register

I know it seems early. You're probably still wrapping your mind around the fact that you are ENGAGED. For real. To the person of your dreams. The time will slip by faster than you think – register now. With all the details you will need to keep track of planning your wedding, the more you can take off your plate early the better. This also gives guests an opportunity to do their shopping as soon as you send out invites.

Where can your register? Some popular places include:

Amazon
***See complete list here***

Night Out

Time to celebrate with your new fiancé. Have you adjusted to calling him that yet? You will! You've celebrated with your friends and your family and now it's time to celebrate with the one you've fallen madly in love with. Plan a romantic date night celebrating the first of many experiences in this new chapter of your life!
Check out the infographic below to help you navigate your 'just engaged' period!

Alright – now it's your turn to share? How are you adjusting to 'just engaged' life?