Creating a unique hashtag for your big day is an easy way to collect photos. Read this list of tips for making sure you write the perfect wedding hashtag!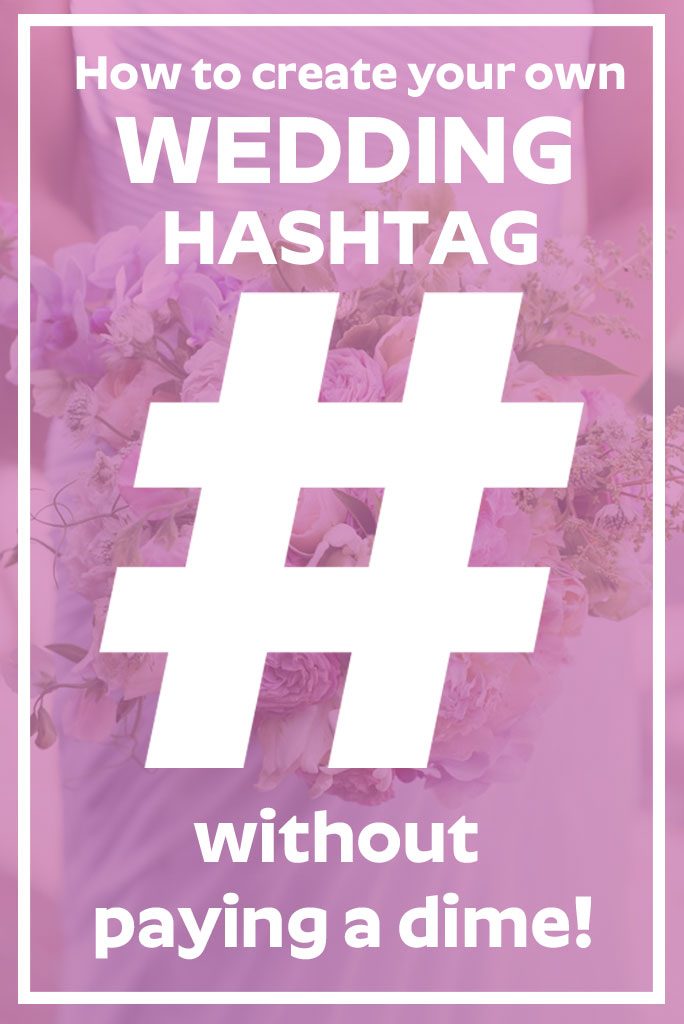 If you are a social media skeptic, the idea of a wedding hashtag might sound blasphemous, and if you are a social media fanatic, you probably have been playing sudoku in your head with different variations of #Mr&MrsSmith2017 since the idea of the wedding hashtag was born. Either way, you probably at least recognize the usefulness and importance that your wedding hashtag will have, when "I do" is said and done, and you just want to sit and reminisce a little on your special day.
Having your own personalized wedding hashtag gives your guests the opportunity to watch the wedding planning unfold, as you post photos and tag them during each step of the process. It also gives you the opportunity to have easy access to all of the photos that your guests will inevitably want to share with the world, during and after your big day. Your wedding hashtag will become a part of the wedding, as people will use it to make toasts, and in conversations during the months following the wedding. This is why you want your wedding hashtag to be uniquely yours, and nobody else's.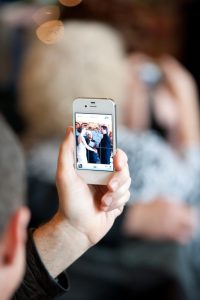 Now you may have spotted the problem; there are hundreds of weddings a day, how is it possible to find the perfect hashtag in a sea of perfect hashtags? Here we have included some tips to figure out the answer to this issue:
1. Gather the most important data
Gather your names, your date, your location. These three things can be the basis of your brainstorming scheme.
Gemma and Nathan are getting married this upcoming August in Yate, Bristol. They met online, and fell in love over a die hard rivalry of opposing sports teams. From this information, we were able to put together two unique options: #GemAndNateMarriedinYate and #RivalsInMatrimony.Gemma and Nate's basic data helped me write the first hashtag. It was very helpful that "Nate" and "Yate" rhyme with each other. For the #rivalsinmatrimony hashtag, I used their love story to come up with the idea, which leads us to the second tip…
2. Think about your story
Did you meet in a special and unique way? Is there an interesting twist behind your love story? These are all things that can help make your hashtag as special and unique as your love.
Check out how Jillian and her new husband used their wedding hashtag #FinallyFligges to collect photos from their Perfect Wedding in Lehigh Valley:
Being able to capture our wedding day on camera was a top priority from the early stages of our planning. We hired our dream photographer, but did not want to spend an equal amount of money on a videographer. WeddingMix felt like the perfect solution." – Jillian
3. Think about your actual wedding
Does it have a specific vibe, or theme? Is it in a unique location? Your guests will always remember what made your wedding different, especially if it's mentioned in your hashtag.
Natalie and Michael are also getting married this upcoming August, in Kleinburg, Canada. The two of them have been together for five years, beginning just as friends throughout high school, and eventually fell in love after graduation. Michael was eventually diagnosed with cancer and had to have his leg removed. Because of this, they are having a "beauty and the beast" themed wedding. The wedding theme made the hashtag creating fun and easy, we came up with; #WeddingDayAsOldAsTime, #BeOurGuests2017, and ItIsYou2017. Natalie and Michael already used their unique love story to decide the theme of their wedding, little did they know it would lead to their own unique hashtag as well.
4. Create a story board with all of this information, and start brainstorming
Write down each and everything that comes to mind, even if it is absolutely horrible. You never know when a horrible idea may spark your best idea.
Paula and Rachel are getting married this upcoming July at the Wellbeing Farm, UK. They are planning a music festival themed wedding, and are currently considering calling it "LoveFest". For their special day, we came up with #PRlovefest2017, #lovefestfarm, and #PaulaLoveUnityRachel based off of "peace, love, unity, respect" used by many concert goers across the world. Using all of the information that Paula and Rachel sent to us, I used their names, initials, date and theme to create their unique hashtags.
5. Make sure that your wedding hashtag is original
Once you have brainstormed, and decided on your perfect hashtag, make sure that it isn't already being used. It won't be your perfect hashtag if it isn't absolutely yours, and it may create some confusion when your guests search #IMarriedABaker and photos of hot cross buns appear on their screens.
You're probably getting overwhelmed reading this. Weddings are A LOT of work, who has the time to sit down and think all of this through. To figure out if their hashtag is unique through a trial and error process? Your best friend had the best wedding hashtag ever when she got married, how are you going to top that? Don't sweat it, we have added in a secret 6th tip to making your own unique wedding hashtag. You can use our wedding hashtag generator. It's free, and it is the only online hashtag generator that checks the availability of your hashtag across all social media platforms.
Finally, something about the planning process that's going to be easy.
Want to put your wedding hashtag to work?  WeddingMix is the fun and modern way to capture every intimate moment of your wedding day from your guests' perspective.