14 Stunning Flower Wall Trends
Flower walls are sweeping the wedding world. They can be used in archways, as backdrops for wedding photos, or jaw dropping decor. No matter where you use them, they are a great way to make your wedding unique to you!
From minimalist chic to bohemian glamour, the possibilities are endless! To help you find the flower wall the is perfect for you, FTD has rounded up 14 of their favorite kinds below:
Modern Style
A flower wall doesn't need to be all flowers. Allow florals and vines to spill out of vases on a wall to create a modern yet playful vibe.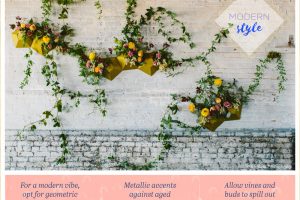 Minimalist Chic
For a more simple look, arrange colorful blooms and vines within a wreath. Attach this to a multicolored wooden background to add a pretty contrast.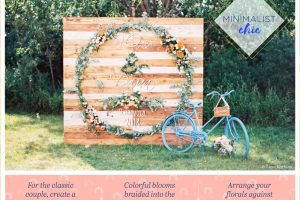 Vibrant Elegance
Place colorful columns of bright blooms against a white wall to add a pop of color to your wedding decor. For a cohesive look, add bouquets of matching flowers to nearby tables.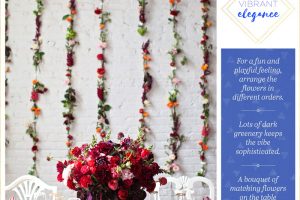 This couple's stunning outdoor flower arrangement is not one to miss! See how they used the flowery scenery to create a breathtaking environment to walk down the aisle!
"WeddingMix was so appealing because it took the idea of having a wedding video and personalized the experience so, so much more than any hired videographer would have been able to. "-Kacy
Delicately Drapey
For a flower wall that captures the beauty of the bride, bunch together pastel blooms against a transparent veil. Add dark greenery around the edges to draw attention to the different blooms.
Rustic Grace
Not all flower walls have to be on walls! Drape florals over an archway to create an elegant curtain of blooms. For maximum effect, place the archway against a background of dark greenery.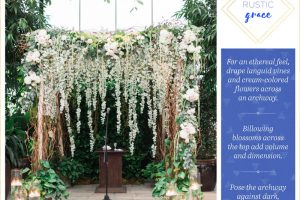 Bohemian Glamour
For a whimsical and romantic feeling, arrange greenery against a sunset colored backdrop. Add matching florals to tie it all in together.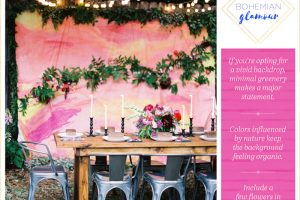 Dark Simplicity
For the ultimate elegant look, allow greenery to drape to the ground against a dark background. Add blooms light in hue to avoid a somber feel.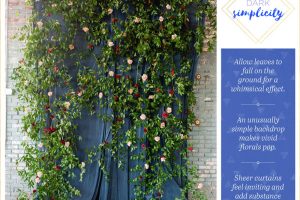 This couple had a perfect wedding surrounded by gorgeous flowers in Martha's Vineyard. See how they use the natural lights and scenery to bring every element of this wedding together!
"Using WeddingMix was appealing for our big day because it's footage that we can look back on and show our children and grandchildren someday." –Erica
Natural Appeal
If you are hosting an outdoor wedding, utilize the natural features of your surroundings. String simple buds and drape them across vines and branches to create a rustic-chic vibe.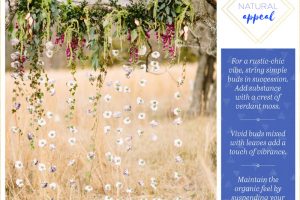 Verdant Romance
This organic-feeling wall is perfect for the couple that loves nature. Tuck light flowers against the greenery to add depth and sprinkle white flowers on the ground to create a pillowy look.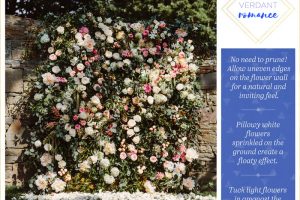 Tropical Paradise
Perfect for tropical themed weddings, this flower wall looks great as a backdrop for the sweetheart table. Use giant leaves and flowers arranged in opposite directions to create movement.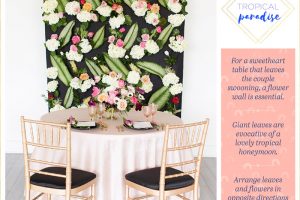 Wildly Unique
For a flower wall that will awe your guests, combine bright vines and neon-bright florals against a metal backdrop. Add in light colored blooms for a touch of romance.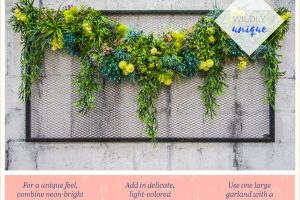 There is no better way to have an outdoor wedding than having gorgeous flowers everywhere! You will love how this couple used their surroundings to create a perfect and inexpensive scenery!
"WeddingMix took away a lot of the stress of worrying that a moment would get missed." –Jillian
Festive Charm
This flower wall is perfect for the ultimate crafty couple. Attach colorful paper flowers against the walls of your venue to make your guests feel like they are in wonderland.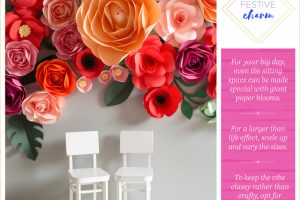 Feminine Romance
Great as a photo backdrop, this flower wall pairs pastel buds and drapey vines with white lights to create a heavenly vibe. Flowers fixed at the wall's base create a garden illusion.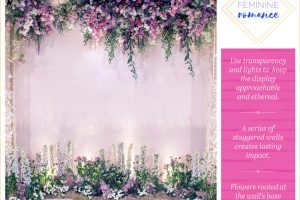 Blushing Beauty
Keep the focus on the florals at your wedding by putting soft-hued blooms against a solid pastel-painted wall. Let vines dangle freely from the top to create a natural feel.