Last Minute Wedding DIY Ideas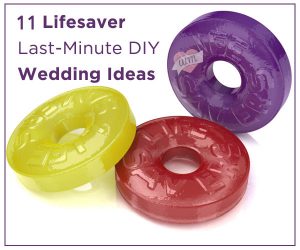 There are so many last minute wedding details that pop up as the big day gets closer. Use these helpful ideas to inspire you or remind you of what you need! These last minute wedding DIY ideas truly are lifesavers!
1. Wedding Emergency Kit 
Create your own emergency kit to avert potential wedding day disasters. Have your MOH stock a cute tote with essentials like bobby pins to granola bars. Put these little things into a jar or bag as the days get closer so that there isn't any freak out moment!
2. Wedding Name Hanger
Get super creative and make a custom wedding dress hanger with your soon-to-be married surname. It makes for a cute addition to the pictures of your dress and doesn't require paying Etsy prices!
3. DIY Wedding Garter
Forgot to purchase a garter? Put your own spin on this tradition and make your own without paying for rush shipping!
Capture everyone's memorable wedding moments (even the moments you might have missed!) and get a personalized, edited wedding video to cherish for years to come. 98% of brides regret not getting a wedding video of their own, avoid being in the statistic and relive the wedding of your dreams whenever you want.

From DIY party favors to dog collars, see how this couple added their unique style to their big day!
"WeddingMix was appealing because our budget was becoming tight with other wedding elements, but we still wanted to capture moments that we would not see. "- Lauren
5. Not so typical Guest Book! 
Make your wedding guestbook more special by having guests sign their name on a pallet, blank or painted by you (which can be done in just one night)! Then use it as decoration in your home. You can always see who was there to share your special day with you. All you need is a blank pallet to put your own painting twist on!
6. Personalized Guest Glasses
Give your guests something special to remember your big day by, while also saving the planet. Paint a glass or mason jar with chalkboard paint and then personalize each one. Finding bulk mason jars is easy through social market places like Facebook or warehouse retailers!
7. S'mores Wedding Favor
A simple, but sweet, DIY wedding favor idea. YUM! Check out the similar rustic-inspired wedding favors that Jennifer gifted to her guests!
See how Erica and her groom stepped up their DIY game with simple decor and desserts!
"Using WeddingMix was appealing for our big day because it's footage that we can look back on and show our children and grandchildren someday." –Erica
8. Cupcake Jars
Score major points with scrumptious home-made cupcake jars. Getting mason jars in bulk can save the bank and baking the goods can relieve some pre-wedding stress! This makes for another yummy favor for guests to enjoy.
9. Wedding Mad Libs
Let your guests create their own story with cute, personalized wedding Mad Libs! You could even use this cute [downloadable] Wedding Ispy card so guests can create and capture hilarious moments during the reception! These could also double as a creative guestbook!
10. Mix CDs
Mix some of your and your groom's favorite tunes as a personal wedding favor. It's sure to hit a high note and a great souvenir for guests to remember the day.
11. Weather Change!
The weather can be unpredictable, 3 weeks out it may say no rain expected, then 3 days away there is a 80% chance. Don't freak out! Run to a warehouse retailer or the closest retailer to you and buy the less than $10 umbrellas! Whether your ceremony is outside or inside, save your guests from the unexpected.
Looking for more diy wedding ideas to make your wedding as personalized as you've always dreamed? Check out tons of amazing DIY wedding video ideas for less than the price of your bouquet!