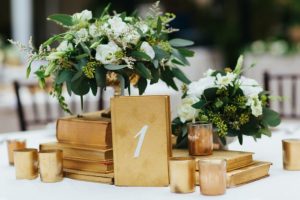 Making your wedding decor unique to you, can be difficult at times. One way to do this is by decorating your wedding table numbers! Instead of just having cards with numbers on them, make them decorative pieces! To help you brainstorm ideas for your wedding table numbers, FTD has rounded up 28 of their favorites and broken them down into four styles: simple, glam, floral-inspired and rustic.
Simple Wedding Table Numbers
For decorations that are subtle and sweet, play around with elegant fonts. To create a chic arrangement, color-coordinate your wedding table numbers with white long-stemmed candles.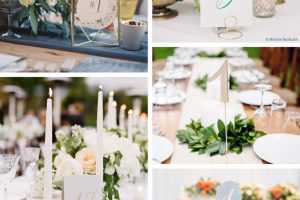 See how Bride Lauren used this simple floral design for her wedding tables to make every little detail perfect!
WeddingMix was appealing because our budget was becoming tight with other wedding elements, but we still wanted to capture moments that we would not see. -Lauren 
Glam Wedding Table Numbers
Add sparkles to your wedding table numbers to glam up the design! Think outside of the box and use your table numbers as stand alone pieces for a more eye-catching arrangement.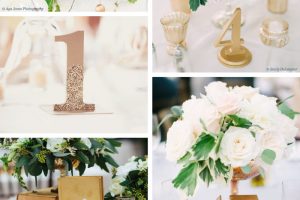 Floral-inspired Wedding Table Numbers
Print floral-designs on paper cards or match your card holders to the vases of your floral centerpieces. This will create a classy, cohesive look.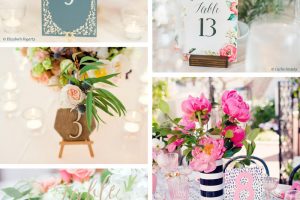 This couple had a stunning wedding filled with rustic floral designs that complete the whole wedding!
WeddingMix was so appealing to use because at the end of the day, a videographer seemed out of our price range and unnecessary as we had a photographer.  -Rhiannon 
Rustic Wedding Table Numbers
Incorporate greenery into your wedding table number decor for a more natural look. Try using burlap or variegated wood for a more textured presence in the design.