15 Wedding Table Card Ideas for Every Bride
From the intricate beading of your dress to the amazing color pallet of your table spread, we know you put a lot of thought into planning your wedding! Thats why the WeddingMix team compiled a list of the best table cards to perfectly fit your wedding aesthetic!
From awesome hashtag table cards to super cute escort card ideas, we have some great ideas on how to personalize your wedding! Keep reading to find some totally cute and FREE downloadable table cards!
HashTag Wedding Cards
Check out this table card idea from a real bride! This couple was able to collect all of their amazing moments with their wedding hashtag and then store them all in one place with the WeddingMix app. Watch their incredible wedding video full of sentimental moments created and captured through the perspective of the newlywed's loved ones.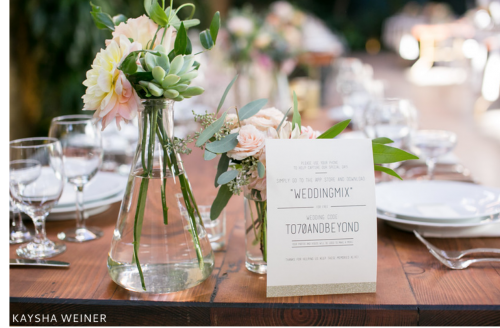 Moments created and captured by wedding guests. Video crafted by
WeddingMix
.
Like some of the other couples posts, we originally planned to just have the photographer. But, c'mon, this is 2015 and we knew we and all of our friends would just love to have proper video of the event.When we went looking for other video options, we very quickly chose WeddingMix because it was affordable, and importantly, it gets *awesome* reviews from everyone who uses it. Also, we liked how much more intimate it would be to have our friends and family behind the lens of our wedding video at the Millwick, rather than a stranger." – Libby
Using WeddingMix at your wedding? Here are some cute ideas to ask your guests to get involved!
Click here to download this totally free and totally awesome hashtag table card!
Click here to download this super cute table card!
Master Instagram At Your Wedding!
Don't Forget About Your Table Cards
Super Unique Escort Cards
Did you find some ideas on how to spice up your wedding table? What about using a hashtag card at your wedding to remind your guests to help you capture amazing moments? Let us know your thoughts in the comments below! Check out 13 Darling Destination Wedding Table Card Ideas for more inspiration!