Talk to your partner! 
It is important to talk to your partner and know what they are looking for in a ring. While we are sure they will love whatever you pick, it is a big investment and you want to make it the right one. Some people prefer a more traditional diamond while others love a colored jewel. It really all depends on you partner's personality!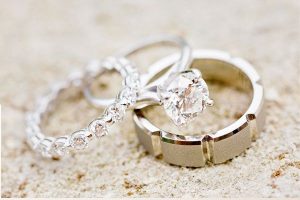 Set your budget
Now that you have an idea of what to pick, figure out how much you can really afford to spend. There is no reason to go into debt over a ring, but crunch your numbers and find a pan that works best for you. If you can't pay upfront, then make sure you have looked at all the payment plan options. Not only should you set your budget for the ring, but also how you will propose!
See how this fire fighter proposed to his partner AND was able to include it into their wedding video using WeddingMix!
"It was amazing realizing how many people loved us and wanted to be apart of making it happen! This is why WeddingMix photo & video app worked so well, we tasked a few people with videoing the important parts, and they definitely followed through!" –Jennifer
Where are you going to get it? 
There a couple different ways you can get the perfect ring. Some people will walk into the store and pick one out while others will go ahead and design their own. While a little more expensive, designing a ring can bring a more original and unique aspect. This is where you will need to do some of your own research. You have an idea in mind,  your budget is set, now figure out where and how you are going to make it happen!
Get your Ring Wing Woman! 
Whether it is the best friend, the siblings, or the parents, talk to the people who know your partner best (maybe even better then you!). At some point in their life, they told someone close to them what their dream ring looked like! Use this to help you find it.
Watch how this groom made a beautiful proposal with a perfect ring! With the help of family and a beautiful sun set, this proposal was breath taking!
Bride Kiana loved how she could put her engagement video in her wedding video through WeddingMix! Watch them go back in time to where they first met, at the University of Michigan, and say I do!
"By having friends and family record video, we were able to capture all of the different events with good quality and from different vantage points." –Kiana

Look at your history
Do some research on your family history and see if there is a family ring for you to have! Having a ring with family history can be unique and special to your partner, so ask your parents or grandparents. Another option is to try jewelers with the same ethnicity. If your partner is Italian, find a ring that matches the style. This can be a way to personalize the ring for your partner.
Don't over think it!  
At the end of the day, you love your partner and they love you! All that is going to matter is that you spend the rest of your life together. Life is unpredictable, and your plan won't always be perfect. The worst thing you could do is over think the whole process of picking a ring. Take a breath and remind yourself that you know your partner better than most people!