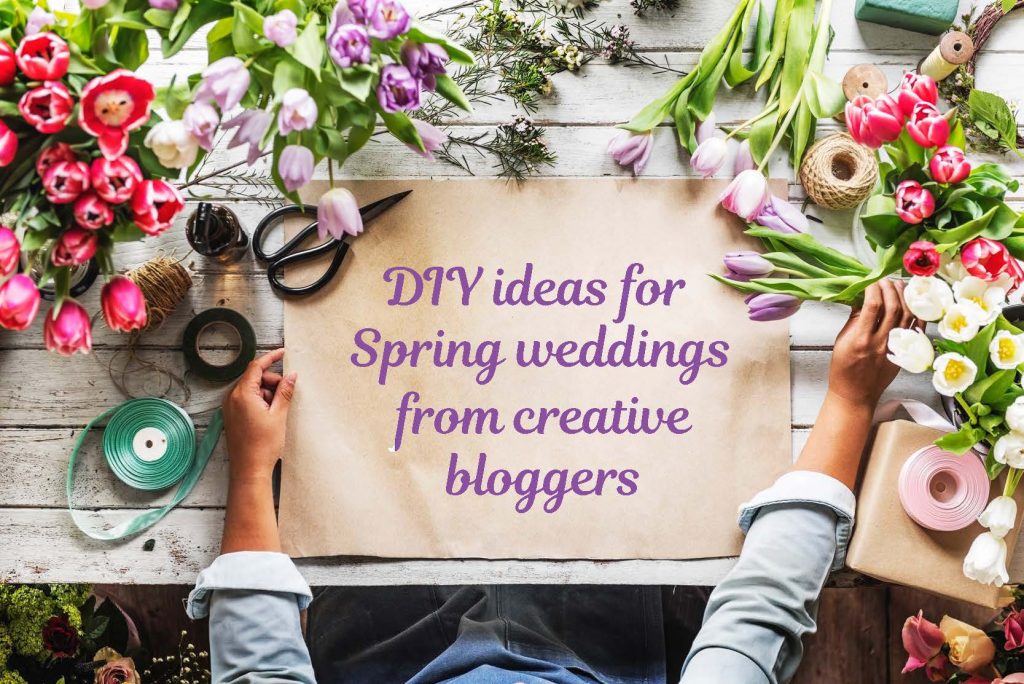 Most weddings tend to have the same look and feel, but with Spring coming up, why not take advantage of the weather? Spring brides will love these DIY wedding ideas for decor, bouquets, & favors! Even non-crafty brides will love these projects.
WeddingMix went on the search to find the most helpful and creative ideas that will turn your wedding into an exciting Spring experience. Our phenomenal results consist of committed bloggers with the same passion as you, having the best wedding possible.
Check out these inspiring Spring DIY Wedding ideas from creative bloggers!
1. Wedding Decorations
In this post on The Daily Meal, Carolyn finds wedding decorations that are so simple, even those with no crafty experience can make them.
The list covers all sort of creative decorations from banners to a photo booth. You'd be surprised by how many of these you can actually do. Just make sure it works well together.
Watch how bride Natalie uses wedding decorations in her big day!
"We were looking for a cheaper option, and we are so glad we chose WeddingMix. We have such great videos and pictures that we never would've had or seen if we had gone a different route. Everyone got into it! Getting messages from our guests was really cool. We probably liked that the best. Also we got to see our guests interacting which is something that is hard to take in when you're running from the first dance, to cake cutting." -Natalie
2. Table Centerpiece
What's a beautiful wedding reception without its centerpieces? Louise from Whimsical Wonderland Weddings helps you create a beautiful Daffodil Spring topiary table centerpiece. The post goes step by step and into detail, so you never feel lost. There are also pictures to help you along every step so you make sure the centerpiece look like its from an expert!
Courtney made sure to make her centerpieces as beautiful as possible. Watch the video below!
"We were struggling with fitting a wedding video into our budget, but I really wanted some kind of video to remember our special day. I did a ton of research online looking for videographers we could make work, but I wasn't impressed by any of the videos on their website. Finally, I came across WeddingMix and started watching their highlight videos. Through all my online research these were the first videos that actually made me tear up. They were so special and so personal that I knew WeddingMix was our perfect solution." – Courtney Herrmann
3. Bouquet
April showers bring may flowers, so make sure to make some of them your very own with this helpful post on how to create your own foraged-looking bouquet by ruffled!
Gone are the days where you feel you have to pay for any expert, only to be let down. Finally you can make the most beautiful bouquet you'll see for a cheaper price, and have some fun in the process. It's a win-win!
Get some inspiration Cymone's bouquet in this gorgeous video!
"Our entire ceremony had unique moments that WeddingMix was able to capture." – Cymone
4. Wedding Favors
Not only is hearing your significant other say "I do" a big part of your wedding night, but so is seeing your guests happy for you. Intimate Weddings considered this and made sure to use the warm weather to make the best Spring-inspired wedding favors!
From daisy lollipops to flowers in teacups, Intimate Weddings made sure to make the most out of the wonderful season.
Check out how Cameron incorporates wedding favors into her big day!
"WeddingMix offered the best option!" – Cameron
5. Nearly everything else
Lets face it, there's more to a wedding than what we've covered so far and than what you can probably handle, but that doesn't mean we shouldn't DIY that either. In her post, Brenda from Brenda's Wedding Blog make a list of 37 creative DIY wedding ideas for Spring, making sure you remember how easy it all can be to make.
Watch Karen and Steve go all out with DIY in their amazing wedding!
"I am extremely happy that I went with StoryMix to help me capture moments of my wedding. I got to re-live it and be able to see all our hard and laborious work in its final form. I even got to see other fun moments that I potentially missed out because I was on the other side taking formal pictures or dancing on the other side of the dance floor. I cannot wait to see the edited video provided by StoryMix (after I put my storyboard together)." – Karen
Which spring wedding ideas were your favorite? Let us know below!