Cymone and Troy had an absolutely elegant wedding! Take a look at all the things that made Cymone and Troy's wedding a day that they will never forget. Listen to all the beautiful advice that they got from their friends and family! Congratulations to the lovely couples on their truly stunning wedding day!
This fun WeddingMix video was filmed by this lovely pair's wedding party. The guests had a blast and and captured it all using their own cameras along with the WeddingMix app and rental cameras.
Our entire ceremony had unique moments that WeddingMix was able to capture."

Like their style? Here's how you can do it:

19 Insanely Beautiful Wedding Dresses

9 Flowers Perfect for a Summer Wedding Bouquet

Wedding Lights: How To Brighten Up The Big Day

How to Find Your First Dance Wedding Song

Real advice from the Bride & Groom!
1. What part of your wedding planning are you most proud of?
I am most proud that we stayed within our budget and were able to create a unique and memorable wedding. Many of our vendors were close friends and family who know us very well so they were all able to put their special touches on their part to make it personal to us. We met our photographers last year in our church small group and in those few short months of getting to know us they were able to really capture our love for one another and friends and family. My husband's father was our officiant which was extra special because he also married my husband's brother. My husband's mother and aunt are wedding decorators and coordinators on the side and together with another family member they were able to create a beautiful scenery while my husband's uncle and aunt played and sang during the ceremony and his cousin had us dance the night away as the DJ. We were able to create an unusual but delicious dinner with a Mexican style buffet (nacho, taco and fajita bar) catered by a company I worked closely with at my last job (where I met my husband) and topped the night off with yummy cake and cupcakes made by another cousin.
2. Where did you get married?
 We got married in Inman, South Carolina. Both our ceremony and reception was at The Lodge at Lake Bowen Commons. We wanted to find a venue where we could have both our ceremony and reception to cut down on cost as well as travel in between locations. 95% of our guests were from out-of-town as I am from Illinois and he is from a city in South Carolina almost 3 hours away from the venue, so we wanted to make it as convenient as possible for our guests as soon as they arrived in town. Using a lodge was totally different from traditional wedding venues and it made for  such a welcoming and loving environment.
3. Why was using WeddingMix appealing for your big day?

4. What were the most important moments that WeddingMix was able to capture on your special day?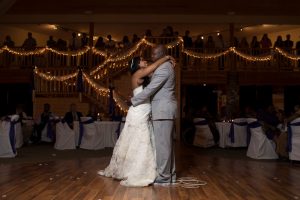 5. What is your top wedding budget tip(s)?
 My top wedding budget tip would be to spend the money on a photographer, use
WeddingMix
to create an awesome video at an affordable price and use your connections/friends or family to help with the other things. Their contributions to our wedding was their wedding gift to us, so it helped us to save a ton money.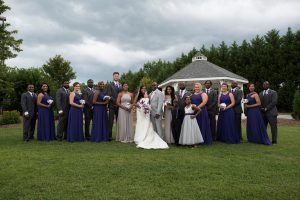 7. What was your budget?
 If you include everything from wedding bands to wedding night hotel and everything in between we spent $13,624 with 220 guests (invited 320).