If you're shopping for your wedding, chances are you've probably searched for every way to save money. Wedding shopping on a budget can be a real hassle, so we put all of our best secret wedding shopping tips in one place. Whether you're looking for dresses, decor, or flowers, these tips and tricks will help you shop smart and save along the way.
Shop Secondhand
Some people don't like to shop second hand, but think about how often you'll wear your wedding dress or use the decor to justify the price. Before buying brand new, always check out your local second hand bridal shops and shop around online. It can take more work, but in the end you can find something that works for you without breaking the bank.  There are a few links below to get you started on your second hand haul. Shop dresses, linens, party decor, and more.
Bridal Garage Sales – Everything from accent furniture to catering supplies
Ebay – Wedding Decor, tablecloths/linens
Bravo Bride – dresses, accessories, jewelry
WeddingMix bride Melissa found her dress on Facebook:
I had a dress that I bought off the rack that I wasn't crazy about, and then someone on Facebook was selling a lightly used dress, which was my size exactly. I didn't think I would be able to pull it off with just two weeks to go, but I did!"
See Melissa's dress in her WeddingMix highlight video. It's gorgeous!
Loved this couple's wedding video? Get you own WeddingMix!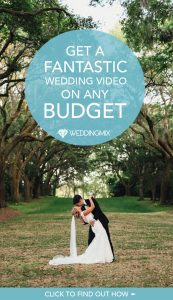 Shop Designer Sample Sales
If you're in a rush to buy your dress and thrive with chaos, then check out designer sample sales. You leave the store with your very own designer gown for a fraction of the price.  Just make sure you do your homework before diving in. Have an idea of what you're looking for and be prepared to factor in tailoring costs. If you're determined you just might walk out with the dress of your dreams.
Rent Your Dress
Why should brides buy their dresses if grooms can rent their tuxedos? Think about it. You only wear your wedding dress once. If you're not attached to owning your gown, then renting is the perfect option. Start by shopping around your local businesses or dig around online.
Online rental options:
Most rental services allow you to try on the gown before committing, but be aware of the terms beforehand.
Buy Your Dress Through Retailers Instead of Boutiques
If the designer name doesn't mean anything to you then you might as well try retail before heading into a boutique. Many of the usual department stores like Nordstrom and Macy's offer their own bridal line. The prices usually start lower than boutiques and there are plenty of options to chose from.
Crowd Source Your Wedding Video
What do you have on your wedding wish list but don't have the budget for? If you shop around for alternatives you can still get your desired outcome with a lower price tag. Many of our brides thought they couldn't afford a wedding video, but WeddingMix was a great fit for them. Their guests helped film the special day and the clips were put together into a fun, memorable video. Check out Cymone's video below!
 My top wedding budget tip would be to spend the money on a photographer, use WeddingMix to create an awesome video at an affordable price "- Cymone
Think Long Term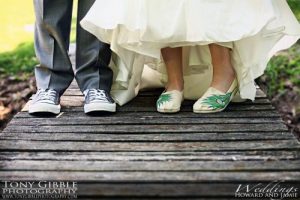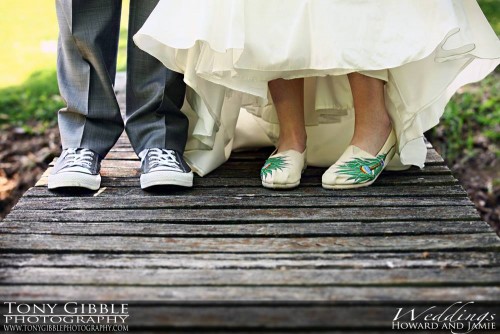 Avoid splurging on items before asking yourself if it's the best choice for you. Will you be able to use it after the wedding, or it is a one-time use item? For instance, you can purchase heels that you'll actually wear again or ask your bridesmaids to wear a dress they already have.
Of course, if you can't find a use for any of the items after your wedding then you can try reselling them! You can always use one of the sites listed above. Other brides will be thankful for your contribution.
Seek Out Sales + Promos
Always keep your eyes peeled for the best deals! One fool-proof way to manage your cash flow is by aligning your purchases with the off-season to increase your chance of getting a deal. For instance if your wedding color is red, wait to shop for decor until after Valentine's Day.
Promos are another easy way to save here and there. A quick online search is usually enough to bring up any coupons or current deals. If you're in the store it never hurts to ask the cashier about coupons.
WeddingMix Bride Jessika mentioned the importance of looking for promos:
Always always ALWAYS check for a promo code before buying anything online.  This helped so much with our save the dates and invitations, and even with some of our signage and favors from Etsy."
Sign Up For E-mail Lists
You may be cringing at the thought, but sometimes you need to embrace the clutter to get the deals. Always do a quick scan of your inbox before you shop that day. You won't use every coupon, but you never know when the perfect deal might pop up. The opportunities are endless.
Flowers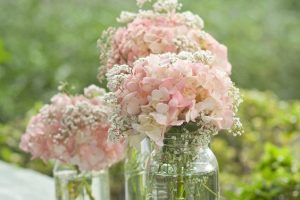 To save on flowers, shop local and in season. This will save on shipping costs. Picking bigger blooms for your bouquets are also a great way to take up space, leaving you needing fewer flowers in the long run.
Catherine bought her flowers from Costco!
We bypassed the champagne toast and used every day items as part of our decor, as well as being fortunate enough to have enough helpers to bulk buy flowers from Costco and put them together ourselves."
Keep it Simple
The frills are fun, but add unnecessary costs to your wedding. Wedding favors, fancy cake, or renting a limo can add up quickly. What areas can you do without?
"Keep things simple and spend your budget on the aspects of your wedding which matters most, you don't have to do everything! We bypassed the champagne toast and used every day items as part of our decor." –Catherine
Bride Brittney adds:
I would say to go for a simple yet elegant cake and look for bulk tulle!"
Do you have any more wedding shopping tips? Let us know below!