There are a lot of details that go into planning an outdoor wedding. Luckily, WeddingMix complied a list of backyard wedding tips to keep you on track throughout the chaos.
Wedding Bells are Ringing: Tips to Host Your Backyard Wedding
The weather is heating up, which means it's time to head outdoors, fire up the grill, and host a backyard bash. However, for the soon-to-be-married, it creates the perfect opportunity to use your own backyard to host your nuptials.
Whether you are using your own or borrowing a friend's picture-perfect yard for the day, check out these tips to plan your backyard wedding.
Pare Down Your Guest List
A backyard wedding offers a more intimate setting, but the close quarters means you'll need to revise your guest list (possibly several times). You might start your guest list with the desire to keep it small, but before you know it, you've got 150 guests.
The important thing to keep in mind is that while your yard might be spacious, tables, chairs, food, restrooms, generators, and a dance floor will take up a lot of the room, so adjust your list accordingly.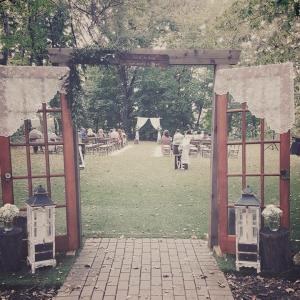 Rent Extras
There is a big difference between a small backyard BBQ and a wedding, so you'll need to make sure your yard is able to withstand full capacity by renting items such as generators, restrooms, tables/chairs, and tableware. You'll need at least one generator to avoid an electrical overload from the lighting, music, food, etc. Talk with an electrician to determine the right generator for your power needs.
With all the dancing under the lights and plenty of drinks, bathroom breaks are inevitable, but your two-bathroom home won't cut it. Rent portable bathrooms and fancify them with scented sanitizers and linens; some portables bathrooms even come with sinks.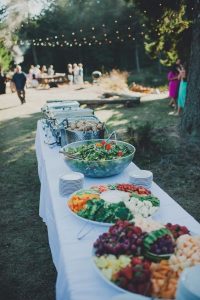 DIY or Bust
Décor, lighting, dance floors – these are all things you can and should do yourself given how simple it is. For starters, if you aren't already familiar with Pinterest, get acquainted. There are tutorials and ideas for just about any décor item you can imagine, helping you cut costs and take a hands-on approach to incorporating your theme and colors.
Lighting is another simple task you can tackle yourself. Use LED candles and tiki torches, or get creative with string lights, which create an affordable and inviting atmosphere full of warmth and comfort. Don't forget about one of the most important events of the night – dancing. You'll need some sort of flat surface for the dance floor. Check out this DIY dance floor using recycled pallets, or give it a personalized touch with this stenciled dance floor.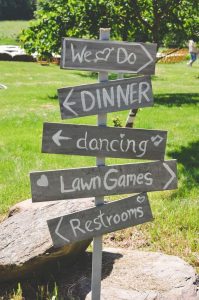 Speaking of DIY…
Have you thought about how you're going to capture your wedding? Craig and Steph used WeddingMix to capture their magical backyard wedding. Their guests captured everything from their vows to their romantic first toast using their own camera along with the WeddingMix app. Watch their beautiful day, and even see the groom break a window with his tender voice below!
We knew the day would be hectic so it was nice to see little video clips from moments we might have missed during the big day. We also really liked the customization and freedom you have with WeddingMix. It's like a really well done home video, in the sense that it feels personal but professional." – Bride Morgan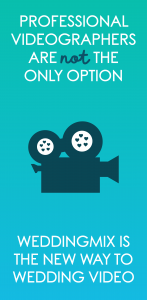 Keep Pests at Bay
Nothing puts a damper on things like mosquitos. Rather than saturating the air with stinky sprays, use less-invasive ways to keep your guests comfortable. Have your yard sprayed for mosquitos and ants a few weeks before the wedding, and plug in repellent fans or light citronella candles. Keep bug wipes handy so guests can prevent annoying bites.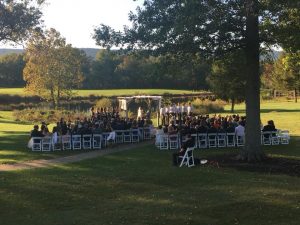 Plan for Parking
Chances are your neighbors won't appreciate 50-plus cars lining the street, so you'll need to have a parking plan. Select an alternate location such as an empty church or school parking lot nearby. Provide a shuttle service to and from your home, or rent a valet service if you'd prefer.
You may even be able to find a friendly neighbor willing to offer up their driveway or shuttle guests back and forth for a small fee and a slice of wedding cake.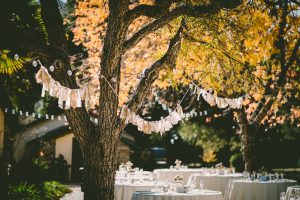 Have a Plan B
Unfortunately, no one can predict the weather, not even the weatherman. Any sort of outdoor wedding is risky, so it is important to have a plan B in case of implement weather. If rain is in the forecast, a tent is a great way to prevent a washed-out ceremony. You might also consider an alternate space such as a church or community center. Depending on the forecast, you might be able to wait out the weather. If you have to push the ceremony back, be sure to provide hors-d'oeuvres and drinks. If temperatures are the issue, use fans or heaters.
A backyard wedding puts you in control of the venue, providing extra flexibility and plenty of potential. Don't let wedding planning get you in a tizzy. Create a game plan, follow these tips, and say "I do."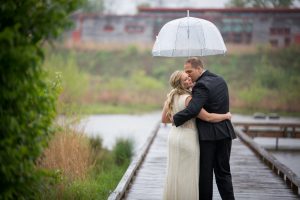 Need inspiration for your wedding? Try WeddingScope and see your vision.