Watch how this couple had their dream Mid Michigan destination wedding surrounded by family and friends! How cute are those to go donut bags??
"We didn't want to spend a fortune on a videographer for something that we may only watch once, but we also didn't want to regret not having our special day documented with videos. WeddingMix was the perfect solution."
Like their style? Here is how you can do it!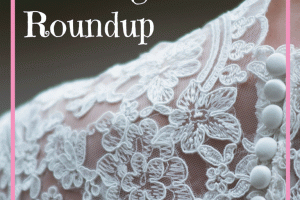 11 Stunning Lace Wedding Dresses AND Where to Find Them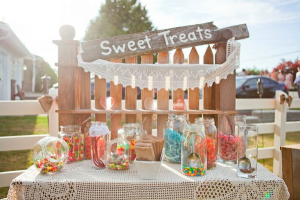 9 Alternative Wedding Cake Ideas That'll Make Your Mouth Water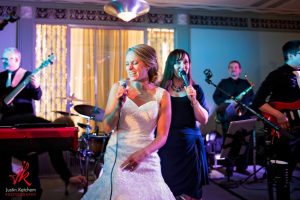 How to Find Your First Dance Wedding Song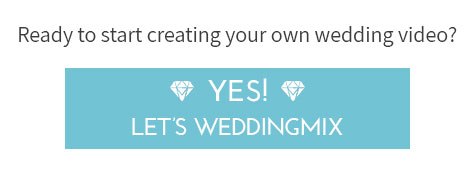 Real Advice From The Bride & Groom!
1. What part of your wedding planning are you most proud of?
I'm most proud of our first dance. I knew that we didn't want to get out there and just sway back and forth, so we took dance lessons to learn how to rumba and foxtrot. It was a welcome stress reliever during wedding planning and a guaranteed date night every week even when we were busy with life and wedding planning. When it came time for our first dance, it was extremely special to us and felt like we were alone in the room as we danced the night away. I was also really proud and excited about our donut table. I'm a huge sweets lover and wanted to do something in addition to the wedding cake and the grooms cake. I convinced my sister to help me make a donut wall, found cake plates at Home Goods to put on the table, and looked for printable signs online. I purchased paper bags to put on the table so guests could take donuts with them if they didn't want to eat one at the wedding. The donut wall and table came together even better than I could have imagined and I couldn't have done it without the help of my very creative and handy sister.
2. Where did you get married?
We were married in Petoskey, MI. We live in Chicago and liked the idea of having our wedding on the "other side" of Lake Michigan. This also meant we would be having a Midwest destination wedding since James is originally from Chicago and Amy is originally from southeastern Michigan, all of the guests had to travel to the wedding. The great part about this was we were able to spend the entire weekend with our guests, instead of just the wedding day. We held a welcome party 
on Friday
 night at a local bowling alley where we had pizza and appetizers along with renting out 6 lanes for bowling and the billiards room for our guests. This was such a fun and relaxing way to spend the night before our wedding. We also invited guests to breakfast on Sunday morning to say farewell before everyone headed home. Everyone says your wedding day will be a blur and will go by so fast and it's true! That is why we are so thankful that we got to spend time with each of our guests over the course of the weekend, since there just isn't enough time during the reception.
3.Why was using WeddingMix appealing for your big day?
When we asked our married friends and family if they thought hiring a videographer was worth it, we learned that everyone who had hired a videographer only did it for their parents or only watched their wedding video one time (or not at all!) and everyone who didn't hire a videographer regretted not having a video. With that in mind, we didn't want to spend a fortune on a videographer for something that we may only watch once, but we also didn't want to regret not having our special day documented with videos.
WeddingMix
was the perfect solution.
4.What were the most important moments that WeddingMix was able to capture on your special day?
Our friend that we assigned our GoPro to was able to capture so many of the special moments throughout the day, but most importantly she was able to capture our entire ceremony. Even though we lived it, we were so excited and overwhelmed that the entire day seems like a blur. It has been so great to go back and watch the ceremony to bring back memories and make the day less of a blur in our minds. We also have so many great videos our of guests dancing, which is great since we weren't able to be on the dance floor for every song.
6. What is your top wedding budget tip(s)?
We picked the wedding day details that were most important to us – venue/food and drinks, photographer, and DJ were our top items that we didn't want to compromise on. We decided to focus on those items first and then plan accordingly for all other vendors and details with the remainder of our budget.
7. What was your budget?
Our wedding budget was $60,000 for our entire weekend – since our wedding was a midwest destination wedding, all of our guests had to travel so the weekend consisted of a welcome party at a bowling alley 
on Friday
 night for guests arriving in town, the actual wedding and also breakfast on Sunday morning for guests. We had 120 people at our wedding.
Vendors
Friend on the GoPro – Tori Mason @alifeworthcraving
Donut Wall and Veil – Handmade by the bride's sister, @anniegetyourrum
[78164]