Wedding planning is stressful, but what's the point of even planning one if nobody is able to come? Sending out your "save the dates" in a timely manner can be imperative to making sure all your favorite people are there on your big day. That's why we have wedding paper goods designer, Elle, and the Weddingmix team here with some important pointers regarding this important detail.
Tips from a Pro
"The whole process of getting married can be so exciting and at the same time so overwhelming. Almost instantly after I announced I was engaged everyone started asking me tons of questions about my wedding.
Of course, I was so happy to be marrying my best friend, but once I started to create a to-do list for my wedding day I immediately felt behind! There were so many checklists of things to do and the deadlines were fast approaching . We ended up deciding to elope and that was the best decision for us.
When it comes to the brides with whom I work, my goal  is to help relieve them of feeling overwhelmed by "wedding inspiration" and actually enjoy their wedding process!
While I just created a DIY wedding video timeline for WeddingMix,  I also wanted to share with you my knowledge on my favorite part of weddings…the paper goods!
Everyone has their own wedding planning vision, but the purpose of this post is to outline a standard way of sending out Save the Dates, as well as showing you a few examples of some Save The Dates that my bride's have used before."
Local Weddings
For local weddings, the goal  is to make sure people reserve the time on their schedules so they can attend.   Send out the Save the Dates as soon as you know your event information to make sure as many guests as possible can attend. The standard time to send your Save the Dates out is  4-6 months in advance, but make sure you already have your venue and date figured out before mailing them to guests.
Your Save the Dates are also the perfect opportunity to tell guests your wedding video app code. They can download the free WeddingMix app and start sending you sweet messages for your DIY wedding video.

Destination Weddings
Destination weddings are a bit different since everyone will be traveling. It is standard to send your Save the Dates for these types of weddings up to a year in advance so people have enough time to plan their accommodations and save money.
Video Save the Dates
The awesome thing about Save the Dates is that you can get so creative with them! Take Shelley and Joe's video save the date for example. The cute couple used the WeddingMix app  to create a custom "See You Soon!" video – it was the perfectly memorable way to get their loved ones excited about their big day!
Wedding Invitations
The standard time to send wedding invitations is 1-2 months in advance. One thing to keep in mind – if you send your invitation too far in advance,  people can lose them or forget your date. On the flip-side,  if you send them out too late then not all your guests will be able to come.
Response and Enclosure Cards
Typically you will include a response card and self-addressed envelope inside your invitation plus you can also include additional items like information cards or maps. A recent trend has been to ask your guests to RSVP on your wedding website and include a URL of the site on your invitation.
Wedding etiquette will always be to send a printed response card but you have to decide what is right for you. Think about your wedding budget and decide for yourself whether printed or online responses work better for you.
Make sure when ordering your wedding paper goods that you leave yourself around 1-2 weeks to address all your cards especially if you have a large wedding! Hopefully you can take these tips and feel more at ease about the whole wedding planning process and just remember to enjoy it.
Bio:
Elle McCann is a professional designer and owner of Jam + Toast, which specializes in illustrated wedding invitations and save the dates. Elle's main goal is to always help her brides have a stress-free wedding and to help them find creative ways to stay within their wedding budget.
All Save the Date videos captured by couples and their guests using the WeddingMix app & cameras. DIY wedding videos by WeddingMix.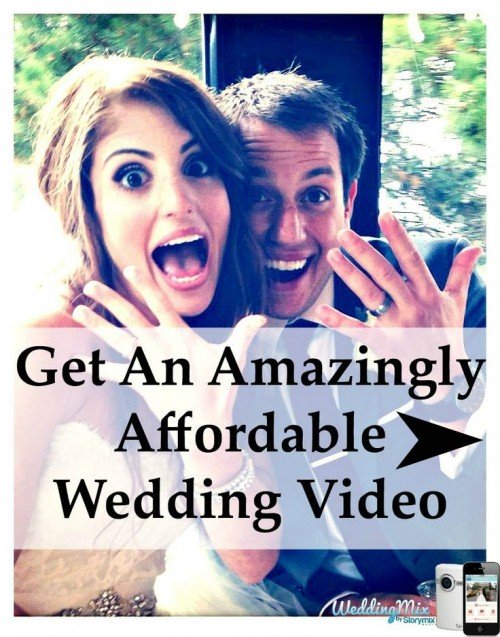 See how we can help you capture and enjoy your big day for a lifetime. Learn more about DIY affordable wedding video at our website or feel free to give us a call at 800-831-1649.