Beach Bride Bridgette celebrated next to the ocean and under the stars in beautiful Hilton Head, South Carolina. Don't miss her touching and informative testimonial and the Hilton Head wedding video! 
Bridgette and Jeremy said their "I Do's" during a beach side ceremony. They welcomed their family and friends to a beautiful wedding to celebrate the beginning of their lives together. Take a look at the fine detail and tips and tricks on how to make your beach-side wedding celebration as stunning and fun as this one! Bride Bridgette tells us all about her wedding as we break down location, budget tips, and helpful ideas for all brides to consider.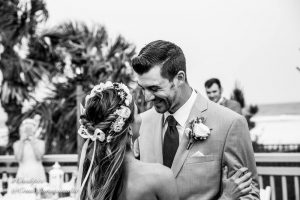 Throughout all the wedding celebrations, the lovely couples' family and friends were able to capture every memorable moment using the WeddingMix app and cameras!
Before you read about what the bride has to say about her wedding day, check out her beautiful highlight video of her wedding celebrations through her guests' perspective:
"We captured everything with these cameras and the app. From the ceremony to the first dance, father daughter dance, mother son dance, our pups, etc.. It was great! "

Like their look? Here is how you can do it!
10 Stress-Free Wedding DIYs | Instructions Included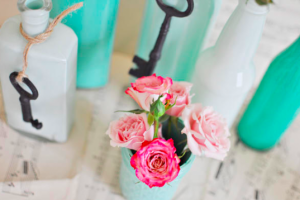 9 Flowers Perfect for a Summer Wedding Bouquet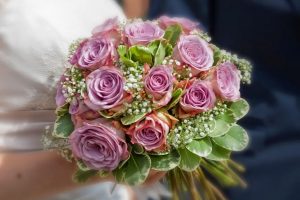 16 Romantic Hairstyles for Spring & Summer Weddings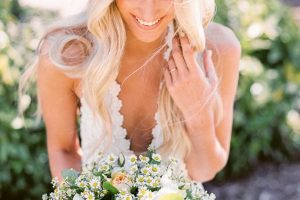 Real advice from the Bride & Groom!
1. What part of your wedding planning are you most proud of?
 We decided to do a destination wedding because we wanted to keep it small and intimate. Having a small wedding was the best decision we could have made. We were able to spend quality time with our closest friends and family members and really take in the moments with them. We felt that having a bigger wedding would take away from this. There was a total of 30 people that traveled with us to be a part of our special day. 
Also, by having a small wedding it allowed us to become DIYers, which was great! We made everything from the centerpieces to the arbor to the flower crowns that my bridal party was wearing. I never quite knew how crafty I could be until we decided to plan a wedding. My Maid of Honor even made our bouquets and all of the corsages and boutonnieres. We worked very hard to create the look and feel of our wedding and it could not have turned out any better. I would highly recommend doing as much as you can yourself because in the end it is so much more rewarding. Some of the decor and signs we are actually keeping and putting in our house to have forever.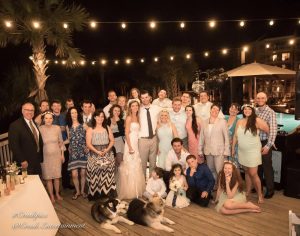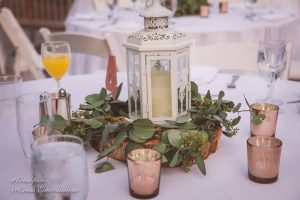 2. Where did you get married?
Hilton Head, SC. We stayed at the Omni and has the ceremony right on the beach. The weather was amazing and the views were breathtakingly beautiful. We had the reception on the cabana deck there as well. It was amazing to eat dinner on the deck under the stars while listening to the ocean waves hit the beach. It was paradise for us and we can't wait to watch our video so we can relive this moment.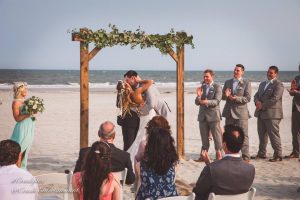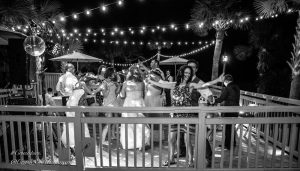 3. Why was using WeddingMix appealing for your big day? 
As we were looking into vendors for our wedding, we wanted to make sure we stayed within a certain budget. Being a photographer myself, photography was very important to me so we decided to that we would splurge a little on this and that didn't leave much room to hire a videographer. We were not even sure if we wanted to have this or not, but I decided to look at some options just in case. My biggest fear was that I would regret not having a video after it was all said and done.
I found WeddingMix and it seemed like the perfect fit for us! Since we were doing a destination wedding, having the cameras and the app for more than our wedding day was awesome. We were able to catch our journey down to SC, we drove with our two fur babies :), our family's and friends journeys, our arrival, rehearsal dinner, and even days after the wedding. It was great! We made sure everyone had downloaded the app and was able to upload all of their pics and videos to it as well and boy did they love it. Having WeddingMix was perfect because it just added to the intimate feeling that we were going for. Friends and family were our videographers and who cares more about capturing the special moments than they do? It made them feel more apart of the wedding than they already were and it was exciting for all of us. 
We decided to go with the 3 GoPro package with the app because we knew we would be using the cameras for more than just the wedding day. This gave us 12 hours of coverage and also the ability for all of the guests to take videos and photos with their phones and upload them directly to the app. It was also great to have multiple cameras for the wedding day so we could capture everything from different angles so that nothing was missed.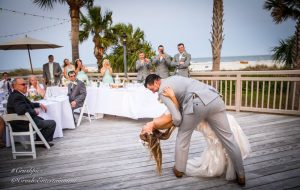 4. What were the most important moments that weddingmix was able to capture on your special day?
The ceremony was the most important moment that I wanted video for. Unfortunately my fiance forgot to put the wireless voice recorder in his pocket for this, so it is very hard to hear our vows, but WeddingMix staff has been great and are working to help us out with this! They have great customer service and really show they care about making your video of your special day perfect. We captured everything with these cameras and the app. From the ceremony to the first dance, father daughter dance, mother son dance, our pups, etc.. It was great!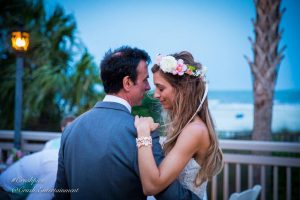 5. Please send us the names and websites of any of your vendors (ie. Photographer, DJ, Officiant) that you'd like mention 🙂
We worked with the most amazing people in SC. Our DJ was the best I have ever seen and went above and beyond for us. DJ Crush (Josh) was so friendly and really listened to what we wanted and made sure it happened. Our family and friends had a blast because of him and they all raved about him. It shows how passionate he is about his work. his website: https://www.crushisland.com/
The Omni at Hilton Head, SC was the most stunning, friendly, and laid-back resort we have ever been to. The staff was so professional and personable and really make you feel like royalty while you are there. Our coordinator Alison Ward was our wonder woman. She helped us out tremendously from day one of planning the wedding to the wedding day. She wants your wedding day to be as perfect as you do and it's just so comforting to know that. The hotel website: https://www.omnihotels.com/hotels/hilton-head
Our Reverend was Dr. David Leininger from Hilton Head. He was fantastic and so easy going. He allowed us to plan our ceremony how we wanted it from start to finish. Which we did not want a long ceremony so this worked out perfectly for us. He took the time to get to know us and our family and even came to our rehearsal dinner with us. The ceremony was perfect. His website: https://www.omnihotels.com/hotels/hilton-head
I could not say enough good things about our photographer Michael Graham. As I mentioned earlier, I am also a photographer so when it came time to choose who would be photographing our big day I was very picky. I wanted someone who captured candid moments and not so much of the posed or forced ones. Michale did exactly this. His style is more romantic and journalistic, which is absolutely beautiful. His work is amazing and I highly recommend him to anyone getting married in SC. He also works with you to make sure you get all of the shots you want. Not only is he extremely professional but he has a way to make you feel so comfortable in front of the camera and got all of our friends and family to laugh while doing so. We had a great experience with Michael!
6. What is your top wedding budget tip(s)?
I would say to start planning as soon as possible. Come up with a budget and sit down with your partner to decide how much you need to save ahead of time. It's also important to know how much others will be contributing. We had a hard time with this because we didn't want to as our parents for help at all, as it made us feel uncomfortable and we really wanted to try and do it all on our own. My parents offered to help, which was great! However, you need to know in advance how much, so we had to ask. All of our parent save us the money ahead of time so we knew exactly what we were working with. We opened up an account in both of our names that was strictly for the wedding. This was great because it allowed us to track all of the money going in and out and we could constantly check our financial status to make sure we were staying within our budget.  
I would highly recommend anyone who is planning a wedding to do this. It makes everything so much easier and keeps your financials nice and organized. Whenever you need to make a payment to a vendor it comes straight out of the wedding fund and both of you can keep an eye on it. We also made a spreadsheet detailing the wedding budget and what we wanted to spend on each line item (flowers, decor, dress, cake, bridal party gifts, parents gifts, hair and makeup, vendors etc). Having all of this in mind beforehand is a great tool to make sure you don't go crazy and end up wayyyy over budget later.
Start researching your vendors early. I did not realize how expensive everything wedding related was until I started looking around. WOW. It really is eye opening. The sooner you do this the sooner you know how much you will need to save and how realistic your dream wedding really is.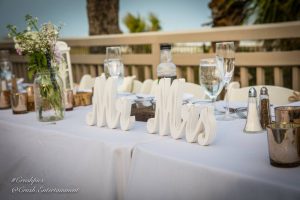 Vendors:
DJ Crush – https://www.crushisland.com/
The Omni at Hilton Head, SC – https://www.omnihotels.com/hotels/hilton-head
Reverend Dr. David Leininger – https://www.omnihotels.com/hotels/hilton-head
Photographer Michael Graham – http://www.michaelgrahamphotography.com/
[70952]