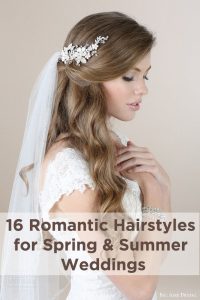 Are you preparing to tie the knot and aren't sure what hair style you want for your big day?ear not, because ladies, today we are talking about wedding hair. Explore these wedding hair ideas and tie the knot with the perfect look! Whether you're going for that boho babe vibe or glamorous gal updo, we've got you covered with some very stylish inspiration!
1. Loose, flowing locks are a classic and romantic look sure to leave an impression. Want to create a unique look? Add a waterfall braid.
2. You wedding hair is the frame for the main feature: your smile!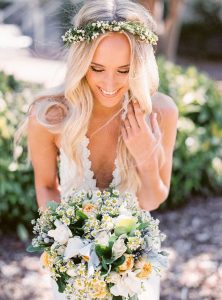 3. A flower crown provides both an easy way to secure your veil into place, and an exciting statement piece!
WeddingMix bride Mary's hair looked incredible on her big day! The gorgeous half-up half-down look really added some elegance to her wedding style, and she looked radiant walking down the aisle!
WeddingMix was cost effective and it allowed us to see how our guests really enjoyed the day." – Mary
4. There's nothing like a bit of sparkle to catch the eye of your guests! This sparkly accessory is both elegant and sophisticated and we love how it has been integrated into her hair.
5. How gorgeous is this statement piece? It looks so elegant against this bride's shiny, soft curls!
6. Want to take that flower crown look to the next level? Try a glamorous gold statement piece!
7. We love how refined this style is, down to the sweet and simple accessory that brings the whole look together.
8. Looking for a more intricate hairstyle? Updos allow for infinite possibilities!
9. Trying to capture that red carpet vibe? This sweeping style is front page material!
10. A large braid makes a stunning visual statement, especially when paired with manicured curls!
This WeddingMix bride rocked a gorgeous flowing hairstyle on her big day! She looked stunning!
11. Can you imagine how incredible this style will look under the bright sun? Her curls will look positively luminescent!
12. This blush ribbon adds a nice subtle flair to a more traditional look!
13. Check out the volume on this style, we're in love!
14. A pop of color goes a long way! Look how vibrant these flowery details are against her dark curls!
15. Nothing says spring like flowers! Pin a few blossoms into your updo for a fresh look!
16. A simple accessory can take an already enthralling look to the next level. Look at this bride; she looks positively regal with her spring crown – and it's clear her prince agrees!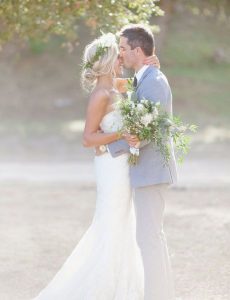 Tell us: which style caught your eye? Do you know a bride who would love to rock one of these looks on her way down the aisle?
Let us know in the comments!