Cheers to bride Alexandra on her beautifully vintage wedding in Topeka, Kansas. The whole event was on theme, from the decor to the just married car, the twenties flair was alive and well in this wedding! Check out the incredible and personal decor, as well as their romantic first dance in their Topeka, Kansas wedding video!
The fantastic wedding was shot by Alexandra's wedding guests! They had a wonderful experience contributing to the finished wedding video by using their own cameras along with the Weddingmix app!
WeddingMix was able to capture the experience from our guests' perspective. We did have a professional photographer, but the perspective that those photos offer isn't quite the same as the one you see from the guest photos and videos."

– Alexandra

Love their look? Here's how you can do it!

Wedding Decor That Will Make Your Besties Jealous

5 Things I Wish My Best Friend Told Me When Planning my Wedding

How to Find Your First Dance Wedding Song

How To Hack Your Dream Wedding On A DIY Budget – Advice from Real Brides
Advice from the bride!
1. What part of your wedding planning are you most proud of?
Ever since I was little, my mom emphasized the importance of capturing important moments with photos and videos and taught me an appreciation for antiques. I decided that I wanted to incorporate these values into our centerpieces to add more meaning to them and give each guest a more unique and interesting experience.
Each of our 22 tables had a unique layout of antique items that my mother and I hand-picked, as well as a few common new items we used to tie everything together (fairly lights, champagne pearl strings, and some glittery silver floral items). In addition to that, we had 2 antique wedding photos on each table. I went on a year-long mission to locate and scan as many original wedding photos of Patrick's and my direct ancestors as I could find. I spent days calling, emailing, and visiting relatives, some of which neither of us had never met. I found 22 photos ranging from one of my great-great-great-grandparents in 1886 to his parents in 1990. I am the most proud of this part of my wedding planning because, in addition to making awesome centerpieces, I preserved our family's history for years to come and made it possible to be easily shared with the rest of our family.
Many of our relatives had never seen the photos I found – some of which were our guests' grandparents or even parents. If I had not been motivated to take on this project for our wedding, we may never have had the opportunity to see and save many of these photos. We were able to incorporate a lot of other awesome vintage items as well, including my great-grandmother's wedding gown and veil. I wore the same necklace she and my mother wore in their weddings (pictured in the photo with the shoes and invitations).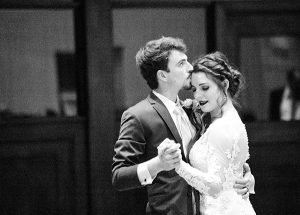 2. Where did you get married?
We got married in Assumption Catholic Church in Topeka, Kansas. It is across the street from the Kansas State Capitol building and is on the National Register of Historic Places. I attended the church growing up and a number of important events in my life took place there, so it was the natural place for us to get married.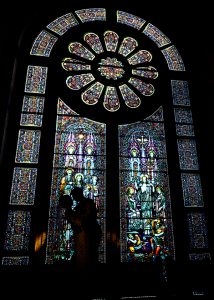 3. Why was using WeddingMix appealing for your big day?
WeddingMix was appealing for our big day because it was a much more affordable option than hiring a professional videographer. Additionally, we were never able to come up with a hashtag we liked and it was a good option to collect all the photos that our guests took throughout the day and the rest of the wedding planning process.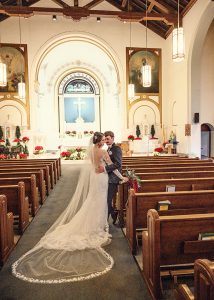 4. What were the most important moments that WeddingMix was able to capture on your special day?
WeddingMix was able to capture the experience from our guests' perspective. We did have a professional photographer, but the perspective that those photos offer isn't quite the same as the one you see from the guest photos and videos.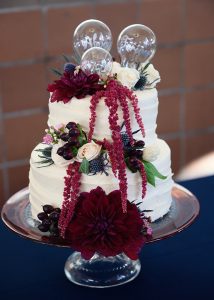 5. What is your top wedding budget tip(s)?
My top suggestion for budgeting is to do your research before you select a vendor. First, get an idea of what you do and don't want by looking at tons of pictures in magazines and on Pinterest. At first everything looks amazing, but once you get past that initial reaction, you start to notice what you like more and like less.
After that, you should start getting an idea of a vendor's style and pricing online or with a call. This will help you eliminate options that aren't a good fit for your style or budget. Checking out all your options that way before making in-person appointments saves a lot of time and minimizes the awkward exchange where you have tell a vendor they didn't make the cut after you've already met with them in person.
This should also help keep you from getting guilted into using a vendor that really doesn't fit your budget.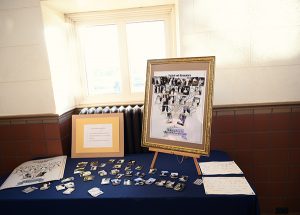 Vendors
Wedding Gown & Bridesmaid Dresses – Celebrations of the Heart 
Flowers – Absolute Design by Brenda
Hair – @hairbysarahcaleb
Venue – Great Overland Station
Catering – Sweet Dreams Catering
Cake – Shana Cake
[87269]