Now THIS is how an event planner throws an incredibly memorable wedding! From a cake topper inspired by their pup, to super sentimental letters delivered just before the ceremony, Kelly and Tim incorporated so many personalized and creative elements into their gorgeous October wedding.
Check out their special wedding video in Riverdale Manor – and get ready to relive the newlywed's big day through the lenses of their loved ones!
Moments captured by loved ones using the
WeddingMix app & HD cams
. Wedding video highlight by
WeddingMix.
Details from beautiful bride, Kelly: 
What wedding planning details are you most proud of?
I'm an event planner for as my full-time job, so I'm very organized and used to dealing with budgets. I was most proud that I was able to plan the day myself and craft a lot of items to save my budget from going over. I realized that the more I personally put in, the prouder I was that all of the decor and details really represented us. It truly made the day a celebration of our life together and the future ahead of us.
From the cake topper which was modeled after our dog, Buca, to the handmade table numbers (my husband cut the boards/installed the stand to prop them up and I painted them) and to the memory ladder which we filled with photos of our loved ones who are no longer with us. I designed and printed my own menus, directions cards and programs. I didn't feel like we paid for unnecessary items that weren't used or really noticed. And in the end, I was thrilled that everything turned out the way I had hoped.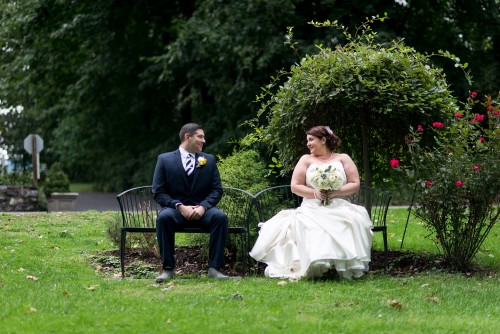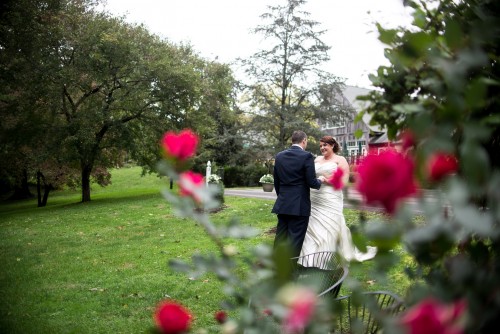 Where did you get married?
Riverdale Manor – 62 Pitney Rd. in Lancaster, PA. We got married in the Pavilion. The day was slightly overcast at our 4:30pm ceremony time (due to effects of Hurricane Joaquin) which made all of the lights in the pavilion truly sparkle. It was such a romantic and intimate setting!
Cocktail hour followed on the patio and the reception was held inside the Ballroom. The space had the perfect rustic chic theme that I wanted and lots of picturesque spots outside for photos.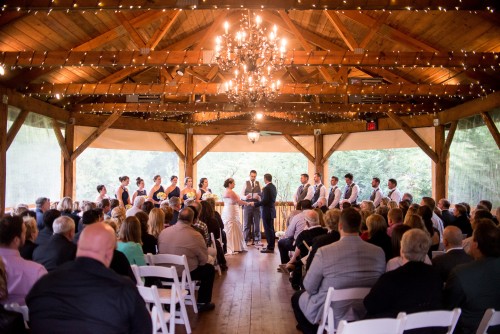 Why was WeddingMix an appealing way to get your special wedding video?
The main appeal was obviously the money we were going to save by not going with a traditional videographer. I was very cognizant of wanting to capture videos of the day, but not spending a few thousand dollars on it.
But another important aspect was that WeddingMix basically let our friends and loved ones the videographers. It allowed the people that know and love us to capture the moments they wanted and knew were important to us. That makes our wedding video that much more special, knowing our guests helped to make it amazing 🙂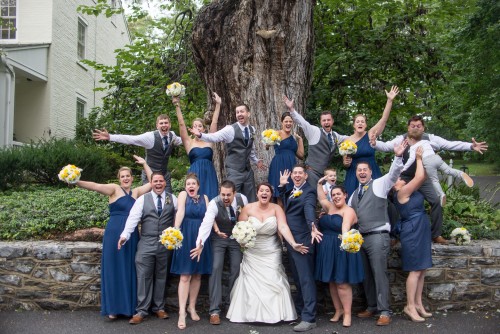 What special moments from your wedding do you want to remember forever?
We did a "First Look" and it was the best decision of the day! We were able to get some emotions out of the way and share a few private moments together before joining everyone for the celebration.
I'll never forget the look on my husband's face when he turned around and I will never forget the calm that came over me at that moment; amid all of the chaos of a wedding, that moment was just for the two of us and the future we were starting.
The ceremony was truly magical. We had asked a dear friend, Rich, marry us. I had written the ceremony program for him, so it was personal and representative of us as a couple. My husband was adamant about one request – to write our own vows and I was so happy we decided to do that.
Also, my dad and I have been singers our whole lives but have never performed together. We decided instead of sharing a dance, we would surprise everyone and sing a duet – "In My Life" by The Beatles. It was such an amazing moment to share with him.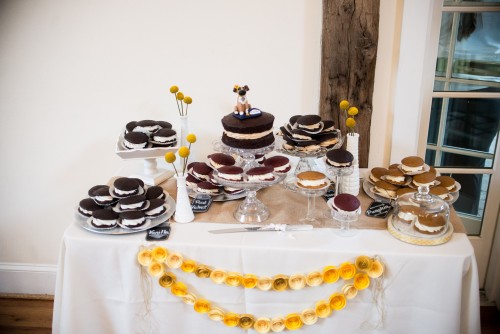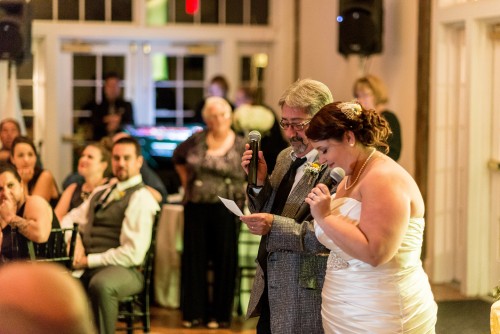 How did WeddingMix help capture those priceless moments?
It felt like we had a personal videographer present for every moment, not only just for the wedding itself, but for the bachelorette party, rehearsal dinner and getting ready that morning.
Instead of just relying on one person to try to capture every moment, it allowed for multiple people to catch different parts of the wedding. I feel like we were able to get moments that may have been missed. It really encapsulated the love and happiness of the day!
My bridesmaids joked that I was the calmest bride they've ever seen, but in my mind, it really didn't matter if anything went wrong (although nothing did!), at the end of the day, I married the man I want to spend the rest of my life with. The fact that everything else fell into place the way we had hoped just made the day that much more incredible. And knowing that we were in such a beautiful place surrounded by so many loved ones and friends, made it the most amazing day possible.
Vendor Shout-Out
Florist – Weddings & Blooms
Photographer – The Susquehanna Photographic 
Catering – Thyme & Seasons by Riverdale Manor 
DJ/Lighting – Mr. B Entertainment