We know you want to walk down the aisle in a dress that flatters your figure and personal style. Check out these helpful tips and tricks when shopping for a wedding dress to ensure you pick the best dress for your body type, wedding's theme, and complement your event's style.
Not sure what your body type is?
Both Impression Bridal and David's Bridal have guides to help you decide! Want even more tips? Check out our Design it Yourself – Wedding Dress Infographic for a printable design guide to bring to the salon.
Click the graphic to see the full infographic:
Mermaid Wedding Dress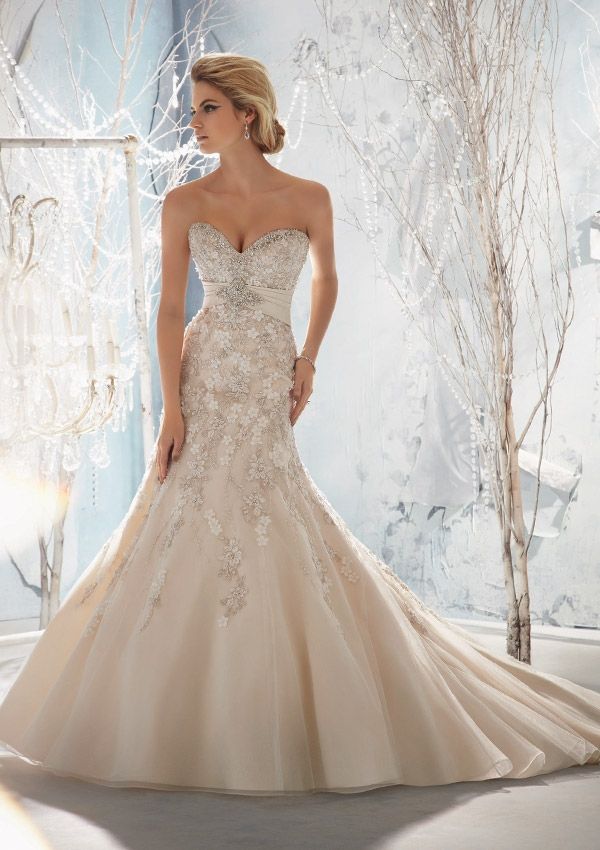 This style of dress is fitted and flares out under the hips. It looks best on women who have an hourglass shape, as it emphasizes their curves and hugs their body in all the right places. It also looks amazing on women who have shoulders that are wider than their hips. It is not for women who have large hips, full thighs, or a round middle. Mermaid dresses are perfect for those who wish to capture a romantic or whimsical look and feel; and are perfect for a formal, church wedding and an indoor reception. They are often made from soft silk or lace, are filled with feminine romantic embellishments like ruffles, bows, and sparkles; and look extremely elegant when paired with a fur shrug for winter weddings.
Trumpet Wedding Dress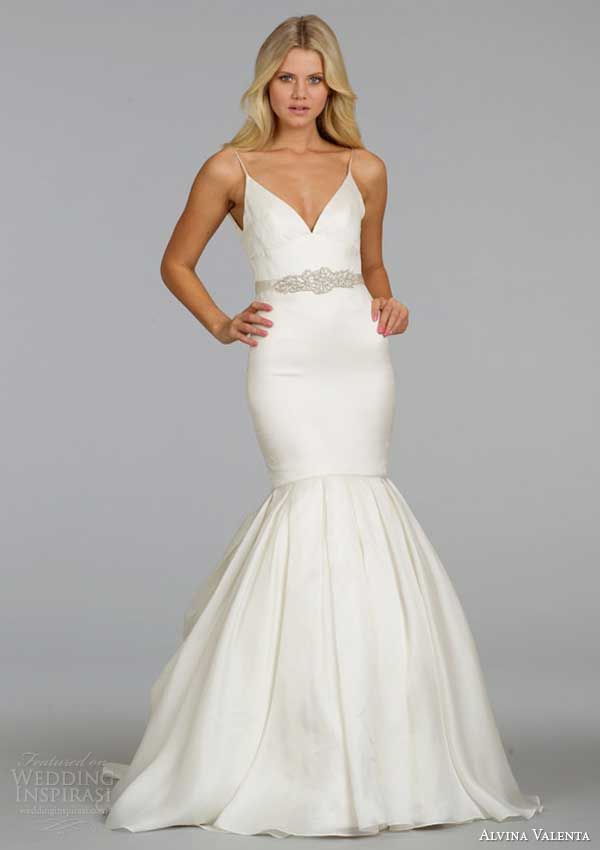 Much like a mermaid silhouette dress, a trumpet gown is fitted and it flares out dramatically around mid-thigh or the ankles. It is an ideal dress for a petite frame since its extravagant elements add fullness. It also elongates the form and makes a woman appear longer and leaner than they already are.
A-Line Wedding Dress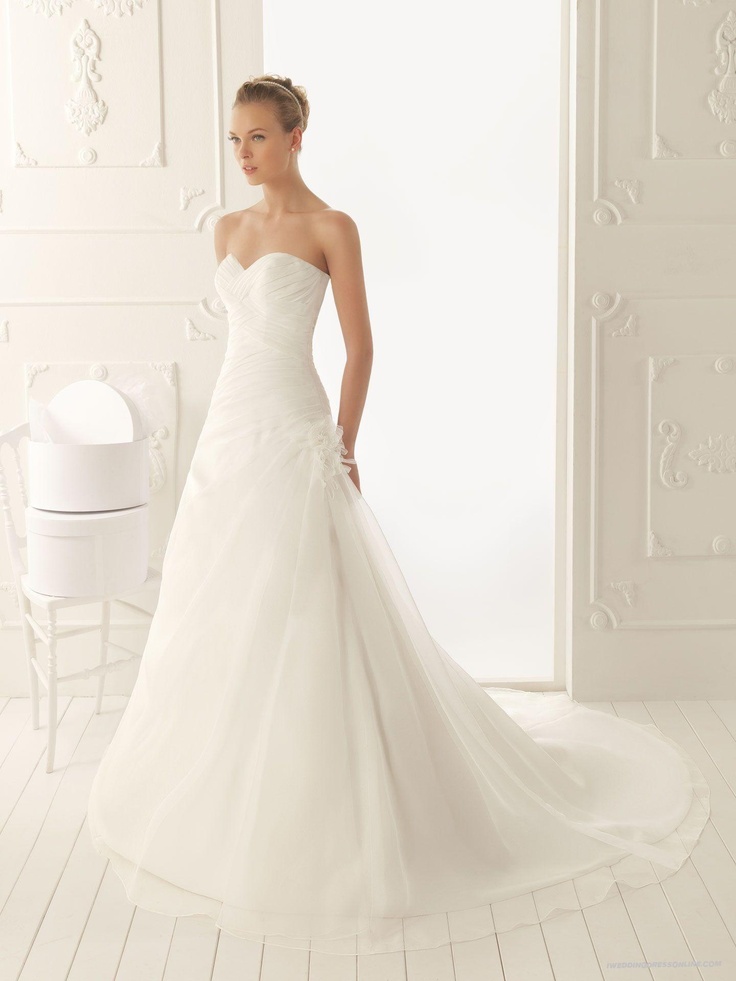 An A-line dress is the most universally flattering dress silhouette for any woman's body. It cinches slightly at the waist and gently opens up throughout the hips and thighs. It boasts a classic look and can be worn sleek and simple for casual affairs, or embellished with sparkles and lace for a formal event. Women should opt to wear a shorter style if their shoulders are wider than their hips to provide balance and to achieve a feminine and flirty shape.
Empire Wedding Dress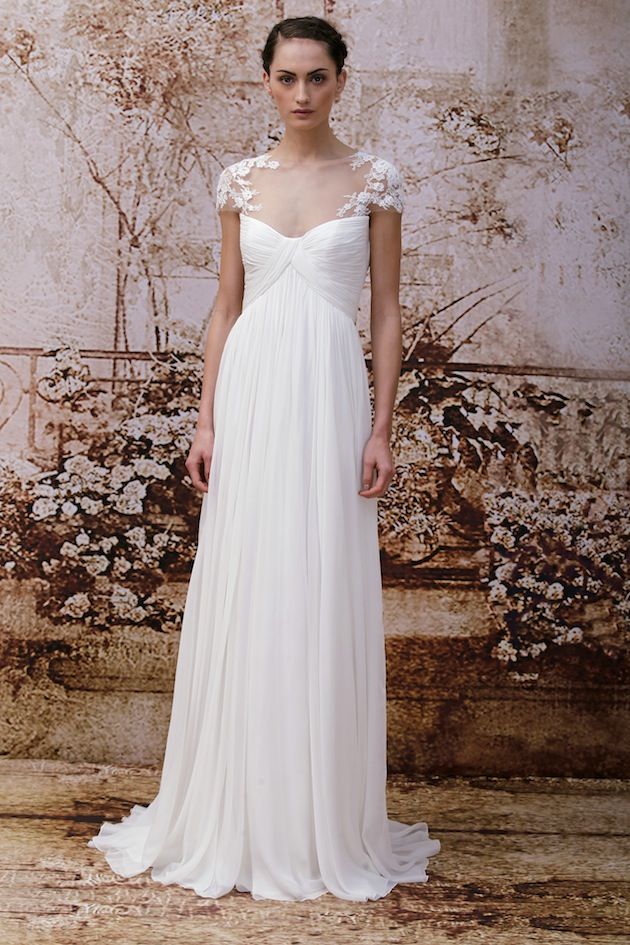 This silhouette is perfect for a woman who wants to emphasize the smallest part of her body and apply ample coverage to the rest of it. The empire waist cinches slightly below the bust and does not cling or conform. It gently cascades down the form and usually has draping to help one achieve a Grecian goddess look. It looks sweet and simple, easy and breezy; and is one of the most popular dresses to wear for a beach wedding because it moves with the body and will blow gently in the ocean's breeze.
Sheath Wedding Dress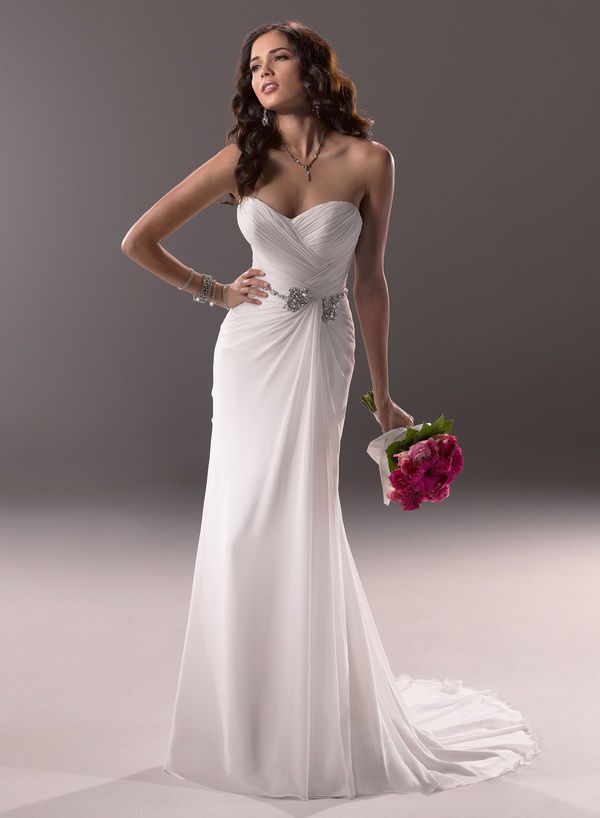 A sheath dress is fitted throughout and can have a long or a short knee-length hemline (think Jackie O). It is the perfect dress for women of all shapes and sizes to wear, but especially women who have very narrow forms. A sheath dress is for those who are looking for a dress to complement a vintage themed wedding or for someone who has an antiquated personal style. Sheath dresses are usually composed of silk chiffon or lace, which is flattering to a variety of body types because it helps the dress keep its shape and supports a feminine figure.
Ball Gown Wedding Dress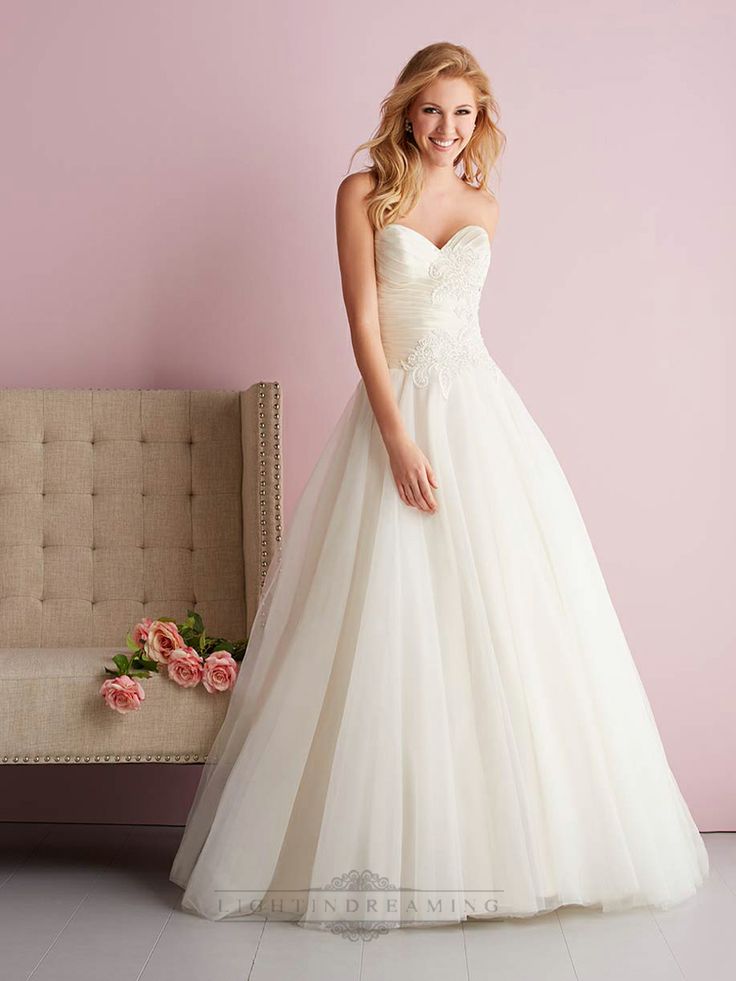 Ball gowns have a fitted, structured top and boast full tulle, skirted bottoms. These dresses look great on full and hourglass figures and are extremely feminine and princess-like. They are a must wear dress if you are hosting an elegant affair and consider your style to be classic and chic. Those who consider wearing these gowns for an outdoor, summer ceremony may wish to reconsider because these gowns can be quite heavy and may work better during fall or spring seasons.
Keep these tips about individual dress shapes and styles in mind while shopping for a gown for your own special day!