Using GoPros to film a wedding is a modern take on classic wedding videos. Lately, they've actually become a rising trend in the wedding industry! Many couples are choosing to pass on the traditional videographer, instead filming it themselves with the help of a GoPro camera. We've put together a list of some of the current wedding trends sure to get you excited!
 Dogs Filming the Wedding

Man's best friend has been stepping in for the videographer! Strapping a GoPro to an obedient dog creates a one of a kind wedding video! Not only do you get to involve your favorite companion, it's an affordable alternative to a traditional videographer!
2. Using Drones
How impressive is this wedding photo? Drones are a great way to capture an aerial shot of the wedding! There's nothing like a bird's eye view to give your video some extra flair!
3. Whiskey Cam GoPro
For a unique perspective, attach a GoPro to something you know will be passed around amongst your guests! This couple used a bottle of whiskey for a fun twist on a traditional wedding video! The possibilities are endless!
Looking to use GoPro at your wedding? This WeddingMix couple captured their big day in style with the help of a WeddingMix GoPro package.
4. Hot Air Balloon
Up, up, and away! Looking to take your wedding to new heights? Bring your GoPro up into the sky like this couple! What an exciting way to capture the moment!
5. Bouquet Camera
Film your entire trip down the aisle, complete with your husband and guests' reaction to your entrance – just attach a GoPro to your bouquet!
6. Disco Ball
A disco ball camera provides a fantastic view of the dance floor!
7. Trash the Dress!
What's more memorable than an action shot? We love the adventurous nature of these couples! Can you imagine how fun it would be to take the following plunge?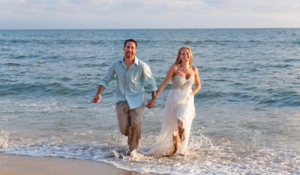 8. Nautical Sports – No Need to Fear the Water
Are you and your fiancé an adventurous couple? Embrace that spirit of excitement with a nautical event – and capture every moment of it!
Don't have a GoPro camera but want to use one for your wedding? This desire can become a reality with a WeddingMix GoPro package! Not only will you have access to a camera on your big day, but our team of editors will transform your footage into a one of a kind video!
What film trend caught your eye the most? Did any spark your interest as a possible idea for your own wedding? Let us know in the comments below!