Fall is a favorable time of year for a wedding and we're here to establish a merging style prospective between a fall themed wedding, and a wedding in the fall!
1. Mail Time
First things first, save the date and final invitations! You want this to be the leading step into your wedding theme, keeping the design unique to your couple chemistry but leave wiggly room for further expansion on your overall wedding idea – opinions and choices change often and quickly through your process.
2. The Perfect Shot
Second we move onto incorporating the season into your photography, remember to communicate with your photographer on what you want to capture about this time of year. There is a reason behind each season, make sure you capture every second of this moment – highlight detail through light, color, and texture.
3. Cake, cake, cake!
During your reception, in specific regards to food, your cake is the focal point. Wedding cake plays a roll in keeping a consistency with your theme. This doesn't mean that it needs to be bright orange or covered in leafs for it to be considered consistent with Autumn.
4. Lit
A crucial portion of any reception ceremony is the lighting, often times this major detail is overlooked until the latter portion of planning. If you are on a tight budget, lighting is the most cost effective way to get your dream wedding look and feel.
DIY possibilities are endless for illuminating your ceremony, here are some of our best possible dupes.
*Also a hint of these natural mini white pumpkins are perfectly simple and chic to pair with candle light, directly incorporating the season without going over the top. 
5. Memories
Having a guest book filled with well wishes is an essential for wedding planing, whether you do it physically or digitally is up to you! Check out this WeddingMix video for further inspiration!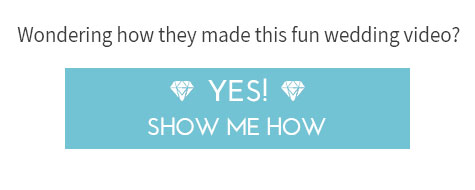 6. Wine & Dine
The easiest ways to incorporate the season is through drinks, hors' oeuvres, and sweet treats. By using a focused color, taste, and textured pallet with each dish and drink we create a further Autumn inspired aroma for guests.
7. Centered
Centerpieces make each table a personal and intimate experience for each attendee. Accenting bold seasonal colors with dark hues of brown give a style blend of Autumn tones. Don't be afraid to add accents like feathers, antlers, or fruit into the mix.
8. Polished
Wrapping up the look is you! Dress to the nines with taste, use neutrals and build from that adding accents like flowers, festive bow ties, bold earrings, or even suspenders to tie everything together.
Our friends used the WeddingMix cameras to record a bunch of the surprises that were added into our reception. We wouldn't even have known to ask a videographer to look out of those moments! I also loved that the cameras were small enough to film intimate moments without feeling intrusive. -Megan
9. Entertainment Space
Their are two types of wedding guests, those who dance and those who do not. Its important to provide a space where guests can catch up and (wine) down.
We hope to have left you with a prospective of ultimate style, enjoy your complete Autumn aroma!
Check out WeddingMix to help craft a beautiful wedding video creation.