Congratulations to the Fisters! Become inspired by their creative ideas that truly set their wedding apart and be sure to check out their lovely, affordable Seattle wedding video too!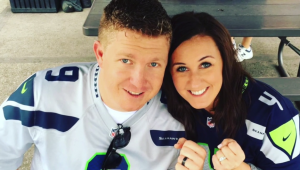 1. What part of your wedding planning are you most proud of?
Genuinely, I'm proud of all of it! It was really important to me to have small details at the wedding that would set it apart from others. We had baskets in the bathrooms with some essentials, funny signs located by the bar, etc. I really wanted our day to be very personalized and I think that was pulled off well!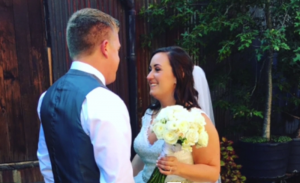 2. Where did you get married?
Georgetown Ballroom, Seattle WA .
Check out the couple's affordable Seattle wedding video right here!
3. Why was using WeddingMix appealing for your big day?
I've always wanted to have a video of my wedding day, it was very important to me. I started looking into professional services and was heartbroken with how expensive they were. Since we were paying for our wedding ourselves, it just wasn't in the budget. When I was on Pinterest one day I saw a pin for WeddingMix and it seemed like the best happy medium!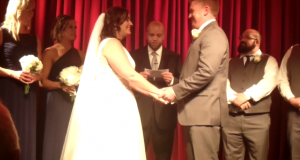 4. What special moments from your wedding do you want to remember forever?
I'd love to remember all of it, because it just went by so fast! The most important moments for us are the first dance, the vows and sharing those quality moments together. It was a whirlwind!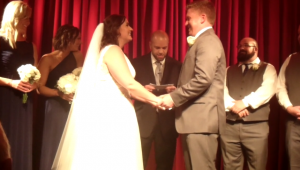 5. How did WeddingMix help capture those moments?
Our bridal party and family were great at filming the ceremony for us, as well as capturing the first dance and my husbands surprise lap dance after taking off the garter! Ha!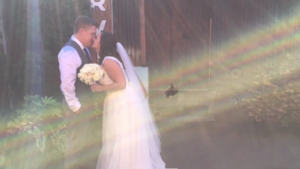 6. What is your top wedding budget tip(s)?
Be somewhat flexible! We all have an idea of our perfect day and sometimes it's hard to give up things that seem so important. When you open up to other ideas, I think you can end up with something even more amazing that will work within your budget.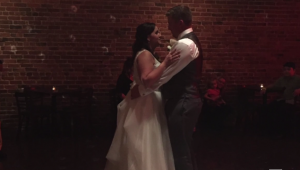 Vendors 
Photographer: Something Minted Photography