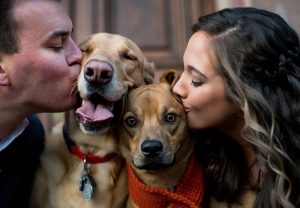 For many, pets are our babies. Our little fur babies. We fuss over them, buy them little outfits and special foods, watch them on our security cameras when we're at work, and take thousands of pictures and videos of them to upload on Facebook and Instagram. We include them in almost everything we do, from trips to the grocery store to going on vacation. Given all that, it's only natural that we'd incorporate them into our weddings.
Animals have the potential to add a lot of cuteness and an "aww" factor to your wedding day. Imagine a dog in little tuxedo, a parrot mimicking "I do" when you say your vows, newlyweds riding away on horseback, or a trained hawk flying in with the wedding rings. The possibilities are endless!
Here are a few thoughts to consider when including animals in your wedding day festivities:
Check that the wedding and reception venues will allow animals.
Some facilities may have a strict or prohibitive policy on allowing animals. Or, due to considerations such as food service, they may not be legally permitted to allow animals on the premises, with an exception for designated service animals. You may also be required to put down an extra deposit or pay a non-refundable fee to account for any potential animal-related accidents or destruction.
Michelle and Ryan got creative with their reception by hosting it at a zoo! They enjoyed stunning views, delicious food, and got the best of both worlds with an indoor and outdoor feel. To top it all off, they fed giraffes! Checkout their unique wedding video below:
"WeddingMix was the perfect option because we loved the idea of having our favorite moments recorded by friends and family. It meant so much to have our friends and family capture clips of the bridal party, toasts, dances, and lots of giraffe feeding!"
Some of your guests may be allergic to certain animals.
You thought about guests' food allergies when creating the menu for the reception, or you're asking guests to note on their RSVPs if they have any food allergies. But did you think about their pet allergies? If your pet is going to be a part of your ceremony, you should make a clear announcement in your wedding invitation or on your wedding website, and possibly ask your guests to check off their pet allergy issue on their RSVP cards. This will give you an opportunity to follow up with them directly. In some instances, by simply ensuring your guest is seated away from the center aisle you'll reduce the risk for triggering an allergy attack.
Arrange for people to pet-sit.
On the day of the wedding, you have a lot to do in order get yourself to the alter. Hire a professional pet sitter or designate specific guests to help ensure that your pet has attention and is fed, watered, and taken out for bathroom breaks. The caretaker can also make sure your pet isn't eating plants or being given foods that could be toxic when you're distracted. Also, arrange for the caretaker to take your pet home if the day is going long, or to provide long-term care if you're heading straight out to your pet-free honeymoon.
A dog is a man's best friend, right? Checkout this cute little pup supporting bride Kate as she gets her hair and makeup done on her big day! P.S. The couple ended up saving a dog during their wedding photos.
"Getting a WeddingMix allowed us to capture live moments, speeches, dances, interviews, etc. which allowed us to get a memorable wedding video."
Be prepared if your pet doesn't behave as you've planned.
Including your pet in your wedding is as much of a crap-shoot as having your two-year-old niece as a flower girl. In your mind, you've pictured the tiny tot in a prim dress walk slowly down the aisle with a big smile gently dropping rose petals along the way. In real life, the little whirlwind wanders from side to side, distracted by who-knows-what, then dramatically dumps her basket in a flowery heap while she has an epic meltdown halfway to the alter. Fido may have a similar moment, because he's stressed or over-excited by the unfamiliar surroundings and the crowd of strangers. Monitor your pet, and if it looks like he's not going to be obedient or well-behaved, or if he's exhibiting stress-induced behaviors, accept it gracefully and allow him to sit out the ceremony with one of your pre-arranged caretakers.
Bride Xa and husband Tyson had the cutest ring-bearer in the universe (Their dog, Tyrian!) Their wedding day was an absolute dream come true for cinema buffs, with guest tables named after their favorite movies/TV shows and movie soundtracks playing on the speakers. Checkout their WeddingMix below:
"Photos were not enough to capture our big day. Getting a WeddingMix allowed us to capture our special moments on video without paying much!"
Build in some quiet time for your pet during the festivities.
When you're doing site visits of wedding and reception facilities, be sure to ask for a room that can be designated as a quiet space for your pet. You could set it up ahead of time with their favorite toys and blanket, to make it more homey and comfortable, giving your pet a place to get a respite from the action. In fact, you might like the quiet room so much you'll use it for yourself!
Secure the wedding rings tightly.
If your pet is the ring bearer at your wedding, take precautions to ensure that the wedding rings don't fall off your pet, and especially that they don't end up inside of them. Tie the rings tightly directly on their collar. If the rings are in a decorated box or basket, or resting on a pillow, keep the entire package is out of reach of your pet's inquisitive mouth, placing it on him at the last minute before show time.
Considerate planning and managing our own expectations go a long way to having weddings that are safe and enjoyable for us, our guests, and most of all, our precious fur-babies!
Guest post on WeddingMix