Looking for the perfect wedding venue? These historic venue options are perfect for couples who love the a bit of charm added to their special day.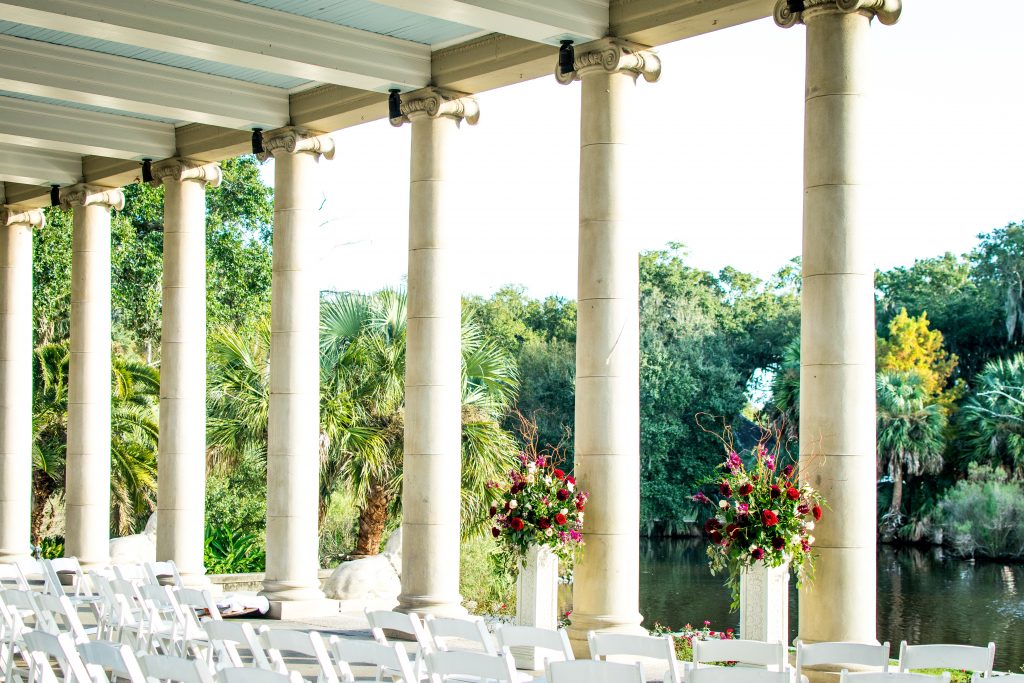 Although settling on a venue is one of the biggest wedding planning hurdles, there seems to be an option for everyone. If you're looking for a romantic spot that requires minimal decorating, then historic wedding venues are for you. Check out these romantic historic weddings from our WeddingMix couples for some serious wedding inspiration. The breathtaking grounds, spiraling staircases, and old timey atmosphere is enough to make us fall in love, but take a look for yourself.
1. Fairytale Wedding at Roswell Historic Cottage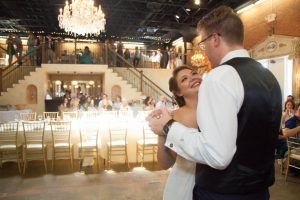 Cami and Johnny had a one of a kind wedding ceremony at Roswell Historic Cottage in Roswell, Georgia. Formerly known as The Old Library, the venue's brick walls and exposed beams leave a classic feel with rustic twist. The openness of the space lets in plenty of  natural light on a bright day.
The couple kept the decorating to a minimum because the venue was already gorgeous on its own! See how they used the space in their WeddingMix highlight below!
This highlight video was filmed with love by the couple's loved ones and edited by WeddingMix. Read what or brides had to say on The Knot!
2. Exciting Wedding at The Dorrance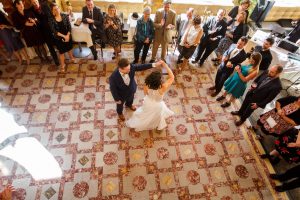 The bride and groom tied the knot at The Dorrance in downtown Providence, Rhode Island. The former 19th century bank is now a popular romantic spot for a weekend date night. The Dorrance is known for both the delicious food and breathtaking interior. The warm accent colors paired with the giant windows, marble floors, and intricate designs make this space gorgeously unique.
"I'm proud that we were able to make a gorgeous venue that was way out of our price range work for us by having a daytime Saturday brunch wedding. It was a bonus that The Dorrance has beautiful giant windows and we lucked out with a bright sunny day." –Anne
Check our the space in the couple's WeddingMix highlight below. We love the clear view of the ballroom during Eric and Anne's first dance!
This highlight video was created with the help of Eric and Anne's loved ones using WeddingMix!
It was important to me that we have the ceremony documented, maybe not in its entirety but I wanted to capture some of that. The emotions in those moments were so high, I'm so happy we'll be able to relive them again and again." – Anne
3. Darling Destination Wedding at Castle Farms
Beth and Jon got married at Castle Farms in Charlevoix, Michigan. The charming venue used to be a model farm in the 1900s, but now the restored castle is the ideal space for weddings. The castle offers whimsical gardens, beautiful fountains, and generous reception space for any wedding day. The bride and groom married right outside the castle and took fabulous pictures on the grounds.
Of course, our description doesn't do the venue justice! Check out the couple's WeddingMix highlight video to see their wedding ceremony and pictures.
4. Beautiful Virginia Wedding at Bristow Manor
Christina and Randeep had their wedding at Bristow Manor Golf Club in Bristow, VA. This 19th century southern manor combines country charm with golf to make the ultimate wedding venue. The couple took advantage of the nice weather and married outdoors before partying in the reception space.
"We were originally going to elope, but changed our minds at the last minute. After spending a few weekends searching for a venue that would complement a 25 guest wedding, we found Bristow Manor. The property was gorgeous and they were the most flexible venue that we viewed! Their wonderful staff took the pressure off of planning and allowed us to be ourselves." – Christina
You can tell everyone had a fantastic time from Christina and Randeep's highlight video. Check out their video to see the gorgeous simplicity of the ballroom!
Loved their WeddingMix highlight? Here's what Christina had to say:
WeddingMix was a fantastic option for our small wedding because of the price and home video touch. A small wedding equals a small budget. Average videography costs were much more than we wanted to spend. We almost decided to go without video until I saw an ad for WeddingMix online. This is such a great idea!"
5. Beautiful Wedding in Riverdale Manor
These newlyweds shared their special day at the beautiful Riverdale Manor in Central Pennsylvania. The restored 1850s farmhouse provides plenty of space for events, offering their pavilion, deck, and gorgeous grounds. The couple married in the summer, but this venue is available all year long. The bride and groom really used the lush greenery to their advantage during their ceremony. See it all in their wedding video below!
6. Charming Wedding at Legare Waring House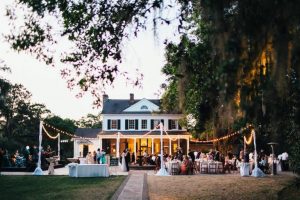 Rachel and her groom said "I do" at the Legare Waring House in Charleston, South Carolina. Rachel describes the historic estate as secluded in beauty. The splendid grounds are covered with oak trees, greenery, charming patios, and a bubbling fountain.
"The ceremony took place under sweeping oak trees draped with Spanish moss, aptly named the Avenue of Oaks. The cocktail hour and reception space were then held on the lawn and patio near the house and flanking lagoon. We could not have dreamt of better weather; bistro lights were strung overhead and we danced the night away under the stars! It truly felt like a fairytale" – Rachel
We love the simplistic charm of this venue. Check it out in the couple's wedding video and let us know what you think!
Loved this WeddingMix highlight? Here's what Rachel had to say!
We honestly hadn't considered a videographer, from both an expense and practicality standpoint. I couldn't picture us ever sitting down to watch hours of footage. I stumbled across WeddingMix on Pinterest and loved the idea of essentially a video montage told from guests' perspective at a reasonable price point."
7. Enchanting Wedding at Normal Theatre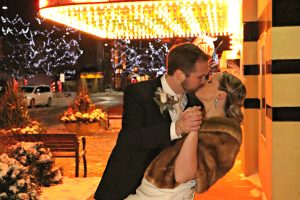 Showcase your wedding at The Normal Theater in Illinois! Bride Catherine said she always wanted to get married here and we can see why. The newlyweds were the stars of the evening as they married onstage in front of their loved ones. The gorgeous decor and vintage red seats offered a classic feel that made their guests feel as if they were watching the ultimate love story. Take a look at the couple's WeddingMix highlight video below to see the show for yourself!
This highlight video was filmed with love by the couple's loved ones and edited by WeddingMix.
WeddingMix captured the guests' perspective. It was different than a traditional photographer/videographer and got the guests involved." – Catherine
8. Cinematic Wedding at the Historical Landmark Center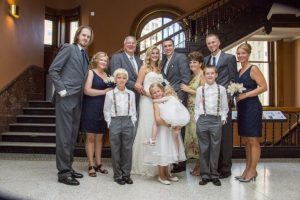 These two married at the Historical Landmark Center in St. Paul, Minnesota. The marble and mahogany covered venue used to be a courthouse and post office. Now the landmark is admired for the arched windows and intricate staircases.
"The venue was perfectly picturesque. Plus, it was so beautiful that we did not need to spend a ton of money on decorations!"- Casey
You can see the beautiful ceilings and decor in their WeddingMix highlight video below!
Loved Mike and Casey's WeddingMix video? Here's why they loved their WeddingMix too:
The WeddingMix app was a cost-effective, practical way to capture all the sentiment and emotion of the day. If you can afford a videographer, great! But if you're more concerned about remembering the day… then this is a pretty good way of having your wedding cake and eating it too." – Casey
9. Romantic Wedding at The Eglinton Grand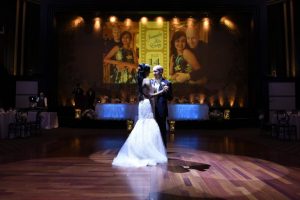 Jacquelin and Corey shared their special reception at the historic Eglinton Grand in Toronto. The sophisticated theatre serves as a romantic space for any event. The bride and groom chose this venue not only for the beautiful balconies and marble, but also because of the location!
"We got married in Toronto, Canada. Our reception was at The Eglinton Grand. Being born and raised in Scarborough it was important to celebrate our ceremony locally and our reception at the old theater was truly a nod to how we both first met, became friends and began our relationship." – Jacquelin 
The spacious ballroom was perfect for the bride and groom's first dance! What do you think?
This lovely wedding highlight was created with the help from the newlywed's loved ones with WeddingMix editing and cameras.
We didn't want to feel like there was paparazzi following us on top of our two photographers, so we love that our family and friends were able to capture the special moments we requested and wanted to immerse ourselves in all over again." – Jacquelin
What do you think about these historic venues? Let us know below!