Ashley said "I do" to a future with her true love. Check out their incredible Mount Pleasant wedding video below for a taste of the magic!

1.  What part of your wedding planning are you most proud of?
While wedding planning we both got new jobs (he was working nights, I was working days), moved twice, once into our first house, and away from all of our family and friends.  We also basically gutted and re did the entire house, starting in May and we got married in September.  I am most proud of the fact that we completely worked together through all of this, while planning a wedding.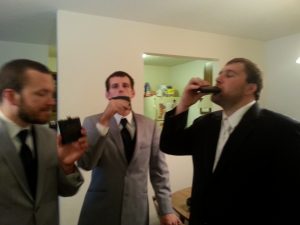 It totally strengthened our relationship.  We completely relied on each other, and neither of us had any huge freak outs.  We kept a level head basically the entire time, even though everything was crazy because we always had each other.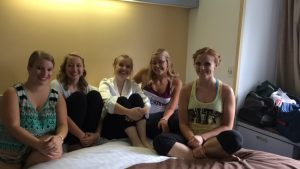 2.Where did you get married?
We got married in Mount Pleasant, MI, where we both met while going to school at Central Michigan University.  We were supposed to get married at the Ginkgo Tree Bed and Breakfast, but it totally downpoured right before the ceremony so we switched and got married at our reception hall (The Centennial) on the dance floor.  It ended up being more gorgeous than I could ever imagine, especially since we only gave them 30 minutes notice.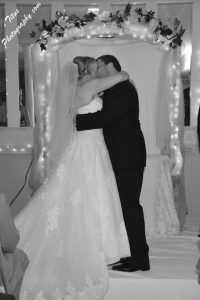 3. Why was using WeddingMix appealing for your big day?
WeddingMix
was an affordable option to help us capture moments that pictures might not capture.  Not only that, but with all of the people coming to the wedding in addition to the vendors we were using, the thought of one more person demanding my attention that day seemed over whelming.  It was wonderful that I could pick two well-trusted guests to capture the important moments without being in my face all night.  I am a pretty shy, reserved person, so that in particular appealed to me.  The cost appealed to our budget.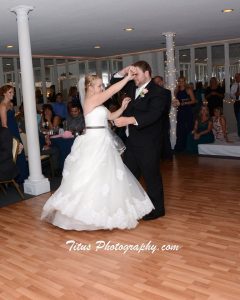 4. What special moments from your wedding do you want to remember forever?
 One of my favorite moments from our wedding actually wasn't captured on camera.  When I first saw my husband-to-be as I was walking down the aisle, he teared up and mouthed "wow" to me.  I am actually glad it wasn't captured because it was such a private touching moment that was only for me.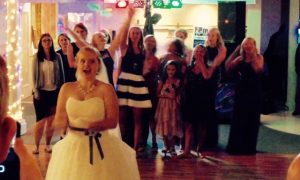 Some of my favorite on camera moments were our first kiss, our first dance that we rehearsed in the kitchen for weeks, and dancing with my guests.  We had a macarena challenge which I totally won.  The entire day is so special, it is almost impossible to pick my favorite moments.  I want to remember everything for forever, which is why I am so glad we have
video
to help capture the parts I might forget, or may have missed entirely.
5. How did WeddingMix help capture those moments?
I actually had never been to a wedding before my own.  Weird, I know.  But I didn't realize how much the bride and groom miss!  You miss the entire processional, everyone exiting the ceremony, and the entire cocktail hour.  There are also a ton of parts of the reception you miss just by being with other guests.  You can't be everywhere!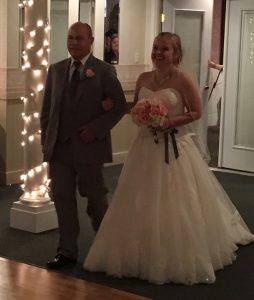 I am so glad
WeddingMix
was able to
capture all of these moments
that I would've otherwise missed.  Going back through all of the clips was so rewarding seeing everything from my guests' points of view because the entire day is such a blur for the bride.  I loved every minute of it, but I loved having the ability to calmly sit on my couch and reflect on everything with
WeddingMix
.
 6. What is your top wedding budget tip(s)?
Don't sweat the small stuff.  Seriously, no one is going to notice if you got your table numbers at the dollar store, or if they cost 1,000 dollars.  That isn't what people are going to remember.  They also won't remember your jewelry, what kind of shoes you had on (if they even can see them- comfort over fashion!) or if you had chair covers or not.  Also, we had fake flowers for our entire wedding- bouquets, boutonnieres, centerpieces- and it cost under $1000 and was so fun and easy to do ourselves.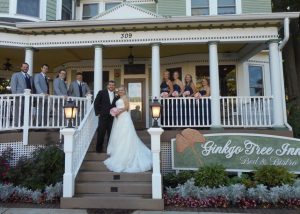 That alone saved thousands of dollars.  However, be careful.  Sometimes you get what you pay for.  We used a relatively new baker that seemed to have unbelievable prices.  We should've gone with a maybe more expensive well-known bakery because two weeks before my wedding I couldn't get in touch with our baker.  That was very stressful and we ended up having to find a different baker on very short notice.  Also, all of the bridesmaids got their hair and makeup done at a local beauty college.  It was super cheap compared to a different salon (we went for trials first to make sure everything would work out, though) and was a ton of fun.
Overall, the entire wedding day is amazing.  It is beyond anything you can imagine.  Seeing all your hard work come together into this incredible loving day is so so wonderful, even when things don't go as planned.  I was so glad we had
WeddingMix
help us capture everything in our Mount Pleasant
wedding video
–  so that I can relive that day over and over again.  Watching our first dance alone on the videos captured was so emotional.  It was worth every single penny and so much more.
Wow, what an incredible celebration – didn't you just love that Mount Pleasant
wedding video
? So romantic!