Steph and James' nontraditional wedding was so fun and personal!! This sweet couple truly focused on the things that are most important to them while planning their wedding- and it turned out incredible! Make sure to watch their Perona Farms wedding video that was filmed with the help of their guests and the WeddingMix app!
One of the most important aspects of our wedding was keeping things as personal as possible.
Like their look? Here is how you can do it!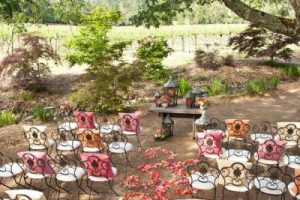 Outdoor Wedding Inspiration Sure to Take Your Breath Away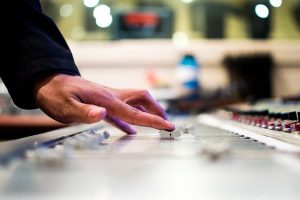 Wedding Band or DJ: Who Should Play Music at Your Reception?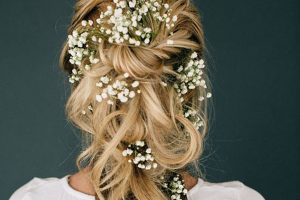 11 Awe Inspiring Wedding Hairstyles for the Modern Bride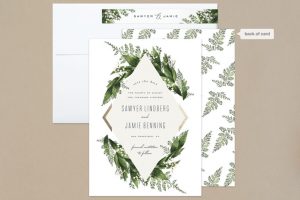 Fall Weddings, A Style Breakdown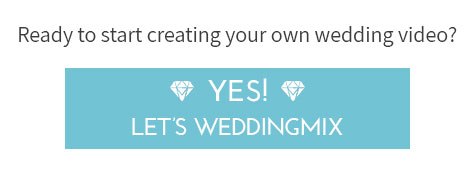 Real Advice From the Bride & Groom!
1. What part of your wedding planning are you most proud of?
We didn't want to to follow all the "traditional" rules of what we were "supposed to be doing." I'm really proud of the fact that we did things our way; like turning our first dance into a heavy rock song halfway through and inviting everyone to dance. I think it took a lot of people off guard but it was different and fun and I hope everyone could at least smile and say: this is so Steph and James.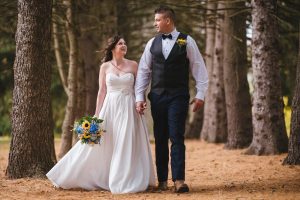 2. Where did you get married?
In our home state of New Jersey at a place called Perona Farms. The venue is amazing and has been hosting weddings for years now, they did a phenomenal job. The best part was that we got married in the barn, which used to actually be a real barn that the venue has turned into a spot to host weddings. It was a really unique setting and we loved it from the second we saw the place.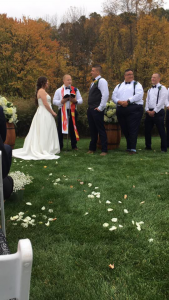 3. Why was using WeddingMix appealing for your big day?
One of the most important aspects of our wedding was keeping things as personal as possible. We had one of our best friends officiate the ceremony, the photographer was a close friend of my sister and the band was this amazing group of guys that we met through nights out at local bars. Everyone involved in the wedding personally knew at least one of us, if not both of us. So involving WeddingMix seemed like one of the coolest possible ways to keep on the trend of involving people we knew. I know that a couple of my cousins and one of my good friends, even my mom, spent the bulk of the time recording on the wedding day and I think it added a really amazing personal touch. We can't wait to get the fully edited version!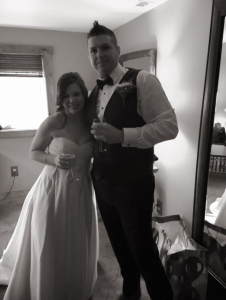 4. What special moments from your wedding do you want to remember forever?
I think the ceremony is probably the most important and special part of the wedding. Our friend Matt did an excellent job officiating, it was his first wedding ever, and I even got compliments from wedding guests that didn't know him about how beautifully the ceremony went. Also the band stripped down and went acoustic for the ceremony so that was pretty amazing too, they sounded beautiful. But also the reception was pretty amazing as well, the band really rocked it and I think (and hope) everyone had a really good time. The whole day was amazing.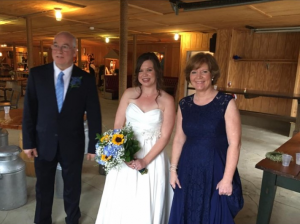 5. How did WeddingMix help capture those moments?
A good friend of ours and also my cousin each had a camera during the ceremony so they both did a great job capturing all of that for us. During the reception my mom did a lot of recording and went around the tables so we could have some footage of a lot of different faces at the wedding. I think WeddingMix was a great option as far as keeping our wedding as personal as possible.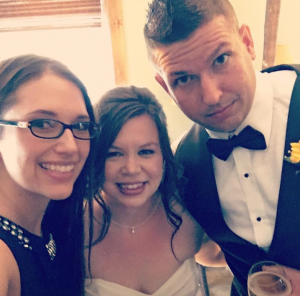 6. What is your top wedding budget tip(s)?
I'm a very unorganized person so this was definitely a challenge. But I can say that having a relatively long engagement is great because we did a lot of DIY projects and started purchasing little things here and there over the whole year and a half that we were engaged. Also, focus on the things that are MOST important to you. For me it was the venue itself (food/booze) and the music so that's what I planned to spend the most money on.
Vendors
Photographer: Julianne Karr
Our band/DJ: Flounder and DJ Kanix