A murder mystery, a beautiful couple, and an exceptional reception? Amanda and Nic's wedding was nothing short of AMAZING. Make sure to watch their Sacramento wedding video to see it all!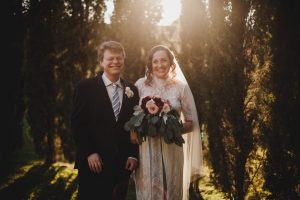 1. What part of your wedding planning are you most proud of?

The fact that the feedback we got from everyone was that our wedding was a perfect representation of us!  Our wedding was planned around the fact that we both did not want to be the center of attention, and we didn't want to have a lot of the traditional activities, especially first dances. In order to achieve this, we had a…. murder mystery wedding!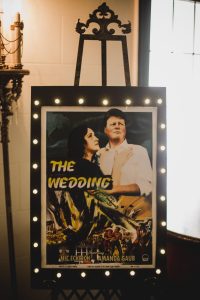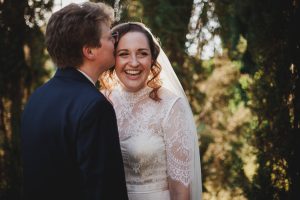 The plot revolved around a international cooking competition. There were 6 chefs, who were competing for a grand prize of riches and fame. They were set to have a world-renowned chef be the host of the competition, and he was also set to be the officiant of the wedding.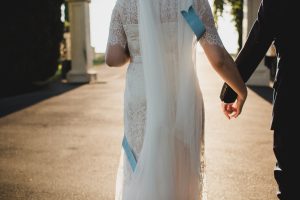 The first scene was before the ceremony started. The chefs realized their host and officiant was… missing! At this point, they asked if anyone could step in. Luckily, one of the chefs could be the host. However, they had no one to be the officiant! My sister, who was actually the officiant, was happy enough to step in.
Because all of this happened before the ceremony, I wasn't able to watch it. I was so happy we were able to use the videos and photos our guests took, as well as the footage from the
provided cameras
. We were able to film the whole scene intimately, and without too much attention being called to it with a big camera crew.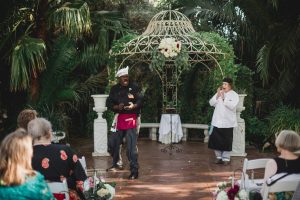 Mostly, I'm proud that my husband, Nic, and I  were actually quite social that night, and didn't need the attention taken away from us! The murder mastery took up enough time that we didn't have to dance, and people didn't pressure us into dancing either 🙂 Everything took the exact right amount of time, people were entertained the whole time, and we achieved the small, intimate wedding we aimed to have!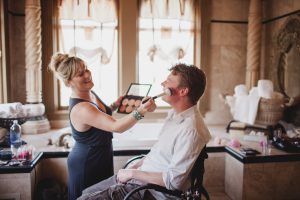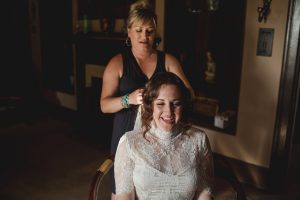 2. Where did you get married?

We got married at a beautiful historic mansion on the river delta south of Sacramento- The Grand Island Mansion. We knew from the beginning we wanted a murder mystery, and found out about this place. It was the only venue we looked at, and knew right away it would be perfect for our wedding! And, not to mention, the price was the most affordable in the very expensive San Francisco Bay area!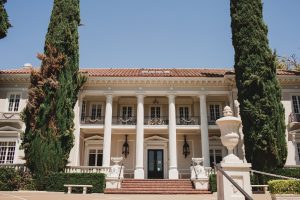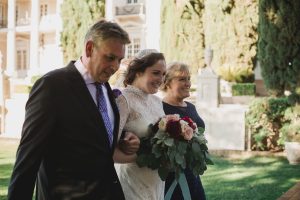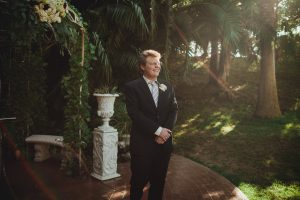 Check out the couple's AMAZING Sacramento wedding
video
!
3. Why was using WeddingMix appealing for your big day? 

Our aim was to have a small, intimate wedding full of very close family and friends. We have been together for 13 years, and we wanted our wedding to simply be a celebration of our time together and our promise to be together even longer. We felt having a stranger with a giant camera would take away from that feeling. Not to mention, we felt people would act different knowing they were being filmed.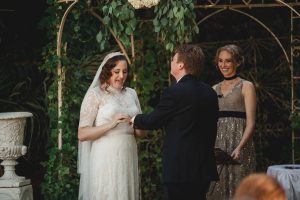 We also wanted to make sure we had enough viewpoints of the murder mystery scenes, and a way to film them without taking away from what was happening. We also liked that we could use
footage and photos people took on their personal phones
, because we knew guests would be taking photos and videos anyway.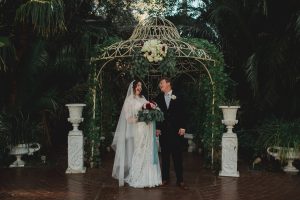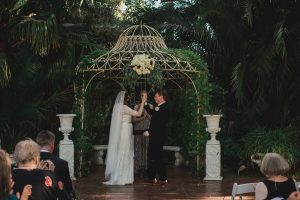 4. What special moments from your wedding do you want to remember forever? 

Our vows! Nic and I wrote the ceremony completely from scratch, and tailored them to us. Because my sister was the officiant, it was even more special. We are both not very emotional people, and we both got teary-eyed hearing the ceremony- even though we knew what she was going to say!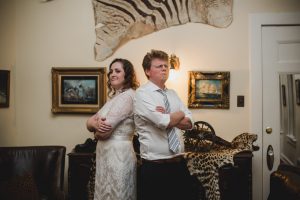 And obviously, the murder mystery scenes! We didn't get to hear or see a lot of them, we were too busy!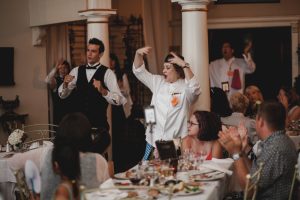 5. How did WeddingMix help capture those moments? 

We were able to get many different perspectives from many guests. We made sure to give the cameras to certain people we knew would be good at filming. But of course, it all didn't go perfect, and I was glad we had people's cell phone footage to fall back on.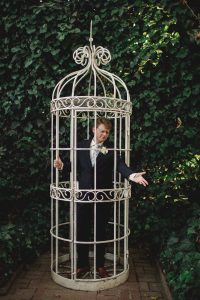 I also liked that we were able to
capture moments
before and after the wedding that a normal film crew wouldn't be present for!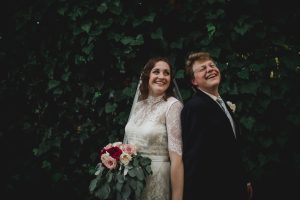 Vendors:
Christi Reynolds
– I hired her to do makeup and hair, and she ended up providing so much more! She totally got me, and my vision to be a downton abbey bride 🙂 She also was there right before the ceremony, and helped me finish my bouquet, and then she helped after and touched us up during our photo session. She totally got our humor, and helped us create exactly what we wanted!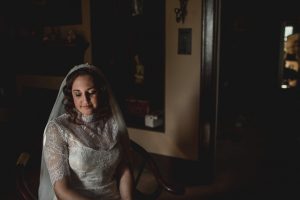 Annamae Photo
– Annamae, and her husband Keith, were the best photographers anyone could ask for! They totally understood our vision as well, and helped us capture some photos to create movie posters as part of our wedding decorations. Their style was amazing! They captured photos without being in anyone's faces, or even without anyone knowing. We would be talking to them and then realize they were holding a camera below their hip, secretly taking photos! They also explored the mansion property with us, and helped us "break in" to the dock on the river and get some river shots we so desperately wanted 🙂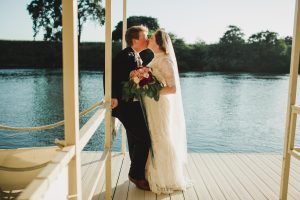 Digital Delta DJs
– Our DJs, Michael and Mario were so totally awesome! They were able to get ahold of our very weird music, and knew exactly what to play for our guests. Not to mention, they also brought the photo booth! They were so great at managing it, and it was the star of the show during dancing time!
Grand Island Mansion–
 They helped with everything! They not only coordinated our whole day and made sure everything ran smoothly, but they also provided all of the food, the cake, and the beautiful garden our ceremony took place in. The food was the most delicious, and we got so many compliments! The cake was even better! They totally understood our ideas and need for attention off of us, and totally let us lead the way, and knew when to take over. Not to mention, we got the whole property to ourselves, and were able to stay overnight after the wedding in their beautiful suites upstairs. There was a lounge between the rooms, so we were able to have a bit of an after party with our parents, siblings, and grandparents. They even provided pizza and drinks to us!!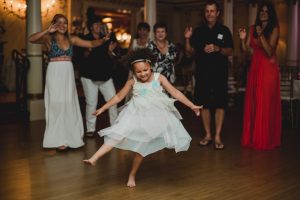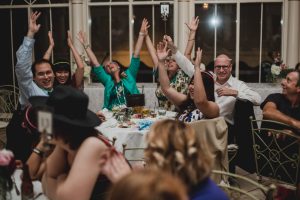 Kathy Blumenfeld– Our murder mystery coordinator! With the help of Tom Farley, they wrote our script and tailored their normal murder mystery show to our wedding. Their actors were so great, and they were so perfect! They were so animated, and everyone got a kick out of it!
Part of making our wedding so special, was making sure we didn't have a million different vendors doing everything!
As I mentioned, my sister was the officiant. Special thanks to Rebecca Gaub, and the internet, for making that possible. We couldn't have imagined a more perfect person to help us make promises to each other for the rest of our lives. Not to mention, she handled it like she had married millions of people before! She was a natural 🙂
I also did my own flowers! I went to the beautiful San Francisco flower market, and picked beautiful flowers with my friend, Huong Nguyen. She helped me arrange all of the flowers, and provided much needed advice! She also crochet by hand, all of the holders for the vases so they could hang outside, along the aisle. She had just done her own flowers for her own wedding, so it was much needed advice!